WWII: it touched the lives of families all across the United States, including those in Dansville, New York. Dansville Area Historical Society Museum Curator David Gilbert hopes to connect readers to WWII history and its impact on everyday life in his latest book, Dansville War Diary: A Chronicle of Dansville, New York During World War II.
             Dansville War Diary follows each month of WWII through the eyes of a hypothetical Dansville diarist and includes a paragraph of global WWII events before focusing on coinciding events in Dansville specifically. ""These people lived lives that none of us today can relate to very much," explained Gilbert. "Imagine if you were told you cannot go out and buy particular things today," he added, referring to shortages and rationings.
             "In December of 1942, a year into the war, there was a whole list of things people could no longer get," said Gilbert. "Things made from metal were being diverted for items like tanks and planes. Tires were even harder to come by because all of the islands where rubber came from were held by the Japanese. Extra tires had to be turned in to be diverted for things like planes and jeeps. Automobile production stopped cold. You could not go and buy a new car for four years."
             Food items were restricted. "You might get half a pound of coffee a month and a bag of sugar," said Gilbert. "That doesn't go far if you are baking or want sugar in your coffee. Canned fruits, vegetables and juices were sent to the troops. Meat and butter were restricted. Substitutes like margarine, cottage cheese and macaroni and cheese gained popularity."
             The economy was impacted, too. "Foster Wheeler had something going on every hour of ever day," explained Gilbert. "About 1,500 people worked there making boilers for naval vessels. Dansville's airfield also became very important for training pilots during the war, expanding its runways to accommodate the planes."
             "There were blackouts, and everyone turned out their lights," Gilbert said. "People worked at the Red Cross putting together bandages and knitted material for soldiers and war refugees. It had around 1,000 members, more than ever before or since. Volunteerism was at a level that we just can't imagine anymore. People devoted their entire lives to getting the war over as soon as possible and getting their loved ones back."
             Dansville's most valuable contribution to the war effort was its soldiers. "Hundreds of people enlisted," Gilbert stated. "There was an honor roll in the middle of Main Street, and they would put the names of every person who was in the service on that roll. By the end of the war, there were over 800 names. Dansville's population was only about 5,000; that is a huge portion. There were virtually no families in Dansville which didn't have a loved one in the war." Local soldiers who lost their lives in WWII are respectfully listed.
             "I was inspired by a documentary on WWII by Ken Burns," said Gilbert. "In it, Burns focused on three or four places in the United States and told the story of the war through those places and how the war affected them specifically. I wanted to do the same for Dansville. I wanted people to know what Dansville was like then and what it was like to lose someone in the war."
             Gilbert was also inspired by some personal connections to WWII. "A woman who sings in the choir at my church was among the first females enlisted in the Marines," he declared. "My mother, who was 5-years-old when the war started, remembers picking milkweed pods in her backyard. The pods were used to stuff life preservers."
             So, Gilbert began scouring the two weekly newspapers which had been active in Dansville throughout WWII. "That's over 400 newspaper issues!" he exclaimed. "I included newspaper articles, notices, letters from soldiers, the Foster Wheeler newsletter and photos."
             "Collecting photographs wasn't as easy as I had hoped," recalled Gilbert. "Film was among the many shortages of the war. The Dansville Area Historical Society (DAHS) and I had to scrounge for photos, including those of women working at Foster Wheeler—our local 'Rosy the Riveters'—and our cover photo of a scrap drive."
            The DAHS then brought Gilbert's manuscript to Penny Lane Printing in Avon. "Penny Lane had done a successful reprint on another book for us, so we approached them with this new book," said Gerri Waight, DAHS President. "They did a wonderful job putting it together and designing the cover for us." Gilbert agreed, adding. "When I saw a proof copy of the cover, I was just blown away. That's outstanding."  Gilbert also hinted that he may have several other historical projects in the works, many involving Dansville.
For more information, visit www.dansvilleareahistoricalsociety.wordpress.com.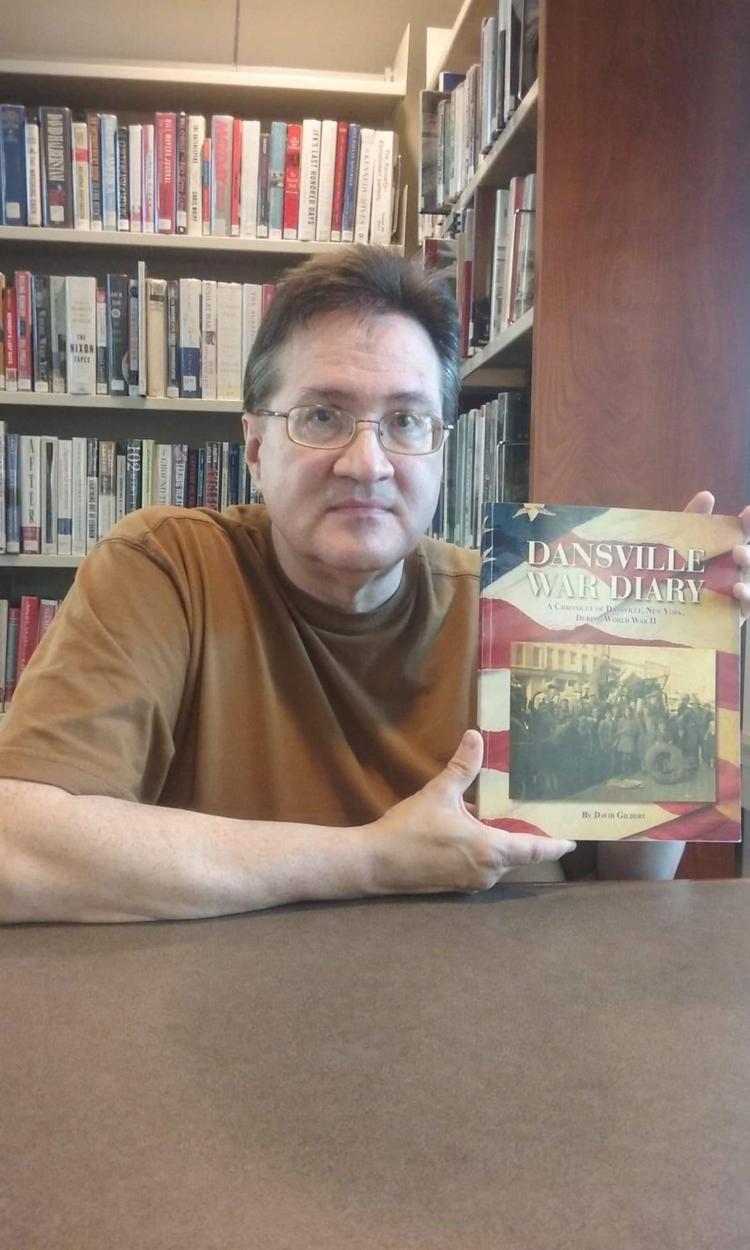 Enjoy this article? Check out this week's other great stories online at www.gvpennysaver.com:
• The Kade Project: Making a Difference by Serving Others
• Down Syndrome Parent Support Group of Genesee County Inc. Turns 30!
             Have something interesting you'd like to share with our readers? Perhaps an original story, a personal experience, community happening, or school event? Add some photos, and your story will be featured on our popular website for all to see. Who knows - it may even end up in print! It's easy to do. Go to My Hometown to view previously posted stories. To post your own, visit Community at My Hometown today!