On Tuesday, July 16th, 2019, Marjorie A. Martin and other members of the Joseph Gallipeau Avon American Legion Post & American Auxiliary Unit #294 honored WWII Veteran Mrs. Euphemia "Faye" Blye, an Avon resident for over 20 years. The Legion members visited Faye Blye, recently of Harpers Park, to present her with an award recognizing her service. From 1944-1946, the now nearly 96-year-old Blye served in the Airforce as a PFC E-3 and was a part of the Women's Army Corp, dissolved in 1976.
             Faye Blye's story of the first time she met her husband highlights her tough, feisty nature. "I was at a USO on base," she began. "I went to play a song from the jukebox, and this man said, 'Play number 5." Her eyes twinkle as she continues. "I said, 'Play it yourself! You have all those stripes; you make more money than me!'"
 
             The man, young Sergeant Kenneth "Ken" O. Blye, asked her to the movies, and she agreed. During the movie, however, she suddenly felt Ken Blye's head fall to her shoulder. He was asleep and snoring so loudly people were staring. Spirited Faye pushed him away and moved, but the date wasn't over yet. As Ken Blye took her home, it started to rain. "He gave her a poncho to hold over her head because the roof leaked!" Faye Blye's youngest son. Bill Blye, said. After that, the two were inseparable.
             "My father was a radio gunner and was over France when the tail was shot off his B-17 Bomber," said Bill Blye. "When he jumped out, the door slammed shut on his chute. He said, 'Oh God, help me!' and the door flew open. He was the last one out alive." Fortunately, a French farmer retrieved Ken Blye and concealed him in a small room for about three weeks. Finally, he was smuggled out to the English by the French Underground.
             Stateside, Faye Blye's duties included checking men out to, and in from, service overseas. "It was hard," she confided. "The people who came back were in such different condition. You felt so sorry for them all the time. We would go and stay with them for a couple of hours, you know? They were just so happy to have people around them."
             Then, Faye and Ken Blye left the service, married and moved to Massachusetts where Ken Blye had grown up, the third of fifteen children. "When they went to his house, lots of kids were playing outside," said Bill Blye's wife Pam. "She said, 'Which of these are your brothers and sisters?' he said, 'All of them." The living room was filled with children. She said, 'Which of these are your brothers and sisters?' he said, 'All of them,' and on it went."
"They were so cute…all of them," Faye Blye recalled. "They were the nicest kids you'd ever want to meet. I loved them all, every one of them. They are all gone now."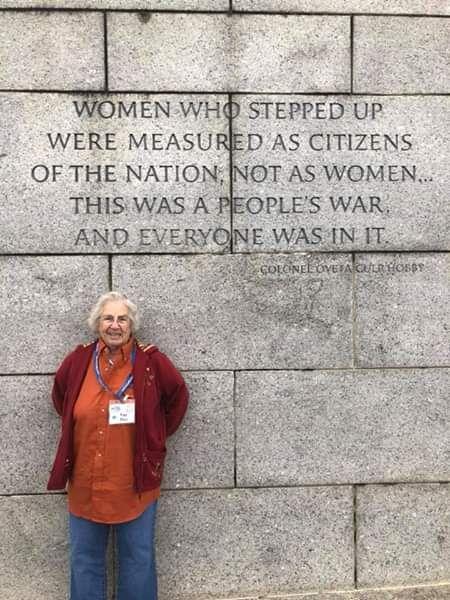 Some of Blye's loved ones have passed away—her husband Ken over 31 years ago and her oldest son Ken "Kip" Blye in a tragic car accident 11 years ago—, but her family remains very close. Bill and Pam Blye live only minutes away, and her middle son Jim Blye and his wife Mary visit frequently. She also has several grandchildren and four great grandchildren. Bill and Pam Blye's oldest son, Billy, is uniquely close to his grandmother. "Billy joined the Marines right out of high school," said Bill Blye. "My mom gave him his grandfather's dog tags for good luck, and he cherishes them to this day."
   

             Recent years have held honors for Blye. Robert, the son of the French farmer who rescued Ken Blye, wrote a book about the experience. Nearly seven years ago, he invited Blye to visit his hometown. Accompanied by Jim and Mary Blye, she boarded a plane for the first time and flew to France. "They had big celebrations and gave her a key to the city," shared Bill Blye. "She was in two newspapers. To them, my father was a hero because he came to liberate them." "He was a hero," affirmed Fae Blye.
             Last year, Blye participated in an Honor Flight accompanied by her daughter-in-law, Mary Blye. "That was wonderful," she recalled. When asked how she felt when the Avon American Legion told her they would like to give her an award, Faye Blye replied with characteristic humility. "I thought, What for?," she said. "But I appreciated it."

             "We want her to know she is not forgotten," said Marjorie A. Martin, adding that anyone wishing to send Faye Blye cards or letters may send them care of the Avon American Legion.
             Enjoy this article? Check out this week's other great stories:
Have something interesting you'd like to share with our readers? Perhaps an original story, a personal experience, community happening, or school event? Add some photos, and your story will be featured on our popular website for all to see. Who knows - it may even end up in print! It's easy to do. Go to
My Hometown to view previously posted stories. To post your own, visit Community at My Hometown today!