Five former Caledonia seniors from Troop 4027 recently attained the rank of Eagle Scout, an impressive feat in a class of 64 students. Eagle Scouts Brenden Gardner and Matt Keller were honored in September 2019 while the remaining three celebrated at the Big Springs Museum on Saturday, January 11th.
             New York State Assemblywoman Marjorie Byrnes and Monroe County Legislator Steve Brew attended this Eagle Court of Honor Ceremony. Both Byrnes and Brew respectively presented each Eagle Scout with a certificate recognizing their accomplishment. € These three young men - Brice Hatch, Evan Maniscalco and Ryan Pelkey - became Eagle Scouts, completing their respective projects and passing the Eagle Board.
             "Matt Keller built a firewood storage Unit for the Genesee Country Village & Museum's maple sap evaporator," said Troop 4027 Scoutmaster Hatch. "Brenden Gardner painted inside the Eunice Lodge in Caledonia. Ryan Pelkey constructed a turtle enclosure, including a fence, viewing area and pool at the Genesee Country Village & Museum."
             "My son Brice built two benches along Oatka Park hiking trails in Scottsville," continued Hatch. "He also planted 100 trees, 50 white spruce and 50 sycamores. Evan Maniscalco built and installed two Little Free Libraries at the Genesee Country Village Nature Center."
             "Each Scout needs to plan and facilitate a project as part of their Eagle Scout requirement," explained Hatch. "€They typically receive help in completing their project from fellow Scouts, friends and family." Each project requires approximately 100 service hours and is one of the final things a Life Scout must do to complete their Eagle Scout application before turning 18.
€             There are several ranks in the Boy Scouts: Scout, Tenderfoot, Second Class, First Class, Star, Life and Eagle. "Only about 4% of Scouts reach Eagle level, so it is quite the accomplishment," said Hatch. "€ is is a good group of young men, and they worked very hard." Project choices are largely up to the individual Scout.
             "Brice's grandparents lives very close to Oatka Creek Park, and he wanted to do something to help her and the community," Hatch shared. "He built two benches so that if his grandparents wanted to go for a walk and sit down on one of these benches and take a breather, they could."
             Evan Maniscalco described his Eagle Scout project. "I built two Little Free Libraries for the Genesee Country Village and Museum," he said. "€The one on the Geology Trail will have books related to geology, rocks, fossils and the like. €The other one, next to Ryan Pelkey's turtle enclosure, will have books about nature, turtles and other animals in the area."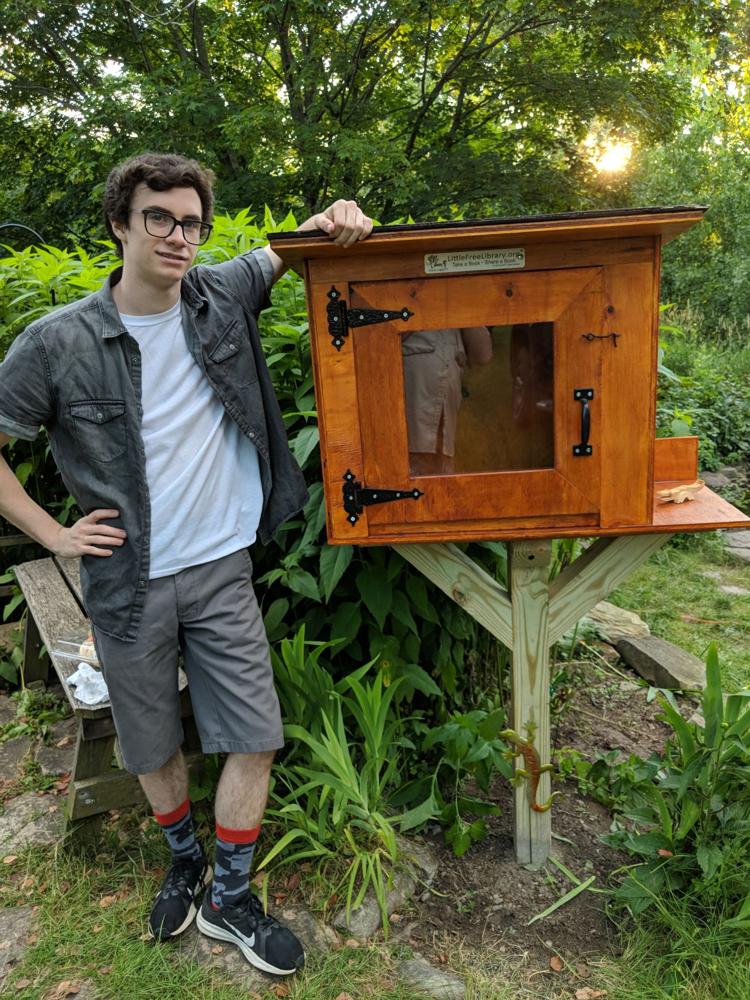 Maniscalco chose his project from the museum's project list. "€That one looked interesting," he said. "You can actually found plans for different Little Library designs online, and we picked one we felt would work well." Of course, the project was not without its challenges.
             "Building them was the biggest challenge," explained Maniscalco. "[€The plans] weren't super detailed, so we had to take some liberties on the designs to get it to work better. It wasn't super hard, but it definitely took a lot of brain power." € The only installation snag was along the Geology Trail where the ground is harder and rockier. €The project was a success. "€They were very happy," affirmed Maniscalco, referring to the museum.
             Maniscalco's family first introduced him to Boy Scouts, bringing him to his older brother's Cub Scout meetings before moving away. "My family pushed for it," he said. "I wasn't really sure." It was Maniscalco's grandfather who helped him make his decision.
             "He said he would help me out along the way," he recalled. "He would drive about an hour to where the meetings were, which was right across the street from where I lived.
             It was really nice of him. He didn't have to, but he did that for me." Maniscalco loved the Scouts, making new friends in a new town. "It was a great opportunity and experience for me," he shared. "I got swept up in the whole thing, and next thing you know, I was working on my Eagle project."
             Being recognized by Assemblywoman Byrnes and Legislator Steve Brew was an unexpected privilege. "I was honored that they came," said Maniscalco. "I was really surprised. No one told me beforehand, so when they came up and made their speeches, I was like, 'Wow!' This is awesome."
             As for joining Boy Scouts, Evan Maniscalco recommends it, crediting his parents' support and noting that his Scout friends are some the best he has. "I think the image portrayed by the media and in movies of scouting isn't accurate," he said. "€They show people just going into the woods and doing goofy, little camping stuff. €The things I learned, I really couldn't find anywhere else, and it was definitely worth it. It helped me grow into a man."
Enjoy this article? Check out this week's other great stories online at www.gvpennysaver.com:
             • Dansville Peace Poster Contest Winner Moves on to State
             • Canines Employed to Keep VA Drug-free
Love to write? We are looking for YOU! Become a volunteer writer and share your original story, personal experience, community happening or school event with us! It will be featured on our popular website for all to see. Who knows - it may even end up in print! Go to My Hometown at www.gvpennysaver.com or email our Hometown Editor Amanda Dudek at AmandaDudek@gvpennysaver.com!