For more than 10 years, Blue Star Mothers of America, Inc. New York Chapter 1 in Canandaigua, has worked hard to make the holiday season special for Veterans and their families. Their project, Holidays for Heroes, helps ensure that Veterans and Veteran families receive Christmas gifts, meeting both needs and wants, while letting them know there are many who care. Canandaigua neighbor, Cate Roth, first felt the cause pull on her heartstrings about 10 years ago, and she has organized support for many area Veteran families ever since.
             "There is always a great need to help Veteran families around the holidays," said Cate Roth, Senior Manager of Global IT Controls Assurance at Xerox Corporation. "Blue Star Mothers has been around a long time, and they usually have a population of Veteran families that are struggling. We purchase all the gifts on their wish lists for these families."
             Roth, whose son just finished serving with the Navy in June, recalled she first heard about Holidays for Heroes by reading a notice in a local paper. "They were having their holiday program and asking for people to get in touch with them and participate, so I did. I shared what I was doing, and suddenly, my friends all wanted families they could support, as well." She added that Canandaigua families have a real connection to Veterans, thanks to their local VA hospital.
              Acting as a go-between, Roth coordinates the efforts of the family and friends who reach out to her each year, asking to participate. "Coordinating our efforts has really been the key," she said. "Some people can support whole families, others just one person. Each year, I put the call out through Facebook for anyone interested, and I receive an overwhelming response each time. We usually have 30 or more people who really participate in getting everything together for these families."
 It is well worth the effort. "This is what I do naturally, so it is not that much work for me, and I feel good wile I am doing it. It breaks your heart to see these families asking for things like socks, a few toys for their kids, just basic items…to see someone who has served in multiple tours come back and need to ask for necessities, it has to be so hard. You get the chance to play Santa Claus, and people really feel good about this program. Those who have joined my team say this is the best part of Christmas for them." Roth and her fellow volunteers brought a Merry Christmas to over 20 families last year.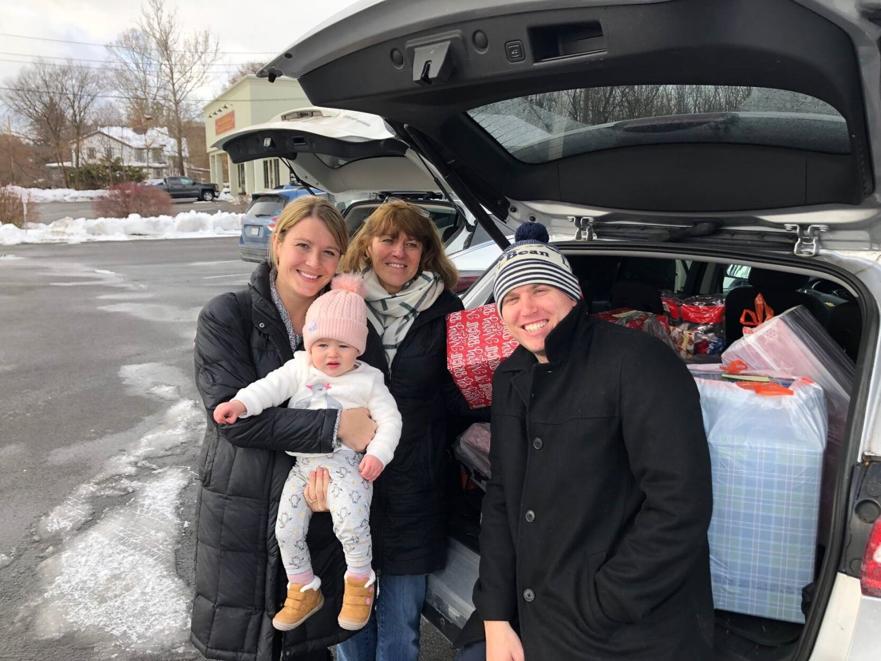 "So many of us are in positions where we are doing well, and it is nice to be able to give back to people who have sacrificed so much for us," shared Roth. "It feels really good to know we are helping out. Our group efforts have a lot of momentum, and everyone wants to keep doing this. This year has been difficult, both for the Blue Star Mothers and for Veterans, so it is more important than ever to support them. It takes all of us to pull these things together."
             Joyce Mader, President of Blue Star Mothers of America, Inc. New York Chapter 1, could not say enough about Cate Roth and the wonderful people whose help she coordinates to support Holidays for Heroes. "Each year, we typically have 70 or more Veteran families in need; Cate and her group usually take 10-15 of them," she said. "She has a slew of families eager to 'get in on the action,' as she says. Cate and the families she brings—and all who support the program—are simply incredible."
              Mader explained that each year, the Blue Star Mothers identify Veterans and Veteran families who have needs for Christmas and ask the community to adopt them. "No names are given," she stated. "We share mother, father, which one is a Veteran, children as boy or girl and ages, and each family member's wishlist. The family receives a number. The only people who know the names are our chairperson and whomever we use to validate the veracity of the families. We also keep the names of those who donate the gifts private." Gifts include necessities, wishlist items, and two $50 grocery gift cards.
             Blue Star Mothers also send Christmas trees, purchased from Mayflowers Nursery in Canandaigua, and "Christmas in a box" packages to our troops. "They were able to enjoy the smells of Christmas, have hot chocolate, candy canes and other Christmas treats and have something happy at the end of the year." No matter when the serviceperson is active or a Veteran, Mader feels this is the least we can do for them and their families. "They are proud people who have gone from becoming the guardians of our nation to having to ask for help," she explained of Veterans. "That is hard, but people in Western New York and especially the Finger Lakes are just so generous and kind. People like Cate are amazing and really keep others involved."
For more information and to support Holidays for Heroes, visit the Blue Star Mothers website at www.bluestarmothersny1.org.