Like many nonprofit organizations during this pandemic, Care Net Canandaigua has had to adjust its services to continue helping those in need while adhering to current health and safety guidelines. Face-to-face meetings and services have been suspended indefinitely to fight this virus, but meanwhile, area families are struggling more than ever.
             "Prior to COVID-19, we did everything in our center, appointments, pregnancy tests, counseling and much more," said Vanessa Samuels, Center Manager for the Care Net Pregnancy Center of Canandaigua. "We are not in our center right now, but we are continuing to provide our services." These services, all of which are free and confidential, include pregnancy tests, pregnancy options and peer counseling, referrals, post-abortion counseling and education (PACE) and parenting classes, among others.
             The Center also provides much needed diapers, wipes and formula which are very much in demand. "We had been making deliveries and having families stop by for these items, but we had only been giving about a week's supply of these items, which is our usual policy," shared Samuels. "Our Executive Director, Donna Besler, had volunteered with the Zion Food Drive-Thru, and she was inspired to hold the same sort of event for us only with diapers, wipes and formula. We wanted to give families even more during this difficult time."
             The Center settled on providing two weeks' worth of items to each family who attended their Diaper Drive-Thru. Even then, they did not know how they would afford these essential goods. "We heard that the United Way was giving grants to organizations helping the community right now," recalled Samuels. "We were able to receive this grant, which was amazing, and that helped tremendously." With goods purchased, the Center held their first ever Diaper Drive-Thru on Wednesday, May 13th.
             "We had over 100 families attend!" shared Samuels. "They pre-registered before the event, telling us what they needed as well as their basic information. When they arrived that day, they pulled up, opened their trunk to receive the items, and were ready to go."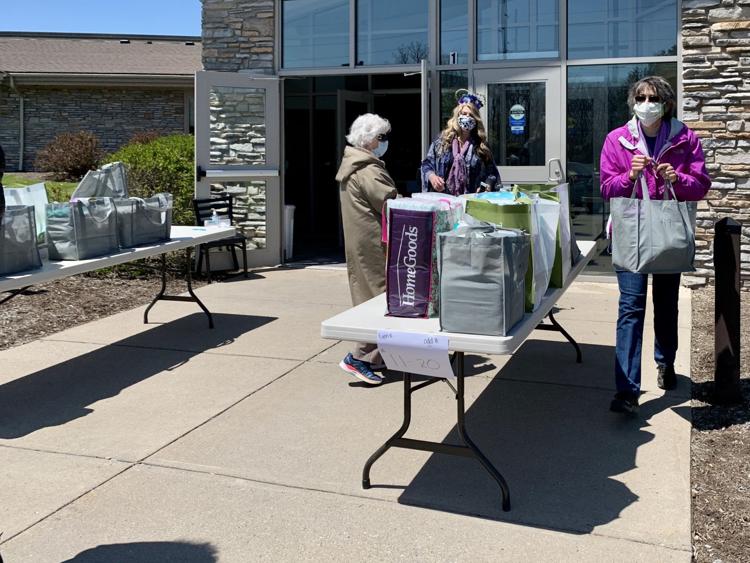 The critical need for these this became even more apparent during the event, as well. "During the drive-thru, we talked with the families," said Samuels. "So many have lost their jobs, are down to one income, are living in hotels and are simply struggling. Even though these items are at the top of people's priority lists, there are other things that come first. People are really struggling, so we are very grateful to be able to meet this need and at least some assistance right now." 
             The response was pure gratitude. "During the preparation of the Drive-Thru, we hadn't shared how much people would be receiving," said Samuels. "When they arrived and saw it was a two-week supply, they were so grateful to receive that gift, which is worth over $100 in some situations. It was just thankfulness. For some people, it was even more because they needed soy formula or specific diaper brands because their baby is allergic to others. Being able to provide this was a huge answer to prayer because we wanted to make sure people received exactly what they needed."
             As far as continuing to meet this need, Samuels said they hope to hold more diaper drive-thru events. "We would love to do this again because it looks like we are going to be staying at home for a little bit," she said. "We are still looking at the financials involved right now to see if we will receive enough donations and whether or not we will be able to get another grant. We will continue to offer a week's supply of diapers, wipes and formula to those in need who reach out to us."
             The Care Net Pregnancy Center of Canandaigua, a Christ-centered ministry empowering women to make informed, life-affirming choices in a nonjudgmental environment, continues many of its other services, as well. "People are able to watch our parenting videos, which range from pregnancy through the toddler years, from home, work with a peer counselor, earn points to use in our boutique, access options counseling for those just discovering they are pregnant, complete court ordered classes and more. No matter what their parenting stage, we have something for them."
             "We are more than a pregnancy test!" added Samuels. "We serve children, fathers, mothers, custodial grandparents and others. We are here to offer services to anyone in need no matter who they are."
For more information, call 585-337-0734 or visit www.carenetcan.org.
Enjoy this article? Check out this week's other great stories online at www.gvpennysaver.com:
             • SUNY Geneseo's President Denise Battles Reflects on Campus Life
             • Now's a Great Time to Do Some Pruning—But Let's Do It Properly!
             • Sam Vagg Shares Silver Lining from LeRoy Village Green
Love to write? We are looking for YOU! Become a volunteer writer and share your original story, personal experience, community happening or school event with us! It will be featured on our popular website for all to see. Who knows - it may even end up in print! Go to My Hometown at www.gvpennysaver.com or email our Hometown Editor Amanda Dudek at AmandaDudek@gvpennysaver.com!