On Sunday, September 1st, the Lawn Dart Pulling Team celebrated Labor Day Weekend by holding their 2nd Annual Tractor Pull for a Cure in Ossian, just outside of Dansville. The fundraiser featured multiple classes of tractors from 12HP stock garden tractors to 850HP mini rod tractors to a special pull for four wheelers, all of them "pulling for a cure in memory of those who has lost their fight and in honor of all those still fighting." All proceeds benefit Wilmot Cancer Center.
            The first Tractor Pull for a Cure event took place as part of a pull three years ago. It was a success, raising over $3,000. So, the Lawn Dart Pulling Team held an event last year on member Tom Bellanca's property, establishing the 1st Annual Tractor Pull for a Cure. "We realized that people were paying quite a bit for admission on top of donating," said Bellanca. "So, we decided to have the event at my place and keep our prices low so that the whole family could come and enjoy." The team lowered the ticket price to only $5, with children 12 and under welcomed free of charge.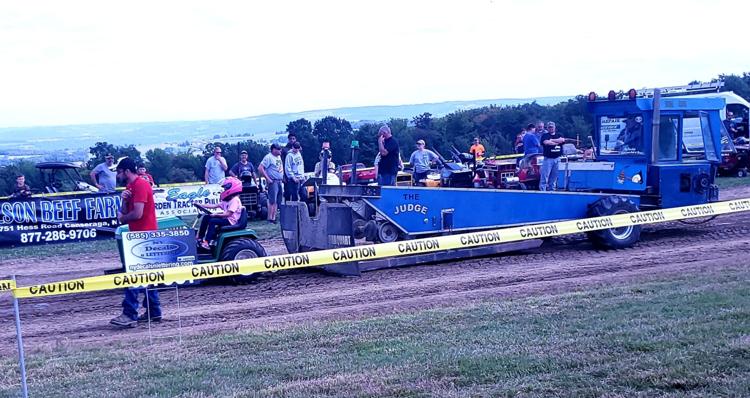 For many involved, the cause is personal. "I lost my fiancé to cancer in 2014," shared Bellanca. "She was 34." He and the Lawn Dart Pulling Team credit the community, including family, friends and businesses, with turning their event into such a success. "We have so many people to thank for making this happen, we would probably fill every page in the Penny Saver if we tried!" Bellanca exclaimed.
             Even so, the team would like to say a special thanks to several event sponsors: NY Decal n Lettering, 93.9 WDNY, O'Brien Septic & Portable Toilets, Wilson Beef Farms, Tackbary's Trophies, the Duke Company, the Livingston County Pizza Company and Bakery and GJ RV Repair. The team would also like to thank Eagle Garden Tractor Puller Association for donating the sled and generously contributing the pullers' hook fees to the cause, the Gray family, fellow pullers Scott Cooper's family and the Van Valkenburg family, including Paul, Stephanie and Kaitlyn, for each raising over $1,000.
             "Everybody comes together to make this happen," explained Bellanca. "There are so many people who help, and many of them think, 'I am only able to give $10 or $20.'  Over 517 people come through our gate last Sunday. It all adds up."

             Everything for the event is donated, so all of funds raised go directly to Wilmot. "We pullers pull together all summer long, and this is our way of giving back," said Bellanca. "We feel able to do what we do because it touches so many lives."
             Enjoy this article? Check out this week's other great stories:
             Have something interesting you'd like to share with our readers? Perhaps an original story, a personal experience, community happening, or school event? Add some photos, and your story will be featured on our popular website for all to see. Who knows - it may even end up in print! It's easy to do. Go to My Hometown to view previously posted stories. To post your own, visit Community at My Hometown today!