On Sunday, July 14th, 93-year-old Dansville resident, Paul Hynes, climbed aboard his vintage Oliver tractor and led his second annual tractor drive in support of those with Alzheimer's. This year's tractor drive, which began and ended at the Dansville Fish & Game Club, was part of The Longest Day initiative. The Longest Day participants, like Paul Hynes and his family, honor those facing Alzheimer's and other dementias by doing what they love to increase awareness about Alzheimer's and other dementias and raise funds for care, support and research. For Hynes, the cause is deeply personal.
             Just before the Christmas of 2013, Hynes lost his wife of 65 years to Alzheimer's. When asked what it was like when he first met his wife, Hynes, without hesitation, replied, "Heaven…always was, always happy times! I miss her."
             Remembering that moment from long ago, he added, "I met Francis in the mid-1940s. I went to school with her sister. She was the new girl, so I had to check her out! It was love at first sight."
             It was Francis who encouraged the purchase of his vintage Oliver tractor. "My parents bought the tractor in 1986 after my father retired," said Hynes' daughter, Donna Nagle. "He is a very active person, and it was something to keep his mind and hands busy." Nagle further described her father as "the best grandfather my kids and my brothers' kids could ask for."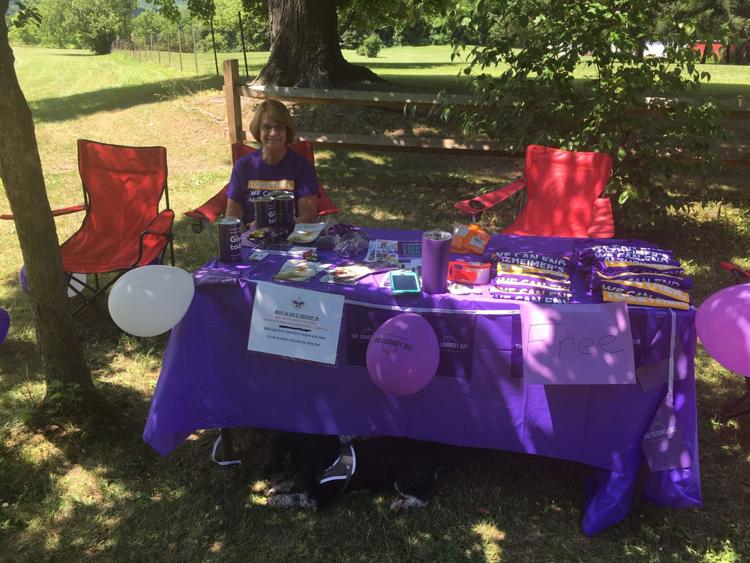 Last year, Hynes, who founded the Empire State Oliver Tractor Club, the first in New York State, brought together several older men who were also antique tractor owners, including those from his club, and completed a 20-mile drive for Alzheimer's. This year, he completed a shorter route joined by Alan Rowe on his tractor, pulling a trailer of guests, and Barry Pratt on his tractor.
             Hynes did receive funds in support of Alzheimer's, but he firmly stated, "It is not about the money; it's about helping the community," adding that his wife had shared his interest in tractors. Hynes' tractor drive honors his late wife while seeking to increase awareness of the impact Alzheimer's and other dementias have on families.
             "The men have a great time driving the tractors," said Nagle. "This year, my father wanted the drive to fundraise for an organization. I suggested an Alzheimer's one, and he jumped right on that." Nagle said the Alzheimer's Association of Rochester has supported them 100%, including promoting the drive. "All my father had to do was drive his tractor on Sunday and eat a hotdog afterwards!"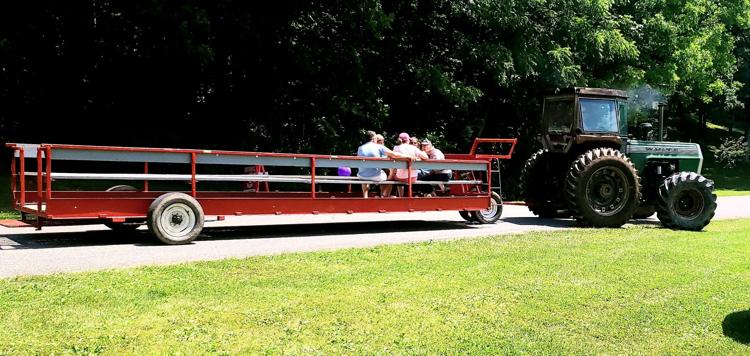 Nagle was thankful the organization made the event easier for her almost 94-year-old father. "I didn't want him running all over the countryside advertising this, but he did that anyway, handing out flyers all over the place!" she said with a small chuckle. "I passed out over 200 flyers," Hynes said proudly.
             This year's successful event, which again included local boy scouts selling hotdogs, began at 10am with the drive starting at noon and concluding around 1:30pm. "The spectators really turned out," said Hynes. Alzheimer's Association Communications Manager Olga Monacell, who rode behind one of the tractors, concurred, adding, "Everywhere we drove, people came out and waved at us." Monacell noted that more than 400,000 individuals are living with Alzheimer's dementia in our state.
 
             "It was very rewarding," said Nagle. Hynes agreed, encouraging those who were unable to attend to still consider supporting the Alzheimer's Association.
The Alzheimer's Association, Rochester and Finger Lakes Region chapter serves a nine-county region, including Chemung, Livingston, Monroe, Ontario, Schuyler, Seneca, Steuben, Wayne and Yates counties. The chapter provides support to all families affected by Alzheimer's or another dementia through care consultations, caregiver support groups, and education programs about dementia, caregiving and brain health.
Have something interesting you'd like to share with our readers? Perhaps an original story, a personal experience, community happening, or school event? Add some photos, and your story will be featured on our popular website for all to see. Who knows - it may even end up in print! It's easy to do. Go to
My Hometown to view previously posted stories. To post your own, visit Community at My Hometown today!