In 2018, the Rush Recreation and Park Association (Rush RPA), a non-profit and tax-exempt organization, was formed by a group of Rush residents to protect green space and public land in Rush. Consisting of a group of residents who volunteer their time to preserve and enhance the wild nature of Rush while helping others to enjoy its wild spaces, the Rush RPA held a series of forums from 2018-2019 on such topics as pollinators, birds, forest bathing, the importance of protecting forests, organic farming and community green space.
             "This month, we are inviting everyone to join at the 100 Acres of the Rush Riverside Refuge for our next event, 'Reforestation and Re-Wilding Solutions for any Outdoor Space,' on Saturday, July 27th, 9am-noon," said Rush RPA board member, Janet Chaize. The rain date is set for Sunday, July 28th.
             The Hundred Acres is located at 250 Rush Scottsville Rd. (Route 251), west of the intersection with East River Road, on the north side of 251, and was donated to the town to be used as a green space. "30% of the 100 acres are in fields that have been farmed," explained Chaize. "Our foundation, designed to help our municipality, has been working with the town to transform it."
             Reforestation participants will gather just west of the entrance to the Railroad Museum. Guests may park on the side of the road or on a large grassy area opposite the Railroad Museum. "Be careful crossing the road if you use that option," advised Rush RPA board member Carol Barnett. "Dress for changeable weather and to avoid ticks in any grassy areas."
             Guests will examine nature's way of re-wilding fields, using proven principles and methods from permaculture.  These solutions can be applied to outdoor spaces of any type and size, from homes—urban and suburban—to municipalities and outlying farms, fields and forests. Guests are invited to explore ways in which forests regenerate water, produce food and restore the eco system.
             "Our presenter, Kay Megorden-Staten, is certified in Permaculture Design and is a Teacher, Herbalist, Artisan, Consultant and Designer," said Chaize. "With her, we will discuss an ecosystem's water, soil, wind, sun, contour, polycultures, invasive species, biomass, plants and habitats.  We will also identify natural patterns in the landscape that will be used to guide our decisions for restoring a resilient landscape with multi-functions."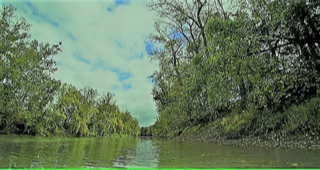 The special beauty of the Hundred Acres of the Rush Riverside Refuge already includes old growth forest, diverse flora and fauna, and views of the Genesee River.  100 Acres, which extends for a mile along the Genesee River and contains about 50 acres of forest, much of which is old growth and 50 acres of a mix of fields, hedgerows and trees, plays a delicate role in the region's ecosystem and is part of the Lake Ontario watershed.
             "We have the opportunity to create something really special right here in Monroe County," explained Chaize. "Experts from Cornell have confirmed that some old growth trees are over 100 years old. The fields, if returned to nature, could become a mix of meadow and forest very appealing to wildlife and birds."
             "A walk among trees is rejuvenating, nourishing and healing," Barnett observed. "Trees and forests are essential to all living things, and there is a lot going on in the forests that we can't see." Trees absorb CO2 from the atmosphere and release oxygen. They prevent or reduce soil erosion and water contamination while their roots serve as natural nets spreading extensively into the ground to hold the soil in place. As soil runoff is prevented, essential nutrients are retained, and the soil remain fertile. Trees add compost to the soil from falling leaves and dried branches. Old growth forests, in particular, help trees have resilience in dealing with disease, drought and overly wet conditions.
             New research has also discovered trees' incredible underground root system which allows trees to communicate with and support each other.  "Trees send messages to each other to determine which trees need what nutrients," said Chaize. "Research in Canada showed that birch trees sent carbon to fir trees when fir trees were shaded, and in the winter, when the birch were leafless, the firs sent carbon to the birch trees!"
             "We hope to transform 100 Acres into something beautiful, adding more trails to benefit those in Monroe County, Livingston County and beyond," said Chaize. "We are also hoping that to engage colleges like RIT and SUNY Brockport which are concerned with the Genesee River." The Rush RPA is also interested in grants to further its efforts.
             Those interested in hiking, bird watching, wildlife identification, reforestation, pollinators, "Eastern prairies," composting and other nature-based pursuits are encouraged join the Rush RPA and attend its events. Sign up for the 100 Acres event is requested but not required. There is no cost, but donations for presenter Kay Megorden-Staten will be gratefully accepted.
             To learn more, read our mission or become a charter member, visit
rushrpa.org
.
             Have something interesting you'd like to share with our readers? Perhaps an original story, a personal experience, community happening, or school event? Add some photos, and your story will be featured on our popular website for all to see. Who knows - it may even end up in print! It's easy to do. Go to
My Hometown to view previously posted stories. To post your own, visit Community at My Hometown today!