On Saturday, June 8th, Sweden Town Park hosted its Splashpad Grand Opening. The event was a great success as evidenced by the many families whose children ran happily through the cool water.  The Grand Opening was filled with fun, family-friendly activities, including a ZuberBounce inflatable obstacle course set up on the soccer field next to the splashpad, Aquaman to greet the children and take photos, hotdogs, hamburgers, chips, water, ice cream and giant freezies at the concession stand, games of cornhole, lawn checkers and soccer on the lawns next to the town lodge and a magician, spray tattoos and crafts inside. All of this was provided to families absolutely free of charge. Town Supervisor Kevin Johnson, Monroe County Planning and Development Chief Economic Development Officer, Jeff Adair, County Legislator Mike Zale, former SUNY Brockport Dean of Students Mike Myers, Sweden's Town Board members and others, led the opening ceremonies.
                "We want families to make the Town of Sweden home," said Supervisor Johnson. "We want our families to stay here. We want families to move here. In my mind, part of encouraging families to make the Town of Sweden home is providing a really great park so that people do not have to leave town to play at a great playground or splashpad, play soccer, baseball, football, lacrosse, socialize the family dog, socialize the family dog, skateboard or play disc golf, to walk in the woods, to have a family party or wedding or even just to find a cool place to have a picnic. They can do all of those things right here."
                Mike Myers, SUNY Brockport's former Dean of Students, suggested the additions of the splashpad and pavilion to the town park would go a long way in achieving these goals when he said, "The two new additions to the Sweden Town Park will certainly make it a destination point for many, many years to come. For the families of our town, this is a safe and friendly recreational environment."  County Legislator Mike Zale, agreed, noting the process involved. "This is something that has been in the works for a long time," he said. "There was a lot of thoughtful consideration from the entire Town of Sweden. I appreciate that leadership. This splashpad is something the kids will enjoy for a long time." Zale then thanked the residents and town board members for making the splashpad a reality.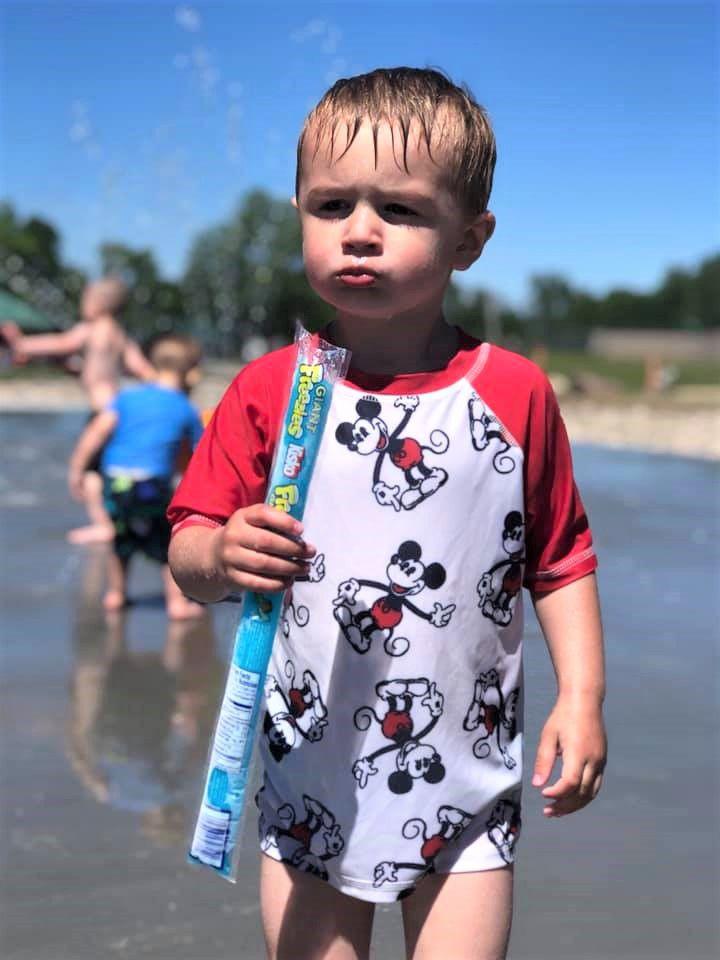 Supervisor Johnson echoed this sentiment. He thanked the everyone in attendance, the children for their patience, and town residents and taxpayers for their support. "Most importantly," he added, speaking to those gathered. "Thank you for all you do to make Sweden a great place to live, work and play. Sweden Town Park is and will continue to be a place where families come together and enjoy time. This is truly a place with something for everyone, regardless of age or ability. As a result, the Sweden Town Park is just one more reason for families, both now and in the future, to make Sweden home."
                Supervisor Johnson then introduced young Noah Giorgio whom he referred to as "a very special young man in our town." Supervisor Johnson mentioned that Noah, who had recently undergone brain surgeries, would be the first person to push the button to activate the splashpad. "You have inspired many of us," he said. "We continue to keep you and our families in our thoughts and prayers. With your attitude, your family and your community behind you, we know you are going to make a full recovery. We love you."
             Two of Noah's friends accompanied him as his parents helped him make his way onto the splashpad and press the button, sending spiraling sprays of water in all directions as everyone cheered. Children raced to jump through the refreshing streams as even the weather cooperated with sunny skies. The Sweden Town Park Splashpad has officially opened for the season.
             Have something interesting you'd like to share with our readers? Perhaps an original story, a personal experience, community happening, or school event? Add some photos, and your story will be featured on our popular website for all to see. Who knows - it may even end up in print! It's easy to do. Go toMy Hometown to view previously posted stories. To post your own, visit Community at My Hometown today!