Doug Sharp, owner of RV&E Bike and Skate in Fairport, is an avid cyclist with an active family. When COVID-19 struck and New York went on Pause, helping others stay mobile became even more important. Fortunately, RV&E was able to continue doing so.
           "We were deemed essential and stayed open on a limited basis with appointments only," said Sharp. With fewer employees and most communication now taking place via telephone, he had his hands full. "Our phone turned into our primary stream of business, and it almost felt like we were in a call center," Sharp recalled. "We had never kept a day calendar before, and now we were putting all our appointments in one. With reduced staff that first month, it became very chaotic, particularly when people realize we were open when they couldn't go to many other places."
             Sharp praised customers for their patience and understanding. "Our customers arrived on time and politely waited their turn," he said. "We filled ever time slot we had open. Perhaps not surprisingly, we saw an uptick of people just being outside and doing approved recreational sports like cycling which nearly everyone can do. People needed bicycles, tires, repairs…you name it. Our Service Department has been very busy." It is showing no signs of slowing.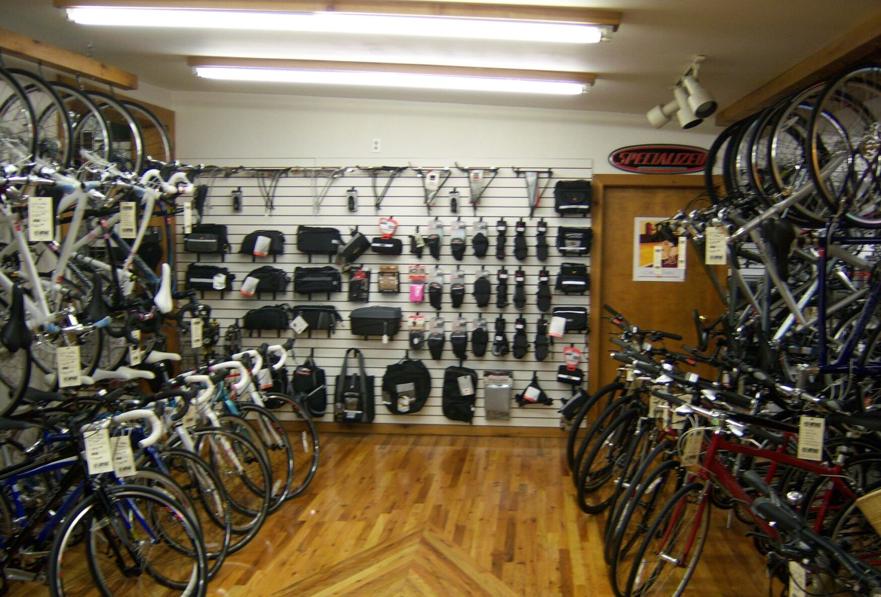 "We have new bikes that come in each day," confirmed Sharp. "Even so, we may only have one adult currently available currently; the rest are pre-ordered and waiting for delivery because the industry is experiencing a shortage. People have been buying everything they need and even things they do not. The world has turned upside down with delays in us receiving even small parts for repairs at times. We have been working at a grueling pace."
             Customer appreciation continues to make all the difference. "Our community has absolutely paid attention to and supported local businesses including ours," said Sharp. "They have been phenomenal, and we couldn't be any happier with that. When they thank us for being here, being open, providing what the big box stores do not, we feel like it's really worth it."
              "We know we were one of the lucky ones," admits Sharp. "It grew very quiet in the Village of Fairport. There were very few cars on the road, and people were understanding, listened to what they were supposed to do, and stayed inside for the first month or so. Our doors did not reopen until Phase III. Now, we have our college students back, and it has been busy every day."
              Fairport's Liftbridge, which closed in September of last year, has been a cause of concern when it comes to traffic for local businesses. However, Sharp, who is also president of the Fairport-Perinton Merchants Association, states it hasn't really stopped people from coming to RV&E Bike.
              "Through the 2019 holidays, things were still very good for us with people using alternative routes," explained Sharp. "Now, people continue to use alternative routes. We have been very lucky for that part."
              It wasn't just luck. Sharp explained that the Fairport-Perinton Merchants Association, the Village, the Fairport-Perinton Partnership, the Fairport-Perinton Chamber and the Mayor and other local officials worked weekly to make certain there was a lot of signage which has been key in maintaining local traffic flow. "Even now, because of COVID, more people are out walking and checking out places maybe they normally wouldn't," he observed.
              "The Fairport-Perinton Merchants Association also posts regular updates on our website regarding which members are open, closed, selling online and curbside," said Sharp. "People are finding alternative ways of doing business and taking care of their customers. Our farmers market has even started again."
              Sharp encourages neighbors to continue to support area businesses as best they can. "While places are reopening, please continue to support them. Visit our website, www.FinditinFairport.com for the most up-to-date information about local businesses and know that we appreciate you."