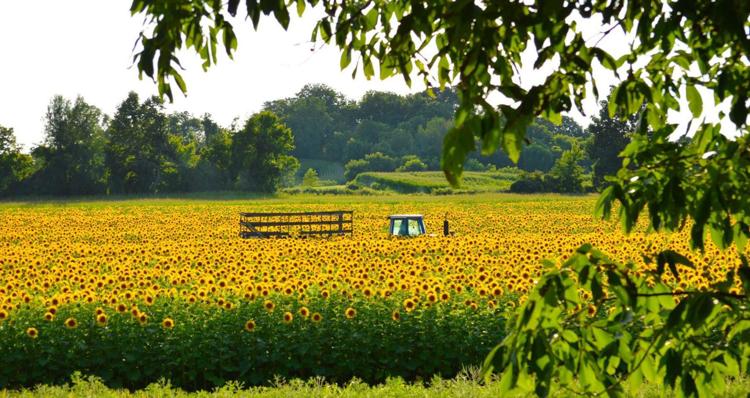 Each summer for the past 19 years, crowds have gathered on Frederick Farms to appreciate its acres of sunflower fields. Every August, their tall waves of sunshine bring a ray of comfort into the lives of those at the House of John, a hospice nonprofit in Clifton Springs.
             The House of John mission, "to provide compassionate care, offering sensitivity and support for people as they approach the end of their lives," has personal meaning for the Frederick family. They have had close friends and family cared for there, including a close friend of Mr. Frederick.
 Twenty-year-old Jaimee Frederick is third generation in her family, although their dairy farm has had the Frederick name since 1940. "On two weekends in August, usually the second and third weekends, weather permitting, we raise money for the House of John," said Frederick. "I have been helping since about 1st grade! I would help my dad by picking the flowers, parking cars, being our tour guide, and now, I help organize it."
             "We also have wagon hayrides at certain times," said Frederick. "This year, for the first time, we offered pony rides on our miniature horses." Frederick Farms also houses goats, chickens and barn cats. Jaimee Frederick brought out her show animals this year, as well.
             "The kids loved the pony rides, and they always love seeing the animals," she said. "I competed this year at the Ontario County Fair, and I will be going on to the New York State Fair." Frederick herself won Master Showmanship in the Open Show while her niece, who showed for the first time, won Novice Showmanship in the 4H Show.
             The Frederick Farms sunflower event is free to all, and donations are welcome. The Frederick Family also sells sunflower oil which is pressed from their sunflower seeds by Stony Brook Farms in Geneva. "They sell it under their label, and we have it bottled with the name of our farm to sell ourselves. Our farm is the only place you can get it with our Frederick Farms label."
             Freshly cut sunflowers, sunflower seeds for birds, bottled water and fresh baked goods are also available for purchase during these weekends. "The baked goods are purchased from Sweet Blessings in Shortsville and Vanilla Bean in Phelps," said Frederick.
             Frederick says visitors are also welcomed to take photos of their sunflower fields. Many do, and interest is growing. "A couple of years ago, it started growing," she stated. "Last year, we had over 2,000 people ride the wagon hayride, but we had over 3,000 people here." The free event raised $3,500 last year, and Frederick's goal this year was $4,000, although the numbers are not yet in.
             "I like giving back," said Frederick when asked why she continues to be involved. "I enjoy giving, community service and volunteering."
---
             Enjoy this article? Check out this week's other great story:
Have something interesting you'd like to share with our readers? Perhaps an original story, a personal experience, community happening, or school event? Add some photos, and your story will be featured on our popular website for all to see. Who knows - it may even end up in print! It's easy to do. Go to
My Hometown to view previously posted stories. To post your own, visit Community at My Hometown today!