On a morning in early May, the cold and fog bely the coming of spring, but inside the Livingston County Center for Nursing & Rehabilitation (LCCNR) in Mt. Morris, the Livingston County Senior Glee Club members gather in the center's atrium in preparation for their spring concert.  Half of the club's members are LCCNR residents.  Some must carry oxygen with them at all times while another remains in a bed and is wheeled into her spot. Several others have dementia and may not remember your name or what day it is. Still, they all can sing.
 
             The Glee Club is the brainchild of Maureen McCarron who initially started the group in 2015. A retired speech pathologist, McCarron was working as a per diem, substitute speech pathologist at LCCNR when she discovered that many residents enjoyed singing.  She decided to provide an opportunity for them to work their vocal cords.

             Now, what started out as a smattering of people has grown to a total of 22 members, including community neighbors from Livonia, Leicester, Conesus and beyond. The group even has a volunteer technology coordinator, Tom Miller, who provides digital accompaniment to the group as well as a large screen television to project song lyrics.
             "I joined at first because I wanted to give back to the community," explains Nancy Stewart, a retired music teacher and Glee Club community member, "but I get as much out of it as they do." Leo Richardson, one of the group's tenors and a charter community member, joined the group because he "enjoys bringing joy and helping the residents."
             Singing is not only enjoyable for LCCNR's residents, but it provides a host of other benefits, as well.  According to one 2013 article, singing can improve brain function in seniors, particularly those suffering from Parkinson's disease or other ailments that affect speech. Seniors with other health problems, such as dementia, show increased social interaction when they belong to a choir.  McCarron says the glee club members with dementia may forget the words to the songs, but never the tunes, and they always come to rehearsals. Providing more social interaction, membership in a singing group leads to improved quality of life.
             The singers aren't the only recipients of music's benefits. The residents and guests attending the concert get something from the concert, too. A study from McGill University in Canada found that listening to music raises levels of dopamine, the hormone associated with feelings of pleasure and reward.
             Sandi Szymanski, a retired music teacher and the Glee Club's Choral & Artistic Director, describes her experience working with the group: "No matter how you're feeling, you feel uplifted," she says, "just watch their faces!"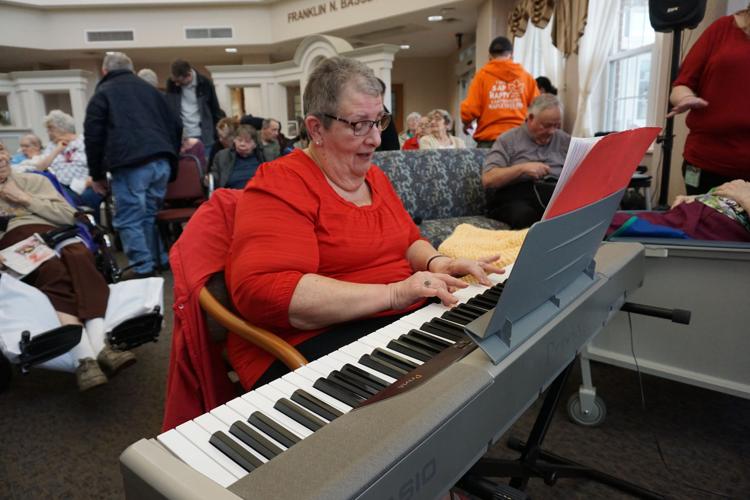 It's true. During the concert, glee club members smile while they sing, as if they're being transported back to their youth. Audience members go on the same journey, their bodies sway back and forth; some tap their toes, and many sing along to the songs selected from a lexicon of old-time musical favorites like "Moon River," "Swing on a Star" and "Sun in the Morning."
             The Glee Club members meet weekly for rehearsal every Thursday at LCCNR from 10:00 – 11:00 a.m.  They perform a Christmas concert every year at LCCNR as well as contribute to the yearly memorial service held at the facility in June in honor of residents who have passed away. Other concerts are held throughout the year at other venues around Livingston County, such as the Avon, Dansville and Mr. Morris Senior Nutrition Sites.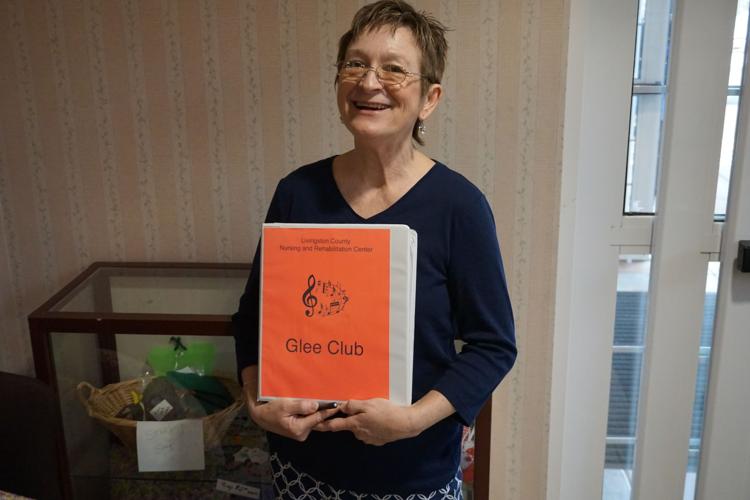 Adds McCarron, "We're just volunteers, both able-bodied and frail, elderly, sharing a beloved activity in a public space, open to all."
             Have something interesting you'd like to share with our readers? Perhaps an original story, a personal experience, community happening, or school event? Add some photos, and your story will be featured on our popular website for all to see. Who knows - it may even end up in print! It's easy to do. Go to
My Hometown to view previously posted stories. To post your own, visit Community at My Hometown today!