Along York Road towards Pavilion appears a rather inconspicuous sign bearing the name Linwood Gardens at the mouth of a wooded drive. Upon entering, an entire secluded world opens up, and visitors are welcomed to the Linwood Summer House, overlooking the Genesee Valley. For select days each year, Linwood Gardens offers guests a peek into its unique beauty during its Tree Peony Festival of Flowers.
             The year was 1935, four years before the outbreak of World War II, and William H. Gratwick III (W.G.) was looking to Japan for very different reasons. "He had a lot of interests," said W.G.'s granddaughter, Clara Mulligan. "He was a horticulturalist, a landscape architect, an artist; he raised sheep. He was quite the man." W.G.'s father, William Henry Gratwick II of Buffalo, had built Linwood Gardens between 1901 and 1910 as a summer home for his family. When he died in 1933, W.G. moved his family to Linwood Gardens permanently.
 


             W.G., an avid horticulturalist, created a rare plants nursery at Linwood. "My grandfather began importing flowers in the 1930's-1940's," said Clara. Then, chemistry professor, A. P Saunders, had introduced him to Japanese tree peonies. Known as the King of Flowers and grown in monasteries, temple courts and Imperial Palaces, Japanese tree peonies, themselves hybridized from Chinese tree peonies, are rough, woody-stemmed bush-like plants which grow 4-6 feet in height and almost equal width. Their large, colorful blooms are delicate, perfuming the air with their gentle fragrance.
             Gratwick imported 115 named tree peony cultivars and 500 tree peony seeds from Japan. Gratwick and Saunders began hybridizing new tree peony varieties; Nassos Daphnis, an artist from New York City, was attracted to the beautiful flowers and, in 1945, joined them in hybridizing tree peonies, as well. Gratwick continued to raise and propagate the original Japanese imports, the Daphnis and Saunders hybrids, and his own introductions from the original acquisition of the 500 seeds.  He also added sculpture and new garden areas to Linwood, which currently displays twelve structures to visitors: the Entrance Gate, the Summer House, the Swimming Pool, the Italian Garden, the labyrinth, Saunder's Hill, Dwarf Village, the Vegetable Garden, the Tree Peony Nursery, the Walled Garden, the Lily Pond and the Chapel.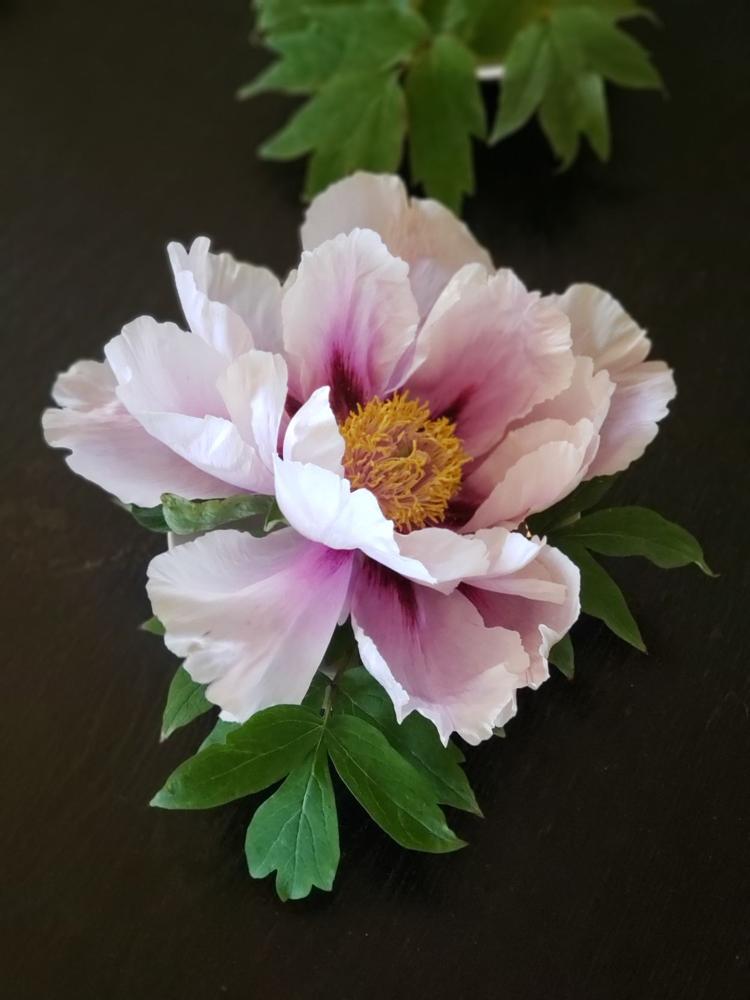 Linwood is not trying to be grandiose, explaining that they can only handle a certain number of visitors at a time with the volunteers they have. "We like it when about 1,500 people visit us annually," Clara said. These funds provide a means of maintaining Linwood. "Everything is 100 years old now," Clara pointed out. The family has already restored the Summer Home to its current state after a devastating fire in 1973. "Our goal is not to restore it completely," added Clara. "This is manageable."
             "Linwood Gardens has always welcomed the public," said Clara, referencing her grandmother's community music school and a host of cultural activities held at Linwood in the past. "We hold the festival because the tree peonies are blooming," Clara explained. "The gardens are at their peak right now, and this is our way of letting the public participate." Mulligan added that since there were hardly any blooms during the festival's first weekend this year, Linwood Gardens has added Saturday, June 8th.
 
             While Linwood Gardens nonprofit holds these events, Clara Mulligan points out that Linwood is a private residence. "It is my mother's place," she states. "The nonprofit takes over the house and the gardens for events. We see it as a way of serving our community."
             Clara Mulligan's mother, W.G.'s daughter, Lee Gratwick, currently lives at Linwood, and Clara Mulligan, along with her own daughter, gardening enthusiast Holly Watson, help Mrs. Gratwick to preserve, care for and improve it. "My mother has been on the property fulltime since 1980," Clara shared. "My generation is very involved, as well, and my daughter, Holly, is very keen on the property and collection."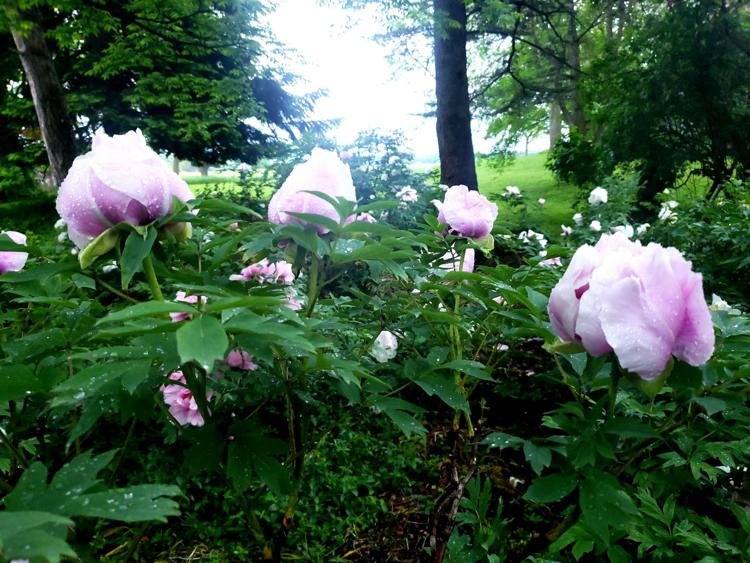 "It serves our community as a sanctuary," Clara continued. "It is very quiet and peaceful. You would never know we are surrounded by active dairy farms. It was originally designed as a very formal garden, but it all grew up. Now, my mother is trying to tame it, but we are blending wild and tame. It is much more calming, rather than feeling overmanaged."
              Linwood Gardens offers visitors the opportunity to explore on their own on select days. It also offers tours, which include the many garden rooms and takes, according to Clara Mulligan, about an hour and a half to complete as well as hosting open gardens days and workshops during the summer." "Photographers, painters and more come and enjoy," Clara said. "Many visit and want to come back."
It is a joy to the Gratwick family to share the beauty of their tree peonies with these guests. "We go crazy in the middle of the week sometimes when all of the peonies are blooming!" exclaimed Clara. "We are so excited for the weekend because we truly have something to show you. We see the most extraordinary things, and we can't wait to share them."
For more information, visit
www.linwoodgardens.org
.
             Have something interesting you'd like to share with our readers? Perhaps an original story, a personal experience, community happening, or school event? Add some photos, and your story will be featured on our popular website for all to see. Who knows - it may even end up in print! It's easy to do. Go to
My Hometown to view previously posted stories. To post your own, visit Community at My Hometown today!