Dansville's Greenmount Cemetery had fallen into disrepair. The grass and other plants were overgrown, and its paths and gravesites were not well kept. Those visiting there, sad to see the state of their loved one's final resting place, did not know where to turn for help. A few reached out on social media, sharing their experiences and this need with the community. Little did they know their words would inspire one of their own neighbors to take action.
             Clyde Green lives in Dansville. He attends church there, playing the drums in its praise and worship band and organizing the church's youth group, along with other efforts. When Green saw the posts about Greenmount Cemetery, he knew he had to do something. "We have a heart and a love for people and for our community," he explained. "I saw these posts, and no one was taking any initiative. I felt led to reach out to the community and see if we could come together in unity to make a change and clean it up."
             The response he received was amazing. "It was so overwhelming because a lot of people have loved ones buried up there, as well," Green recalled. "People started jumping on board, showing up or making donations since they couldn't be there. It really came together very well."
             Green, along with a good size group of volunteers went up to Greenmount Cemetery, and with focus, hard work and determination, they transformed a large part of the grounds. "We put a really big dent in the landscaping and cleanup part of it," shared Green. "Now, it looks very good because volunteers took action to make change."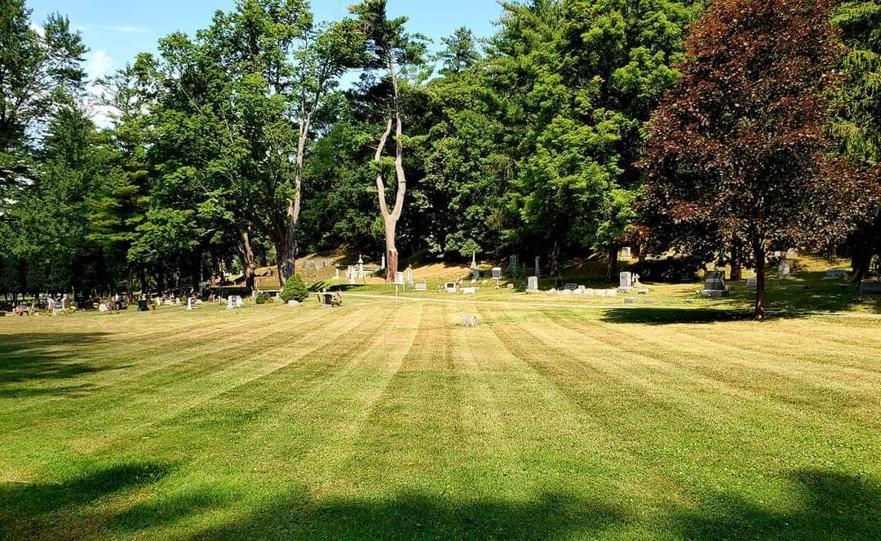 And not just volunteers…those who donated also played a crucial role in making the cleanup a success. "Not only did people show up with push mowers, riding mowers, weed eaters and other equipment to donate their time and effort," said Green. "But also, those who could not attend donated items like bags of ice, cases of water Gatorade, money for food, sheet pizzas from Tops and 100 cheeseburgers, 100 nuggets and 6 bags of ice from McDonalds!"
             For Green, serving the community brings its own satisfaction. "I am very grateful and humbled by the experience," he said. "To see the community come together, even if they couldn't be there, was beautiful. We received so much positive feedback. It was very rewarding. Both the people in our community and those who showed up to do the worked asked if we were going to come up again and make this a regular thing."
             The answer, of course, is yes. "They are willing," Green said. "The desire is there to step up and take action, and I highly appreciate that."
             This group of hardworking volunteers gave themselves a name: People of Action. While they do not have any immediate projects planned, People of Action hope to be ready as needed. "As a need arises in our community and we hear about it, I will get a hold of the community once again to see if anyone is willing to come together and meet that need," Green explained. He hopes others will take advantage of serving others when it is simply a matter of showing up.
             "Our lives are so busy with everything that is going on," he said. "People want to step up and contribute, but they may not have that balance of time and ideas. They would like to do something, but they don't know what. If something is put into place where someone else take the initiative and handles the logistics, all they have to do is jump in behind a good cause."
             While he led the efforts, Green is quick to point out that many deserve recognition for the cleanup's success. "Without a team, I could not do all of this," he said. "I would like to thank my wife, Casey Green, my parents Clyde Green Sr. and Barbara Green, Pastors Badru and Regina Brewer, Judy Ball, Angela Winans, Dansville Strong and Dansville Staying Strong, groups that deserve recognition, as well, just to name a few."
 In speaking of his team, Green was reminded of their fundraiser for friend Heather who is battling stage 4 breast cancer. "There, too, the community came together in unity, buying hot dogs and donating cash. It blows me away, and it is so beautiful to see that. My faith is the reason I am doing this, and I truly have a heart for people. I just have that genuine love to help people and encourage them to do better."
 Green has also launched a new youth group in Dansville. "I want to give the youth in our community something positive to do," he said. "A place where they can put their positive ideas for serving the community into action." Meetings start every Saturday at 10am at 6 West Liberty Street in Dansville.