For the seventh straight year, local preschoolers in Pittsford pedaled their hearts' out to raise $5,700 for charity through their Trike-A-Thon event. Students at The Goddard School located in Pittsford (Bushnell's Basin), New York, geared up, took to their trikes and rode laps around the parking lot. Even the youngest children participated, as teachers pushed them to victory in the comfort of their own strollers.
 
             The two-day event took place on May 23 and 24 and was part of the school's ongoing effort to benefit St. Jude Children's Research Hospital. "The first year we held the Trike-a-Thon, we set our goal at $1,000, and I thought maybe we would reach it," said Lisa Keenan, a director at The Goddard School. "We raised $4,000. It was amazing!"
 
             Continuing its success, the Trike-A-Thon has become a much-anticipated, annual event in the local community. "We start by talking about it with the children the week before the event," said Keenan. "We explain that St. Jude is special hospital for children who are sick and that since the hospital doesn't charge the parents, we are going to raise money to help pay for all the treatments they receive."
 
             The Goddard School makes the event fun for the children while also taking the opportunity to teach them about bike safety, road safety, traffic signs and the importance of wearing their helmets. "They love it!" exclaimed Keenan. "We do not have bikes here aside from a couple of riding toys for our very young children. We usually just have our playground, so getting to ride their bikes is very special for them."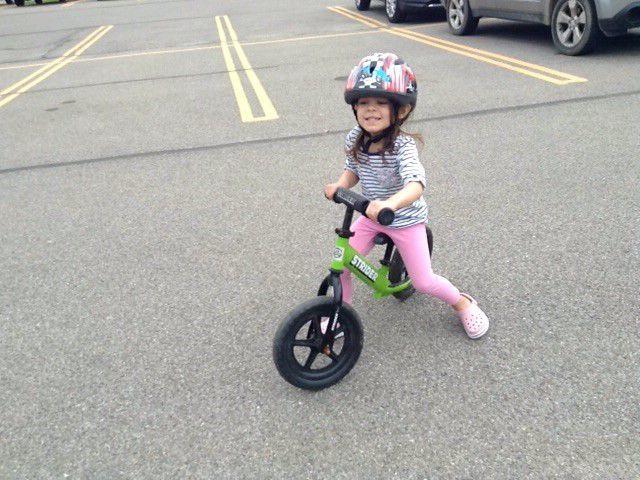 Many of the three, four and five-year-olds are just learning to ride their bikes, and some are just taking off their training wheels, making the Trike-A-Thon even more exciting for them. "On the last two days of the week, Thursday and Friday, we close off our parking lot and let them ride," said Keenan. ""After a long winter, it's great to see how proud the children are that they're finally riding!"
             At the end of this year's event, the children had raised $5,700 for the organization, bringing the grand total donated since 2013 to more than $35,000. While thrilled with these results, Keenan also put them in perspective. "It seems like a lot until you think about all of the treatments and everything that those children have to go through," she said. "It can cost $700 for one breathing treatment. Even so, our $5,700 will go far enough to help one or two children receive whatever services they may need."
             Families, friends and the community teamed up to support the hospital by pledging donations for the Trike-A-Thon. All proceeds went to the hospital's mission of finding cures and saving children. "The parents are so great," Keenan said. "They volunteer and help with the actual event, and of course, they are always so generous with their donations in support of this important cause."
             "Our school's community recognizes the importance of being generous and helping those in need -- especially children," said Gary Graziano, on-site owner of The Goddard School located in Pittsford (Bushnell's Basin). "Our annual Trike-A-Thon is a great way for us to teach our students the importance of good citizenship while also having fun."
             For more information visit our
website
.
Enjoy this article? Check out this week's other great stories:

• Dipper Dan Honored by Special Proclamation
• 5th Annual Beertavia Craft Beer Festival to Highlight Local Brews
• Maria's Sunshine & Dreams Fund: Spreading Sunshine to Local Children Facing Medical Hardships
Have something interesting you'd like to share with our readers? Perhaps an original story, a personal experience, community happening, or school event? Add some photos, and your story will be featured on our popular website for all to see. Who knows - it may even end up in print! It's easy to do. Go to
My Hometown to view previously posted stories. To post your own, visit Community at My Hometown today!