When Justin Calhoun and his fiancé moved to Honeoye from Kentucky last year, he quickly fell in love with Honeoye Lake, Sandy Bottom Park and its walking trail. While Calhoun enjoyed the peace and quiet the Sandy Bottom Walking Trail brought to his meditative walks, he believed he could add another layer of interaction to the trail experience. He decided to create Pokestops along the trail, in the park and in town.
             "I have been a fan of Pokémon since I was a teenage and a fan of Pokémon Go! since it came out in 2016," said Calhoun, originally from Rochester, New York. Pokémon Go! is an interactive game for which players must walk around and be physically active. Players go to different stops to play, finding Pokémon, battling and more. "In the game's gyms, you can see different people who are in the gym," continued Calhoun. "When I first moved here, I didn't see much going on [in the game]."
             Having mostly lived in metro areas, Calhoun was delighted to get away from the city atmosphere. "Watching the sunrise and sunset here is beautiful," observed Calhoun. "The Cummings Nature Park, taking the dogs for walks around there…the whole area is so peaceful and nice. You always see people walking their dogs, and you get to talk with people you meet."
             "I figured why not try to make a couple of stops along the trail so that I could do something active with my game while I walk?" explained Calhoun. "I live right next to the Sandy Bottom Walking Trail, and I frequent it with my dogs."
             In fact, Calhoun and his fiancé, a vet assistant have six dogs. "My fiancé used to work 24-hour, emergency vet clinic in Kentucky," he said. "That is she got her four dogs, and I had my two. They keep me busy!"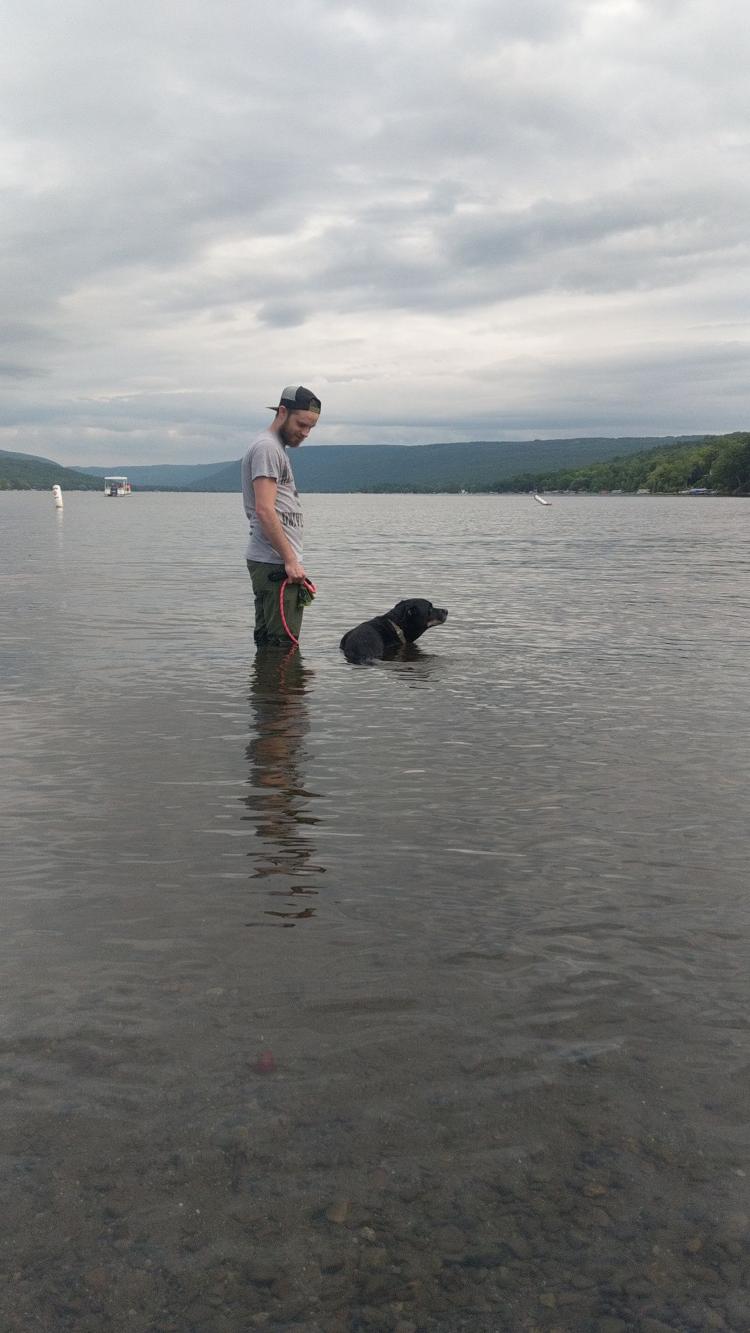 Once the idea struck, Calhoun was off and running, or rather, walking. "It was pretty easy within the game," Calhoun shared. "You have to reach a certain level within the game to nominate places as stops, which I had already reached. The stops are usually historic landmarks, churches and points of interest in the community, and Sandy Bottom Trail is a landmark within Honeoye, so that made it easy, too."
             Next, Calhoun chose his stops. "I used the bridge and the information hut as stops," he said. "The game turned the pavilion into a gym where you battle and get coins." Calhoun made some more stops and still wasn't done.
             "Slowly, as I started getting more stops into the town, I started seeing more and more people participating. I thought I would try to expand it, so I made a couple of additional stops at the trail head, on Main Street and at the library," he added.
             For Calhoun, like many others, the benefits of the game extend well beyond exercise. "It gets me out in the community," said Calhoun. "You can get a couple of people together and battle at a specific gym in some groups. It is fun and interesting; you get to meet new people you probably wouldn't have normally."
             Contrary to what some may think, the game isn't just for kids either. "You get people my age that are doing it, teenagers and in between," said Calhoun, thirty-three. "I have met people from teenagers to fifty and sixty-year-olds. It very surprising that they know about Pokémon and that they are playing the game in general, and It is nice to have a community, the community of gamers, yes, and others. It's a diverse crowd."
             Referring to Pokémon Go!, Calhoun added, "Avon actually has a huge community. I have made a lot of friends there, and I spend a lot of time in Avon. It would be nice to do more within the game in Honeoye."
             Even so, Calhoun's Pokémon Go! efforts have not gone unnoticed. "I have had a couple of people…notice the stops. The game doesn't tell you who put the stops in, but I've said I have been trying to work on putting some stops in Honeoye. Some people have noticed and thanked me for doing that."
             For Calhoun, it has been a complete success. "For me, it is personal," he shared. "I wanted to get away from unhealthy influences. This has encouraged me to go on more walks, have a little fun and keep that better lifestyle."