If there is a silver lining to COVID-19, it may be that it has given service organizations the opportunity to shine. While things are still difficult for many, times were especially hard earlier this year when the country shut down. A number of area families were suddenly struggling and caring for their children who came home indefinitely from school. The Spencerport Education Foundation stepped up and stood in the gap to meet their needs.
             At barely two years old, the Spencerport Education Foundation is a nonprofit organization which partners with Spencerport Central School District to support the school districts mission, particularly helping to meet teacher needs, and to provide funds outside of the school. Sara Snarr, board member of the Foundation, explained. "The Spencerport Education Foundation awards scholarships," she said. "We awarded four $5,000 scholarships this past spring. We also help fund the materials that teachers and other school professionals need that just aren't in the school budget; things like furniture and books. We were able to purchase a play therapy kit for the school psychologist, for example."
             The additional funds are deeply needed. "Over the last decade or two, a new trend of diminishing budgets and diminishing tax bases has emerged," said Snarr. "Several other school districts have already established foundations like ours." She is hardly alone in her sentiments. The Foundation's board is comprised of local parents and business members as well as the former Spencerport Superintendent. When COVID closed Spencerport's schools, the Foundation was quick to act.
             "Businesses and families were hurting," Snarr recalled. "People were out of work, and no one was going out to eat. So, we launched the #SpencerportTogether Meal Initiative, the brainchild of Spencerport Superintendent Dan Milgate. When they closed the school, he came to us with a way to support both area families and local eateries affected by the virus."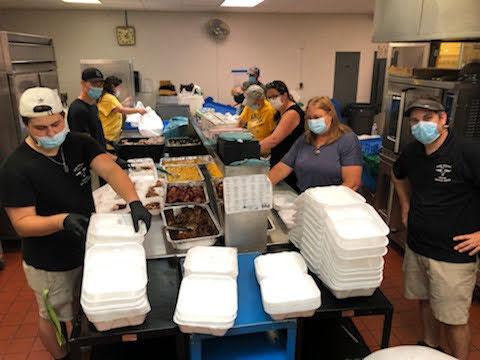 Superintendent Milgate suggested that the Foundation partner with area restaurants to provide meals for families in need. The school was still allowed to provide lunches by the state, but there was no support for evening meals. These restaurants would take turns providing dinners Monday through Friday until the end of the school year, and the Foundation would help cover the costs. In this way, families would be fed, and local food establishments could make up some of their lost revenue.
             The idea was an extraordinary success. "Restaurants were showing up with 400-600 meals!" Snarr said. "The families paid $2 a meal, and the remainder was made up by the Foundation. Families would drive up, and we had the process down to a science to prevent any infection. There were so many restaurants that participated, such a great response. It was incredible!"
             Snarr could not say enough about the generosity of participating eateries. "The restaurants were amazing partners," she said. "Cars would line up with their cash ready, and most nights, they would give away all the meals, 400 on average, within an hour and a half." Snarr named several establishments, noting they went above and beyond for local families.
             Several Spencerport area families were grateful, as well. "It was very nice for a lot of families," shared Snarr. "There were families and kids who wrote thank you notes that said things like Thank you for the yummy meal! One family even had a thank you song! It was a very positive experience, our first enormous project, and something we really enjoyed." By the time the school year came to a close, the Spencerport Education Foundation and local restaurants had served over 22,000 meals.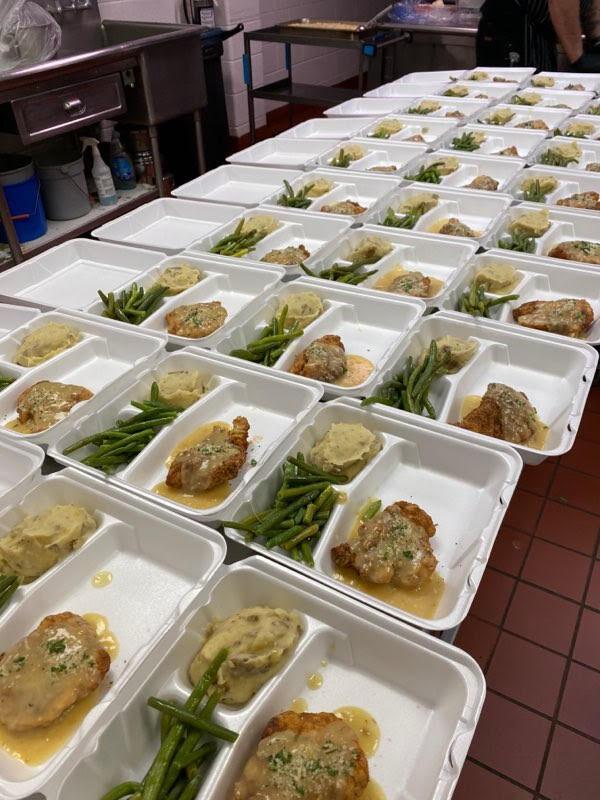 Other businesses were also inspired the Initiative. "One spectacular printer made #SpencerportTogether t-shirts which we used to raise funds for the program," said Snarr. "When the program ended, we had a little bit extra, so we donated it to the Spencerport Food Pantry which is run by several churches. These were other nice community partnership pieces which came out of this."
             On the heels of its recent triumph, the Spencerport Education Foundation has already made plans for the fall. "We are looking at some fundraiser opportunities and planning on bestowing more grants while continuing to award our scholarships," said Snarr. "We are also looking at several other internal projects and other ways in which we can support the district through these difficult times. We have encouraged Spencerport schools to keep in touch just in case there are any surprise needs with COVID or needs for things they cannot meet with their budget. This community as fantastic about donating, and we are excited to fill these needs."
For more information or to donate, visit www.SpencerportEducationFoundation.org.