On Saturday, May 25th, The Cornerstone Market in Honeoye hosted festivities in honor of their five-year anniversary. Established in 2014 by husband and wife Alysha and Ian Baier along with their friend and partner, Peggy Jane O'Neill, the Cornerstone Market carries homemade sandwiches, soups, baked goods and other prepared foods as well as a unique assortment of specialty items and beverages, including craft beers, wines and ciders. The celebration reflected these and more.
             A blue-and-white striped canopy tent stretched over a stage, tables and chairs stood in the center of the lawn as local bands played for the crowd. Tastings were offered, including wines and mead from Noble Shepherd Craft Brewery. Samples of homemade foods were carried to guests with more available for purchase. Inside, specialty items, homemade foods and a counter laden with robust and attractive baked goods beckoned guests to linger, explore and sample. Owner Alysha Baier remembers when it all began.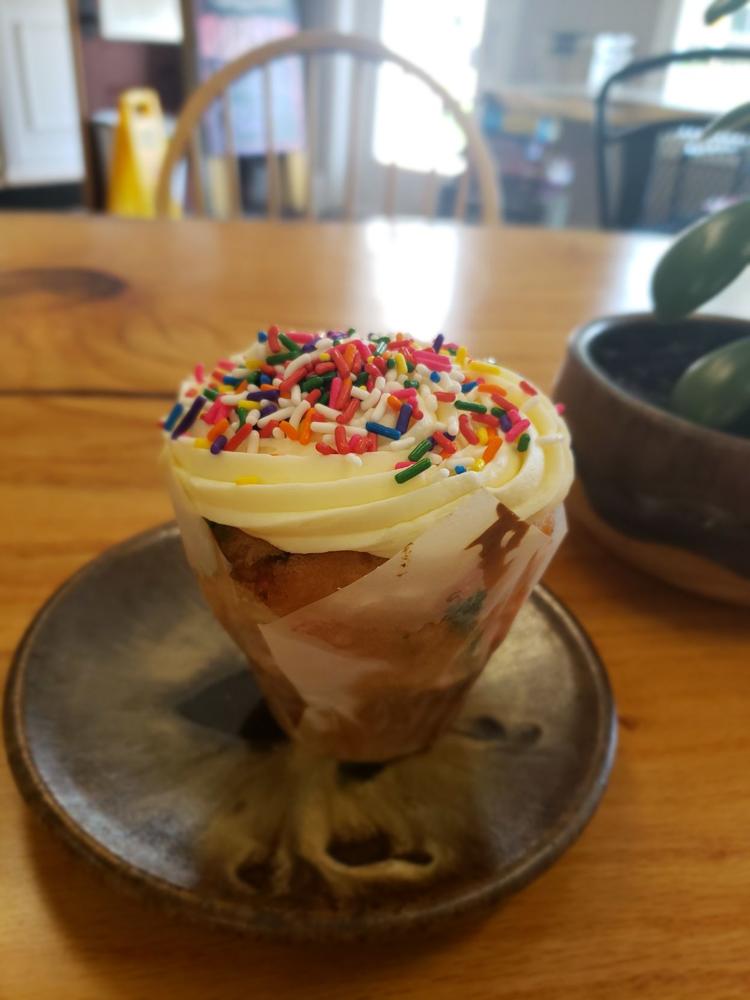 "The landlord of the building where I had my studio is also invested in several properties in town," explained Alysha. "He informed me that this storefront would be opening up and asked if we were interested in doing something with it." Alysha spoke with her husband, Ian, who has a great deal of background in food service. They had some ideas of their own, and decided to involve their friend, Peggy, who was looking to start a similar business at the time. "We all talked it out and decided to do it," said Alysha.
 
             The Cornerstone Market launched as a specialty grocery store and bakery; however, its focus shifted somewhat after the unexpected loss of partner Peggy in March 2015. "Losing Peggy was very hard," Alysha said. "We lost our friend and partner within our first year." Peggy was a vegetarian/vegan with special dietary needs, so originally, such foods were the focus of the store. "We still have a lot of those items as well as tofu options," said Alysha. "We shifted to prepared food and sandwiches, homemade soups and baked goods, craft beers, specialty items and drinks while minimizing the grocery aspect of our business."
             "We also try to source as local as we can," said Alysha. "We have someone local who grows shitake mushrooms for us, for example. We carry The Soap Hag locally-made soaps as well as The Green Heart of the Finger Lakes products." Beverages have also been a hit. "We carry Harney & Sons Teas of Millerton, NY. They now make CBD teas which have become quite popular. We carry Saranac and Stewarts sodas, both of New York State. We carry craft beers, ciders and wines from such producers as BlackBird Cider Works, 1911 ciders and also Three Heads Brewery who always participates whenever we do a tasting." Alysha and Ian are excited about their recently established relationship with Noble Shepherd Craft Brewery, as well.
             It hasn't always been easy. "The past five years have been filled with a lot of challenges, especially the loss of Peggy, but they have also been filled with a lot of amazing and beautiful things," Alysha recalled. "We have made many friends and become a bigger part of our community. That is what it is really all about, not simply making money." Alysha explained that many in the community have been very supportive, and that even those who have been more reticent have begun to realize that the market offers something positive and unique to the community.
             Alysha and Ian are continuing to grow The Cornerstone Market. "We would like our business to become a destination," said Alysha. "I recently incorporated my pottery into the business, transforming one of our kitchens into my own my own pottery studio where people can come and watch me make pottery. We are also planning to work with Birdhouse Brewing when it opens in September."
 
             Alysha and Ian hope other businesses consider locating to Honeoye, as well. "This town has a lot of potential," shared Alysha. "It is growing and developing, and we believe it is going to get there. The town will be going through some renovations to improve vehicular and pedestrian traffic." Honeoye already has wonderful hiking trails and the Finger Lakes, two of which are close by, attracting cyclists as well as other visitors. Also, Sandy Bottom Park on Honeoye Lake was just renovated and should be a greater draw. "We never expected to make a million dollars," added Alysha. "We simply want to do what we love and get by."
Have something interesting you'd like to share with our readers? Perhaps an original story, a personal experience, community happening, or school event? Add some photos, and your story will be featured on our popular website for all to see. Who knows - it may even end up in print! It's easy to do. Go to
My Hometown to view previously posted stories. To post your own, visit Community at My Hometown today!