Several years ago, Reverend Henry Moore followed a vision to bring hope to people across stages of life. So, he and others started serving their community out of a local church. Little could they have imagined running five programs from a Main Street storefront in picturesque LeRoy.
             "As we continued to serve, God continued to tell us that our vision was too small," said Rev. Moore. So, he and his pastor realized they needed to separate the outreach from the church and become their own separate faith based 501c3, becoming the Hope Center of LeRoy, allowing them to begin work with members of the community and other local churches. According to Rev. Moore, the center's director, their intention is "to bring faith and community together."
            The Hope Center can now get as big as there are people with a heart for God, who want to start a program that serves real community needs in the name of Christ. €They simply present their vision, and they can help them make it happen under the umbrella of the Hope Center.
             "Hope is a word which speaks of a con dent expectation that believes tomorrow will be different, and more specifically, 'better' than yesterday," said Rev. Moore. "Hope is based on the powerful love of a good God who is on your side."
             The Center currently offers five programs: Fresh Start Literacy, Memory & Friends, LIFT: Ladies in Faith Together, JOY (Just Older Youth) Fellowship and € The Sewing Bee.
             In grades K-6, Fresh Start Literacy gives children the one-on-one reading support they need for greater success in the classroom and I life. "About a year ago, we brought in our first student," Rev. Moore recalled. "We work with students by appointment and hope to open this program to children of all ages." Like all the programs offered at the Hope Center of LeRoy, the program is staffed entirely by volunteers.
             Memory & Friends, a respite care program, has already begun making an impact in its seven short months. Providing a much-needed break for caregivers of those with early to mid-stage memory impairment such as Alzheimer's or dementia, it's held from 10am-2pm on the second Wednesday of every month. Caregivers can bring their loved ones in to spend time with a consistent friend.
             "We work one-on-one with them," said Rev. Moore. "We play games, do crafts and music. Caregivers are able to go to appointments, visit others and have some quiet time." € The program has been very successful with much positive feedback "from family members who were blessed to bring them as well as from volunteers who had [...] the opportunity to work with these individuals," shared Rev. Moore.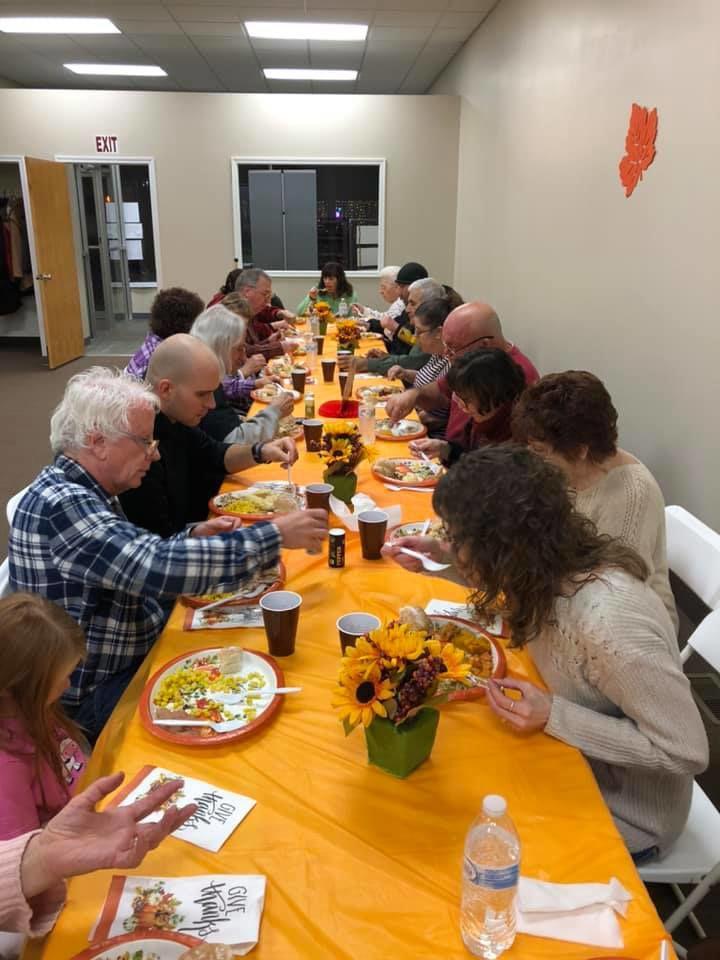 JOY (Just Older Youth) Fellowship for those fifty-five and older is another enriching program. "€ ey get together once or twice a month usually," explained Rev. Moore. JOY Fellowship's wide variety of activities, which take place both during the day and in the evening, encourages people and helps them socialize in positive and protected ways.
             The Center has two more programs: €The Sewing Bee, a multigenerational sewing instruction program, and LIFT (Ladies in Faith Together), the Center's first program begun for single moms. LIFT now provides support for moms, both married and single, on the third Saturday of each month from 5:00pm- 6:30pm. € The meeting features a light snack for mothers and their children, activities, supervised childcare, encouragement and spiritual support.
             The Hope Center also hosts two annual events: Operation Prom Dress and Go Pro Spa Day. Started in 2010 by Rev. Moore's wife, Valerie, Operation Prom Dress is an annual giveaway meant to ensure that every girl has a beautiful dress for her prom. "We bring in 500-700 new and gently used dresses each year," shared Rev. Moore.
             He recalled a young woman two years ago who wanted to try on the display dress they kept in the window. They agreed, and it fit perfectly. When they confirmed that she could have the dress and free of charge, the young woman couldn't believe it. Said Rev. Moore, "€The girl was talking on the phone outside and said, 'I can't believe they gave me this dress. I'm going to shine.' It was all about being able to touch a person's life and change it."
             Go Pro (God's People Restoring Others) Spa Day, started by Lori Steinbrenner, also encourages women. "Each year, we invite a particular group of people," explained Rev. Moore. "Last year, it was single moms. We give them a full makeover complete with hours of being completely pampered, a meal, and pray for them."
             "It is what is inside that really matters," he observed. "Your inner beauty is the most important part of who you are. € is is true male or female, but women in particular hear that if they do not look like this or dress like that, then they are not beautiful, and it crushes them."
             The Center's future endeavors will depend on space and volunteers. "Our goal is to reach people, restore hope and revitalize the lives of those around us. To me, the sky is the limit!"
For more information, call The Hope Center of LeRoy at (585) 768-8184, email info@hopecenterleroy.org or visit www.hopecenterleroy.org.