"We had 132 golfers this year," said Zach Fuller, founder of Eagle Star Housing. "We aim for 100-108 every year, so this was a very good turnout!"  Eagle Star Housing, a nonprofit supporting Veterans, has helped over 810 homeless Veterans find a place to have a safe environment to sleep on a total of 63,367 nights since its first location opened seven years ago. Its annual golf tournament is its primary fundraiser.
             "I don't like to ask people for money, and people don't like to constantly be approached for money either," said Fuller. "So, we only hold this one fundraiser each year." His method seems to be working. "We are set to raise about $40,000," he said. "It's been a great year, and I can't thank our sponsors enough!"
             In fact, things are looking up for even more Veterans in need, thanks to Eagle Star and the generous support it has received. "We have now opened our new Farmington location," said Fuller. "It is a Safe Haven Program in partnership with the VA." The goal of the Safe Haven program is to remove homeless Veterans from the street or habitation unfit for Veterans and place them in community-based, residential environments with sufficient services to meet the needs of those Veterans with Eagle Star Housing providing Safe Haven services as a specialty model of housing services to eligible beneficiaries of the Canandaigua VAMC.
 
             "Our first priority is to get them established with a safe place to sleep, good food to eat and transportation for their needs," shared Fuller. "We help get them stabilized in the houses, and then we work with the case managers to find them a permanent housing solution."
 
             "One of the best ways people can support these Veterans is simply by coming and visiting with them," said Pembroke location House Manager, Kristen Danosos. "Several area church groups bring meals and goodies. Pembroke High School's Veteran's Outreach Group came over, had a cookout and played cards. It was wonderful to see these students choosing to spend their time with our Veterans."
             "Even after our Veterans leave, some continue to stop by to visit and have dinner, and we are happy to continue to offer that support," added Danosos.
             Meanwhile, the 2019 ESH Open was well-enjoyed by all as sunny skies, warm weather and cool breezes made for a pleasant fairway. Beverages and snacks were provided free of charge at the course's midway point as was ESH swag for all participants. Here, the foursomes were all smiles as they had their photos taken in front of the United States Flag, proudly supporting our Veterans in need.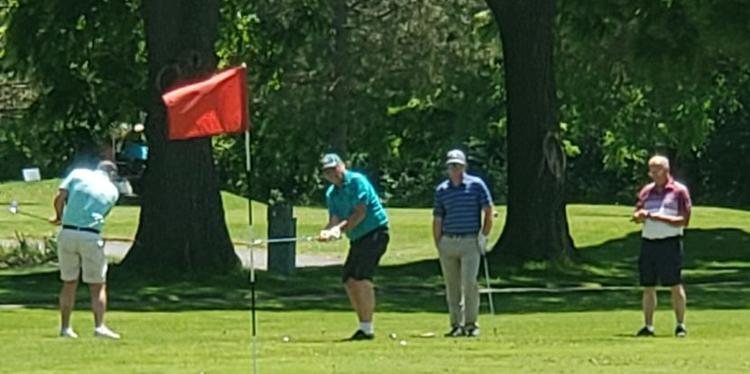 Have something interesting you'd like to share with our readers? Perhaps an original story, a personal experience, community happening, or school event? Add some photos, and your story will be featured on our popular website for all to see. Who knows - it may even end up in print! It's easy to do. Go to My Hometown to view previously posted stories. To post your own, visit Community at My Hometown today!