The Wayland American Legion has a vision to make a piece of property of which it has been given stewardship in Wayland into a memorial park. In order to successfully launch fundraising efforts to develop the park, the Wayland and Springwater American Legions worked in collaboration with the Wayland Rotary assisted by the Wayland Auxiliary to throw a Surf and Turf fundraiser dinner.
             "We are starting our fundraising project," said Kevin Mark, Post Commander of American Legion Theodore R. Van Tassel Post 402 in Wayland. "B & E Depot did a fundraiser a few weeks before the dinner and sent us a check, but this will be our first big event." The Legion hopes to break ground next spring.
             What would turn out to be a very successful evening, sponsored by local business Valley Fuel, opened with cocktails at 5:00pm. Shortly, the room was burgeoning with guests, and the line, which snaked around itself, was overflowing out the door. As friends and neighbors continued to arrive, the buzzing grew until the room was absolutely swelling with conversation. The group appeared to be a happy crowd, and many seemed to know each other well, shouting hellos, striking up conversations and waving across the room.
             People ordered drinks, perused the raffle items and found their seats to the backdrop of country and oldies music provided by The Spare parts, a bass, drums and vocals ensemble complete with disco ball. As the hour approached, the room was quickly filling to capacity of what would be a sold-out house. "The guest count had to be stopped at 200 due to space," said Mark. "We easily could have sold more!"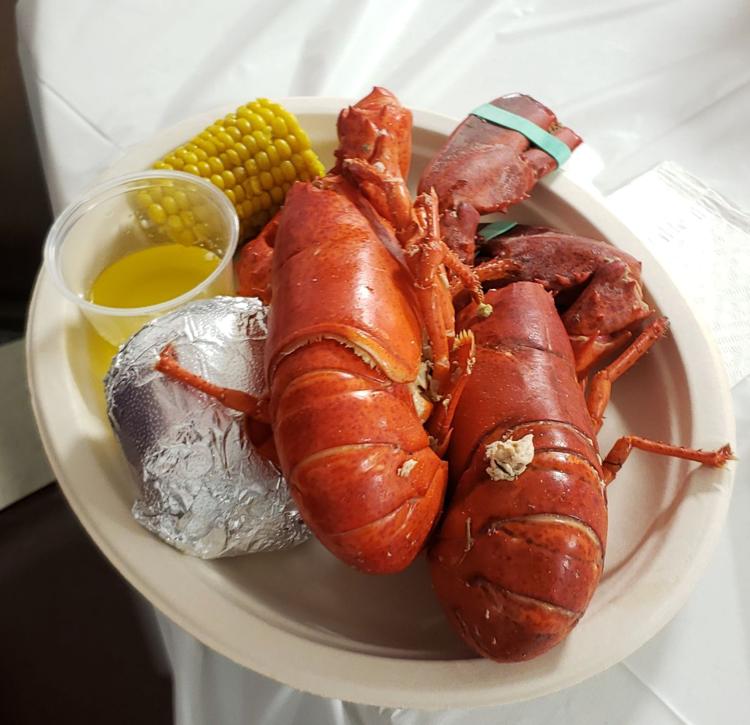 At 6:00pm, guests were called up for the dinner of their choice by table. The Surf and Turf Dinner, also referred to as a Lobster Bake, included one's choice of a lobster or ribeye steal meal for a very reasonable $25 and one's choice of a surf & turf or double lobster meal again reasonably at $35.
             The ribeye steak, cooked over a fire pit behind the building by steak connoisseurs Bob Fleishman and his wife, was a tender, juicy medium rare, and the portions were quite generous, including quite possibly the largest baked potatoes in the area.
              The tables and sides were well appointed with corn on the cob, sweet coleslaw, rolls and huge baked potatoes accompanying the show-stopping proteins. Cups of melted butter were provided, and scissors and sour cream graced each table alongside traditional salt and pepper shakers.
             Guests Amanda and her husband, John, remarked that the large boiled lobsters were sweet and delicious. The fresh Maine lobsters had been brought in from Maine for the occasion, thanks to Dustin and Fred Shutt, and cooked to perfection thanks to Legion chef extraordinaire, Bon Regelsberger. Fellow guests Elizabeth and Paul added that, "You definitely got what you paid for!" The fact that the roaring swell had been reduced to a low hum was perhaps the greatest compliment.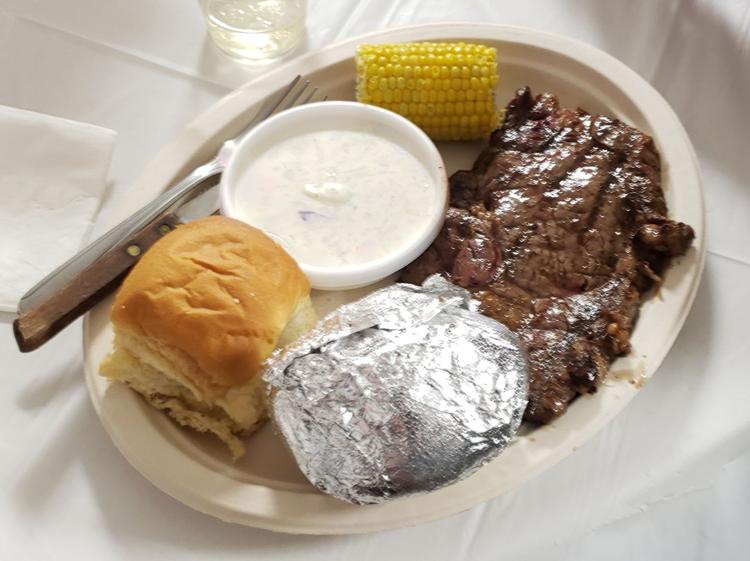 Around 8:00pm, as guests enjoying their choice of dessert bars or brownie with their coffee, the raffles began. Cash raffle prizes of $100 and $200 respectively were generously donated by Valley Fuel. The $100 prize was won by Brock Baird, who in like spirit, donated it back to the Point Project, and the $200 prize was happily won by a little girl.
             Other raffle prizes included a Christmas tree, an overnight and dinner for two at the Esperanza in Pen Yan, two separate beer-filled coolers, a wooden holiday snowman holding a gift certificate to the Village Clipper, an attractive bandana wreath, two collections of scratch offs, a wooden tray with wine and other items and a mule basket. Afterwards guests slowly filtered out, although many clustered in groups to chat around tables and drinks, clearly reluctant to end such an enjoyable evening.
             "We would like to thank Cory Mark Farms of Wayland for donating the potatoes," said Mark. "We would also like to thank the Wayland Rotary, assisted by the Wayland Legion Auxiliary. Their kitchen staff was the backbone of this successful event. The community really came together, and we are grateful!" The American Legion Post 402 is currently planning to host two more fundraisers, although the details have not yet been determined.