On Saturday, August 10th, the Town of Henrietta and the Friends of Tinker Nature Park hosted Wild Tinker, a family-friendly event at Tinker Nature Park. Guest were welcomed free-of-charge to enjoy displays, wild animals, children's activities, the Hansen Nature Center and its exhibits, presentations and the beautiful nature and trails of the park itself.
             Wild Tinker kicked off at 10am with a presentation on WOWEE's Wolf Program, "Howling at the Moon," with Nellie and Juno. Seneca Park Zoo's Wegman's Zoo Mobile also joined the Wild Tinker action with its exhibit, "Life in the Genesee." At its booth, Seneca Park staff brought guests up close with such animals as a farm-bred mallard duck, an African millipede and Fire Belly Toads.
 
             At its booth, Wild Wings Inc, which is located inside Mendon Ponds Park, introduced visitors to a Peregrine Falcon, which can be found in many areas, and a Cooper's Hawk, which are usually found in North America's desert regions. The Wild Wings staff gently held these beautiful birds which peered curiously at those gathered.
             Henrietta Public Library held a Pop-Up Library at its booth. Starting the morning with over 100 books, they were quickly in need of more books and more bookmarks. The children's enthusiastic response suggests print is not passé after all.
 
             Some booths offered activities such as coloring animal pictures and creating their own fluff ball version of Pudge the Dove. Cornell Master Gardeners of Monroe County offered excellent gardening and nature advice to interested guests. The Livingston County Master Gardeners answer questions weekly in the Genesee Valley Penny Saver's own Gardening Q & A feature.
             Hungry visitors were able to purchase food from trucks by ROC City Sammich, The Meatball Truck, Co. and J & S Fried Dough. Then, they could enjoy it with their families while being serenaded with live music by The Big Blue House Band.
             One highlight of Wild Tinker was Hawk Creek's presentation regarding their Bald Eagle Program, which packed out seating in the Hensen Nature Center. Their rehabilitation mission is to send animals back out into the wild, but when that is not always possible, these animals stay with them or with other programs.
 
             Hawk Creek's Tanya Lowe described how the Bald Eagle's numbers in New York State had once declined until there was only one known Bald Eagle in the entire Empire State. This decline was linked to the use of DDT. Now, thanks to reforms and programs, Bald Eagle population numbers are rising.
 
             Next, Lowe introduced Gryphon, a Bald Eagle. He was majestic, spreading his wings as he took in every sound and movement. Canyon, a magnificent Golden Eagle, brought out next, was more relaxed, having a closer and longer relationship with Lowe and Wild Wings. Afterwards, guests eagerly stood in line to take photos next to these powerful birds of prey.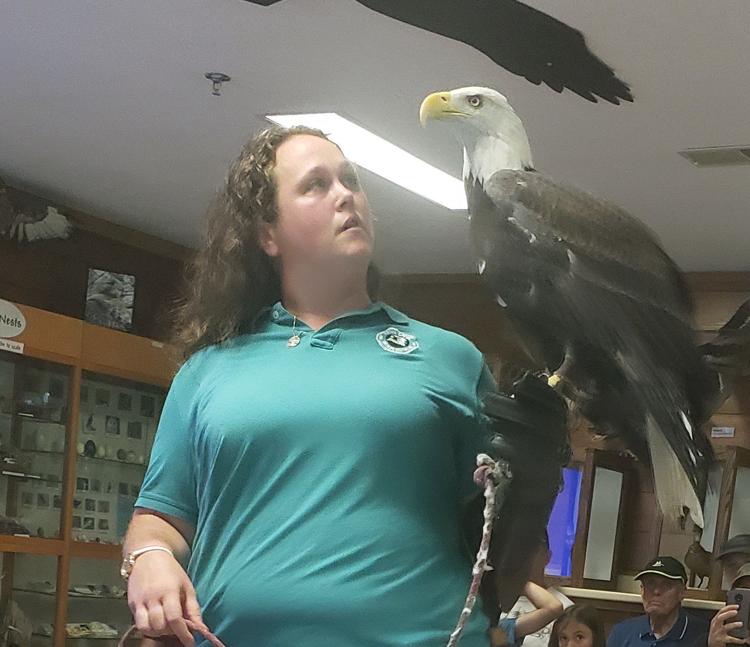 Enjoy this article? Check out this week's other great stories:
Have something interesting you'd like to share with our readers? Perhaps an original story, a personal experience, community happening, or school event? Add some photos, and your story will be featured on our popular website for all to see. Who knows - it may even end up in print! It's easy to do. Go to
My Hometown
to view previously posted stories. To post your own, visit
Community at My Hometown
today!