Physical Education teacher, Brianne Blaszak is a dedicated educator and runner. These twin passions motivated Blaszak to start Endlessly Outdoors Company (EOC), a company that brings communities together one adventure at a time and includes the Young With Miles To Go program (YWMTG) that trains adolescent girls to run well. Now, in its second official year, EOC continues to impact teens for the better, and several of its young ladies took part in the Oatka 5k on Saturday, July 13th.
             "I teach teens," said Brianne. "They're at a crucial age. I saw a gap between teaching and getting the kids outside to reconnect with their parents and their community. I started YWMTG to get these girls running and fill this gap." Blaszak hopes this group will help girls get through those critical years.
 When Blaszak was coaching soccer in LeRoy one fall, a couple of her players took an interest in running. These girls, YWMTG charter members, went from not running to completing the Evl 5k in October. "We also worked a lot on team building and nutrition, the healthy components of running and the benefits of it," Brianne said.
             By the end of this past March, Blaszak had 11 girls from LeRoy join her running group. Two businesses sponsored them. "Those girls ran the Happy Half 5k in Ellicottville this past May," shared Brianne. "Two more girls ran the Oatka 5k this month." EOC will started another session in Warsaw this week, and that group of girls will run the Oak Tree 5k in Geneseo in September.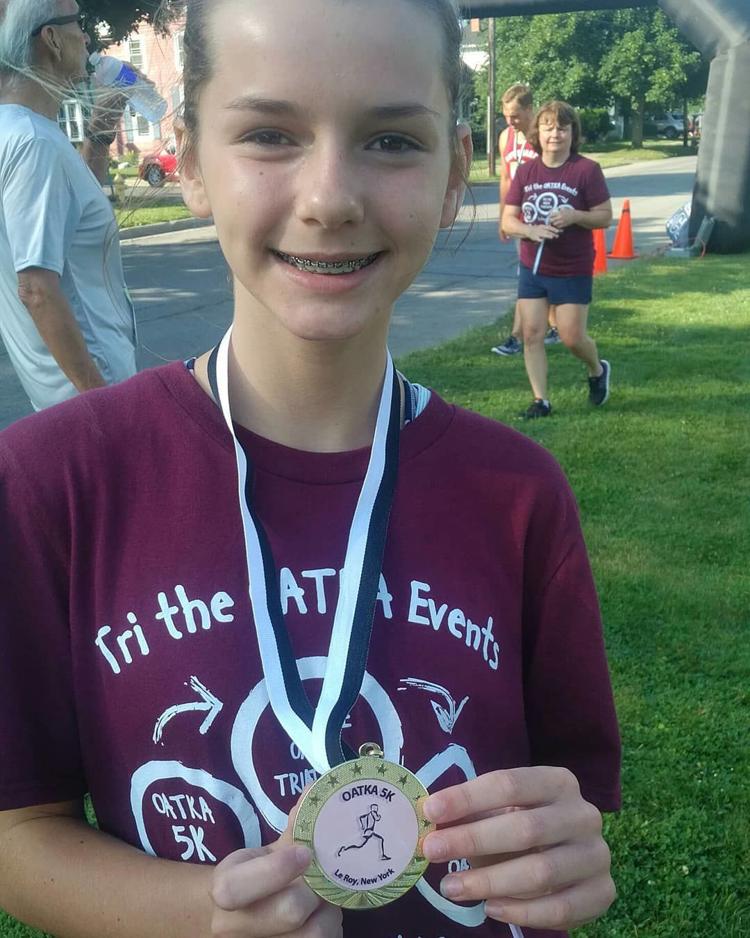 Blaszak purposefully chooses local races to highlight them. "We also do a mock 5k and prep for the actual race," she said. "We have families and the community come out and cheer for them, bringing communities together."  LeRoy and Warsaw have embraced EOC. "They are really on board, and they think it is a wonderful idea," said Brianne. "When they see us running around town, they step out to cheer us on and ask how our training is going."
             There is more to the program than running. "On some nights, we learn the basics of using a compass or we go geocaching along local community Park Trails," said Brianne. "It's fun and it's included in the program. It shows the young ladies that running can truly show you the beauty of a community" EOC also includes Scavenger Hunt night as part of the YWMTG program. "I ask the girls to put the signs they have made in businesses and yards," said Brianne. "Then the girls run around and take photos with the signs. It is our way of supporting local businesses."
             EOC girls also learn the value of developing solid relationships. "The girls have to get outside of their comfort zone," explained Brianne. "A lot of girls come to the realization that if they truly have a support system, they can achieve this goal. When they first start, they think, 'I can't run for 5 minutes, so how am I going to run 3 miles?' Then they discover that If they have an amazing support system which believes in them, they can believe in themselves, too."
             There is also a positive social impact. "Many girls said they loved our running group because they made friends with the girls they didn't think they could," shared Brianne. Noting that even adults struggle with weight and body issues, EOC offers the same program for adults, including a free, weekly running and walking group typically held on the Castile side of Letchworth State Park. People are free to join and run at their own pace.
             "We also provide emotional support," said Brianne. "The mother of one of our runners was diagnosed with cancer, and her daughter kept on running. The group helped her focus on questions like, What do you want to do with your life? and Do you want to show how brave you are through running? "YWMTG connects what they need with this positive outlet," Brianne added.
             EOC also receives a lot of positive feedback from the runners' families. "They say, 'Thank you,'" Brianne said. "They love what we are doing and that their girls are outside." Some families have even thanked Blaszak for being such a good role model. "I didn't set out to do that," Brianne blushed. "I just love running, and it has helped me through a lot of things in my personal life." Like Blaszak, EOC girls know running will always be there for them when they need it.
             Blaszak encourages girls considering joining Endlessly Outdoors Company's YWMTG Program to "realize this gives you a lifetime fitness activity you can do regardless of your ability. Whether reaching your goal takes 5 weeks, 10 weeks, 5 years or 10 years, you can do it, and when you do, celebrate big!"
For more information, visit www.endlesslyoutdoorscompany.com.
             Enjoy this article? Check out this week's other great story:
             • Local Doctor Makes Honor Flight Possible for WWII Veteran
Have something interesting you'd like to share with our readers? Perhaps an original story, a personal experience, community happening, or school event? Add some photos, and your story will be featured on our popular website for all to see. Who knows - it may even end up in print! It's easy to do. Go to My Hometown to view previously posted stories. To post your own, visit Community at My Hometown today!