The Genesee/Orleans Council on Alcoholism and Substance Abuse (GCASA), with locations in both Batavia and Albion, supports a much greater population than many may think, serving Genesee, Orleans and Wyoming Counties. For many years, GCASA has served people with Substance Use Disorder. Now, its innovative programs offer a glimpse of hope to both those struggling with substance use and those who love them.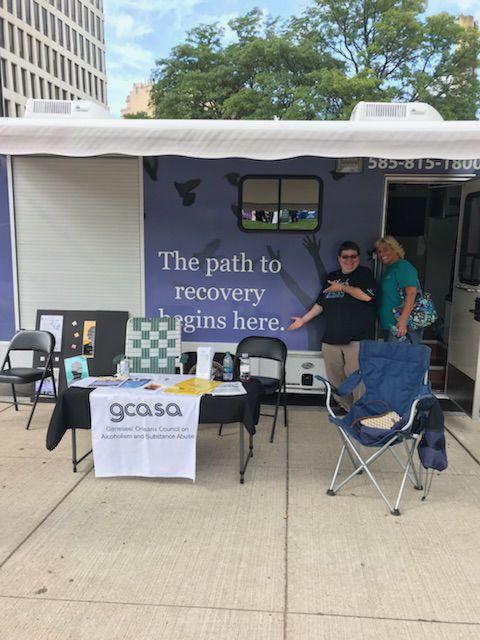 The current Opioid Epidemic brought many new services to GCASA. To its Director of Communications & Development, Shannon Ford, this means they can better serve area communities. "We opened up our opioid treatment program—a methadone clinic—in Batavia almost a year ago now," she said. "We fall in between Rochester and Buffalo, so there was a huge need. Methadone is administered every single day, and people couldn't get to Buffalo or Rochester daily for that service."
 
             At about the same time, GCASA launched its ground-breaking Peer Recovery Program. "The Peer Recovery Program is very exciting," said Ford. "It is a very new field that is recognized by the state." There is credentialing that is involved in order for someone to be a Peer Recovery Advocate with GCASA.
 
             "Our Peers work with people in a non-clinical way," explained Ford. "Our counselors are able to help, but there are boundaries and limits to that service delivery. Peers are able to fill in some of those gaps and to meet broader needs." Peers may offer to give a ride to an appointment, go to NA or AA, offer support at a court appearance and talk through difficult times.
             "Peers also have a mobile unit. "Peers park in the community so anyone can approach them," stated Ford. "They are an onsite information resource and can help get people set up for an evaluation. They can transport people to a detox facility, recovery center or an inpatient treatment facility. They are extremely flexible with a lot to offer." Peers also must have "lived experienced," whether as someone who has struggled personally or who has dealt with a struggling loved one.
             Peers are also essential in emergency situations. "We have a protocol established with the hospitals in all three of the counties we serve," shared Ford. "At the ER, if someone presents having had an overdose, overdosing or withdrawing from use, they can have a peer contacted and deployed to that hospital 24/7, 365 days a year." Hospitals can also now provide a "bridge script," of suboxone so that the person can have medication until they are able to see a doctor and receive a full prescription. Peers also offer Narcan training on the spot to loved ones.
             Programs like these come at a cost, and Ford explains that special funding has made these services possible. "We are pretty lucky," she said. "We have several different funding sources. For example, we have a grant through the Greater Rochester Health Foundation that funds the Genesee Orleans Wyoming Opioid Task Force.  We also have several state grants that support a variety of services." Funding is understandably becoming more available.
 
             "The Opioid Epidemic has really changed everything," explained Ford. "People are dying. Before the Opioid Epidemic, it would be rare for us to lose someone, and if we did, it might be one patient a year due to a very long, chronic condition. The Opioid Epidemic has been so dangerous. We have lost many patients, and those are just the ones we know about."
 
             Not only are people at a much higher risk for overdosing and dying, but also that risk increases exponentially if Fentanyl is involved. "Heroin is cheap, accessible and dangerous," she said. "Fentanyl raises that bar and is much more dangerous."
             "We are doing everything we can as an agency to stop people from dying," said Ford. "We know people with a substance use disorder can recover with the right treatment. We truly care about the people with whom we work. We love them and want them to live meaningful, fulfilled lives. We understand that Substance Use Disorder is a disease of the brain, and we are working hard to change people's perception of what a substance using person looks like. Substances Use Disorder can be treated. Recovery is possible."
             GCASA plans to open a detox center in Batavia and a women's and children's community residence in Albion, breaking ground next spring. "We are removing a huge barrier to women by providing a place for their children, as well," said Ford. GCASA will also open a recovery center in Batavia. "This will be a safe place for people to go and do a variety of activities," said Ford. "It will be holistic, including mindfulness, yoga, cooking classes, even TVs so that people do not have to go to bars to watch sports with friends, remaining safe, drug and alcohol-free."
 
              Enjoy this article? Check out this week's other great stories:
Have something interesting you'd like to share with our readers? Perhaps an original story, a personal experience, community happening, or school event? Add some photos, and your story will be featured on our popular website for all to see. Who knows - it may even end up in print! It's easy to do. Go to My Hometown to view previously posted stories. To post your own, visit Community at My Hometown today!