UR Medicine | Noyes Health unveiled a new metalwork sculpture of butterflies in flight on the walkway of the Ann and Carl Myers Cancer Center at its Dansville location.
             "Betterflies" was commissioned by Noyes benefactor David W. Smith, a Dansville native and retired Rochester school teacher who wanted to give a gift which would inspire the patients, brighten their day and make them feel better. His donation is made possible through the L. Ruth Bornt-Smith Foundation established by Mr. Smith in memory of mother, a "grand and gracious lady" who "guided him along a path of caring and sharing for all God's children." Smith also commissioned a custom-designed bench to
match the sculpture and inscribed the words hope, peace, love and faith, "a place for patients to rest and relax" on their way to or from treatment.
             Designed and fabricated by Filipe "Fil" Rocha at Kyle's Metal Shop in Dansville, with help from his son Steven, the many butterflies in the metal sculpture are symbols of life and hope, and the metallic colors burnishing the sculpture represent the various types of cancer treated at the center.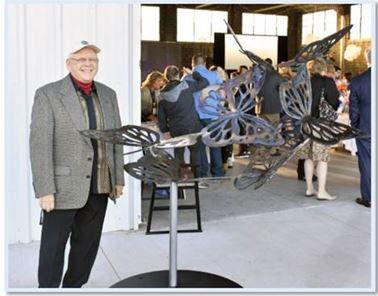 "David again and again shows how much he cares for the people of his hometown, by supporting the work we do here at Noyes," said Amy Pollard, president and CEO of Noyes Health. "Medical oncology patients will be able to see the sculpture from the windows of the Cancer Center, and the sculpture will be lit at night. On behalf of our patients and the entire community, I thank David for lifting us up with his message of hope."
             UR Medicine |Noyes Health is a diverse and comprehensive non-profit healthcare system serving all of Livingston County and parts of Steuben, Allegany and Ontario counties in New York. The system includes Nicholas H. Noyes Memorial Hospital, in Dansville, Noyes Health Services in Geneseo, Noyes Kidney and Dialysis Center in Geneseo, and Noyes Mental Health and Wellness Services in Dansville. Nicholas H. Noyes Memorial Hospital, a full-service, 67-bed community hospital with an After Hours Clinic and the only 24-hour Emergency Department in Livingston