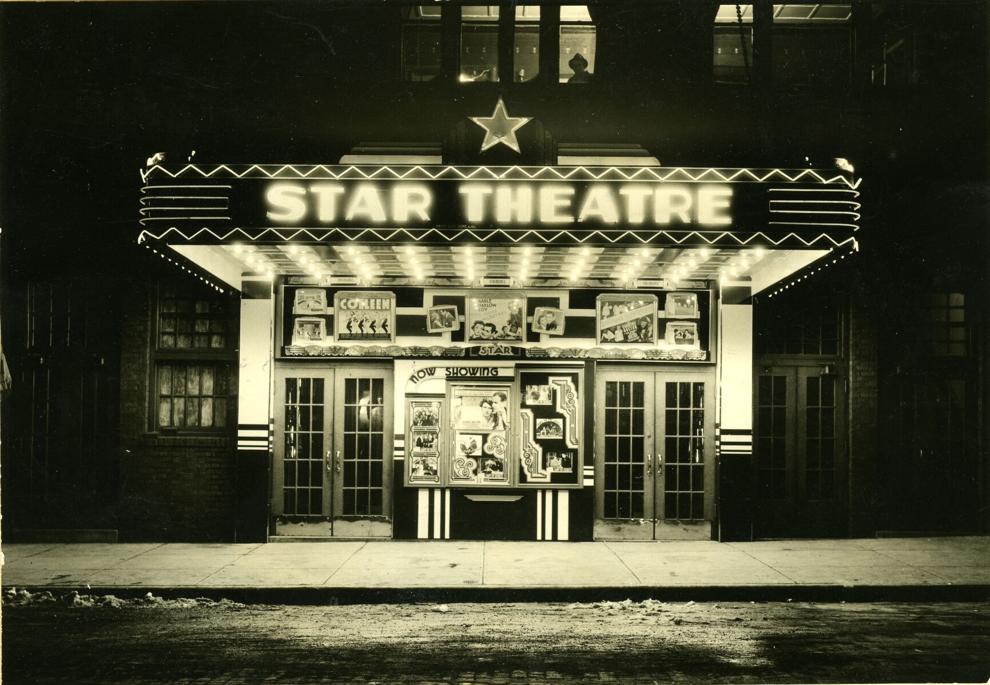 Few places have captured our imaginations like the theatre with its bright lights, entertaining stories, and tasty treats. They create memories that last a lifetime and experiences that span generations. For businesses like Star Theatre in Dansville, this is especially true.
Built in 1921, Star Theatre was always intended to be a theatre. Its original plaster designs, brass balcony rails and the spectacular crystal chandelier–gifted to it in 1921 by The Dansville Lutheran Church–are still there along with the painted screen and early ice block air conditioning unit.  Designed for sound with its single screen, movie goers still enjoy a movie experience without distraction from other films. While it was updated to today's surround sound, modern air conditioning, and Dolby Digital Projection System, Star Theatre has never lost its historic charm and beauty, thanks in large part to a local family's vision.
Charles Schmidt bought the theatre in 1994, after the building had been vacant for nearly 9 years. He and his whole family worked hard to save and restore the structure, giving his community back the theatre it loved. Charles' daughter Lois reflected, "I have been a part of Star Theatre since I was 28! Now a grandma at 55, what I enjoy most is the feeling of 'coming home' when you walk in the Star Theatre doors. So much more than movies on the screen, the theatre has been the home of many celebrations and firsts from first movie to first date."
Many share Lois' sentiments, including her brother, the late and much-loved Edgar Schmidt, who ran Star Theatre until his passing in October 2019. Edgar loved Star Theatre and the community, supporting as many local businesses as he could. Said Jennifer Howe, "Edgar was very involved and supportive of the local communities in the area as is the whole Schmidt family. As a Dansville Rotary Club member and former president, he took pride in Main Street, helping to stain front stoops, tending flower beds, keeping sidewalks tidy, and even just popping his head in to say hello! He was more than happy to support worthy fundraisers, even if the funds came from his own pocket."
Today, Lois and her husband, David Furioso, continue to bring a fun and affordable movie-going experience to Dansville area communities, "a family-friendly night out that doesn't break the bank!" While the venue and atmosphere are certainly the main attraction, the theatre snack shop has to be a close second. Added by the Schmidt Family, the theatre's candy case offers over 50 kinds of candy and treats priced so that even the smallest child or the smallest budget can enjoy a snack with their movie. The star attraction? Popcorn! "We like to say it's Edgar's secret recipe and the best popcorn this side of the Mississippi. People even come in during a movie just to get popcorn to take home!" Howe shared. 
After facing the challenging restrictions of the pandemic, Star Theatre is pleased to be open once again, showing first-run movies on weekends. It hopes to resume its regular 7-days-a-week schedule soon. Its patrons are thankful to see it reopen its doors. A huge part of Dansville history, losing the 100-year-old landmark would be more than a loss of a favorite local tradition, it would close the book on so many memories. 
"We hear stories of movie dates, of sitting in the balcony, of when the attendant would shine a flashlight at them for being too chatty," said Howe. "We like to think Star Theatre plays a special part in people's lives." Lois agrees as she concludes, "The wonder and joy of watching movies, as well as hosting other events and celebrations, is why Star Theatre is a little bit of 'home' for everyone in our community and will continue to be so for many years to come."
100 years ago, venues like Star Theatre brought local entertainment to our communities. It's a privilege to bring our communities back to local entertainment. For more information and show times, visit the Star Theatre website at 
www.startheatredansville.com or call (585) 335-6950.