This narrative is written by his 4x great grandson Richard Blakesley, Bloomfield NY. This information comes from National Archives pension file #S.23.129 & many other historical records. The pension was filed by two of his children, William Blakeslee [the author's 3 times great grandfather] & his sister Mary H. Williams in 1853, five years after Eber's death.
             Eber Blakeslee (Blakesley) was born in New London, Connecticut on October 1st, 1761. He joined the Connecticut Continental Navy in 1776 in which he served as a gunner on the schooner Spy for a period of 7 months, June 8, 1776 thru January 8, 1777. Herein lies a mystery. He turned age 15 halfway thru his tour of duty. During his tour he was paid 31.10 pounds, about a year's wages, the same rate as the boatswain, ships clerk & ships carpenter. They were the third highest paid seamen, just under the Ship's Lieutenant. The question is, where did a 14 - 15-year-old get the training to be a full-fledged gunner?
             Eber was on at least four cruises aboard the Spy, commanded by Captain Robert Niles, during which two prize ships were captured. The first was the schooner Hannah & Elizabeth loaded with rum & sugar on August 22, 1776. The second was the Hope loaded with rum, sugar, molasses, cocoa, and coffee on August 27, 1776. Unfortunately, the Hope was recaptured by a British frigate along with the prize crew. Luckily, Eber was not among them. The Spy, with Eber aboard, was also involved in a successful raid at Setauket Long Island to capture a company of Loyalists [Americans loyal to Britain] on September 20, 1776.
             Another mystery arises regarding Eber's service. Why did a young seaman earning big wages and prize money serve only seven months? A clue may found in a pension deposition filed by a family friend. He relates a story told many times by Eber. Eber said, "While cruising [in the Spy] we came in with a vessel which did not show any color [flag] nor answer when we hailed them. Concluding to open their card, I without orders from anyone, loaded up the gun lying upon the deck upon the vessel and fired which caused them to run up their colors which proved to be American. The strange craft knew ours and was testing our courage by remaining silent and without colors." What Captain Niles and his crew thought about this was not recorded. They probably were very unhappy. Their mission was to capture British merchant ships for prize money, not get into a gunfight with a British warship. Eber's move was a reckless act, and it is likely only his youth saved him from a sound flogging.
             The Spy went on to glory without him by delivering a treaty of alliance to France in 1788. On the return voyage, the ship was captured by the British. Captain Nile returned home to more glory while the crew was probably pressed into British service. Eber was not with them, so he was one lucky boy for the second time.
             What Eber did after leaving navy service is not known for certain. A story related in the pension record by his daughter Mary relates this portion of his life as follows: "He joined the Connecticut troops as a private but held a Lieutenant's commission at the taking of Fort Groton and served as an officer until the end of the war." The actual fort's name was Fort Griswold located on the Thames River at Groton, Connecticut. It protected the river ports including the Spy's home port of New London. The fort was destroyed by British troops under Benedict Arnold in 1781.
             Although there is no documented proof, the story has plausibility. Eber, age 22, was a trained gunner and lived in New London. If true, Eber was again a lucky boy. The British killed 88 out of 160 defenders, most after they had surrendered.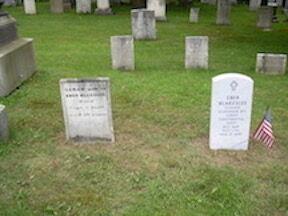 After the war, Eber moved to Middletown, Connecticut, and married young Miss Sarah Ward on January 31, 1788. Sarah had been born in Middletown on August 22, 1771. During the following 26 years, they had 12 children and moved nine times to four different states: Connecticut, Massachusetts, Vermont, and New York. Sarah died on September 5, 1829 and was buried in Reed Corners Cemetery, Town of Gorham, New York.
             Eber died in Prattsburg, New York on March 27, 1848. He is buried alongside Sarah. He was without a memorial marker until the author obtained one in 2004. That stone contained errors. The author obtained and installed a new one in 2013. Both were obtained through the Veterans Administration.
             For more information see website blaecwulf.com