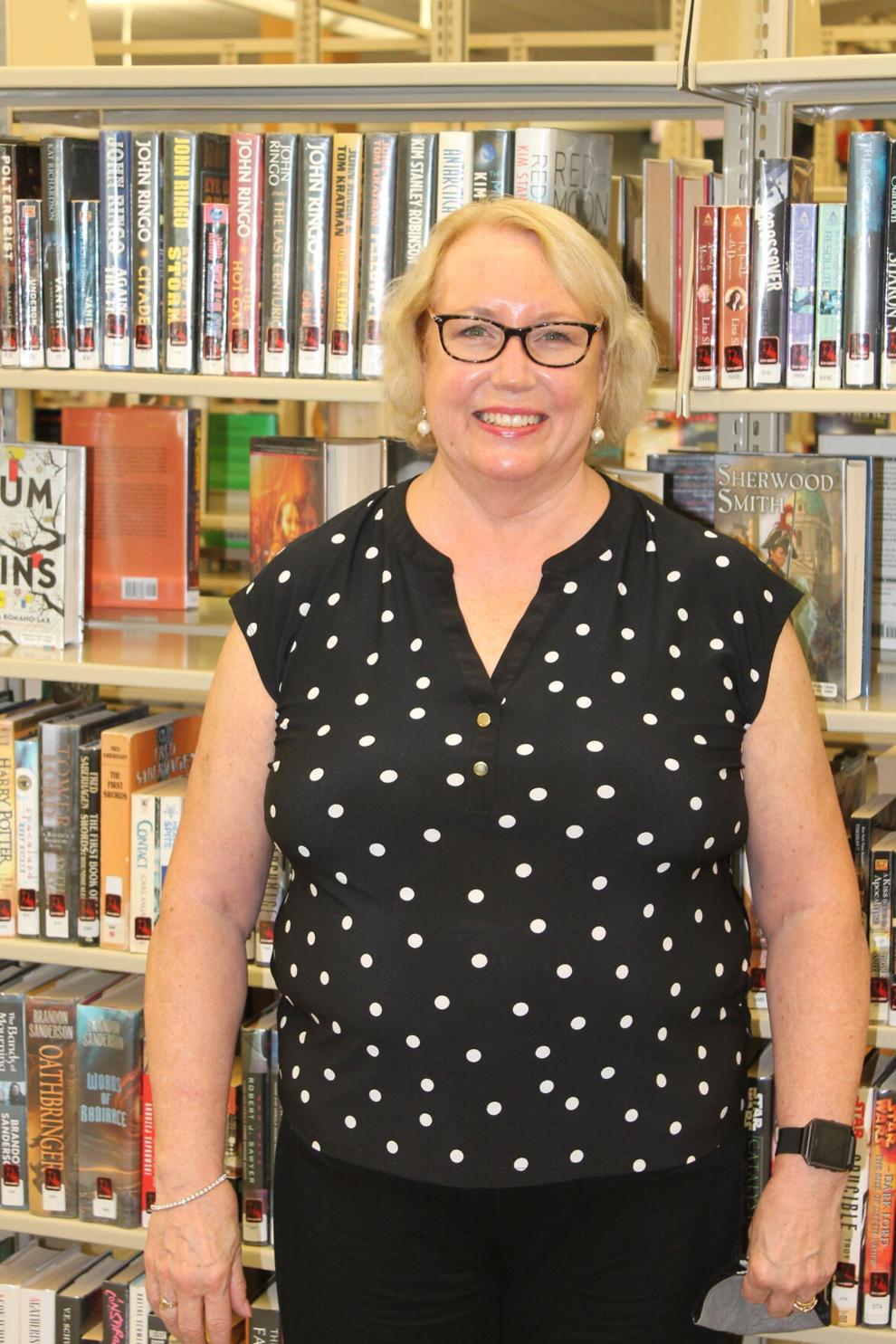 Terri, tell us about your professional background, and involvement with the Webster Public Library (WPL). 
I have been a professional librarian for 42 years (this month!) I've been blessed to have had an eclectic career working with various age levels, behind the scenes in administration and automation, and I was the Director of the Greece Public Library prior to coming to Webster. I've been the Director here in Webster for the past 16 years.
The WPL is a tremendous resource for Webster. How do you view WPL's role in the community?
I like to say that we are the community's living room – a place neighbors can gather, attend programs, pick out materials to read, view or listen to. We provide resources to help you find employment, switch careers or research your family tree. We work hard to ensure our building is a welcoming and inclusive environment for everyone to enjoy.
Tell us about your staff - they are always smiling, friendly and professional. You must be very proud of them.
Indeed! They continue to be a source of inspiration with their positive attitudes and creativity. We support each other personally, and I think that translates into great customer service. We love our community and our role in making Webster a place "where life is worth living."
During the pandemic, all member libraries of the Monroe County Library System were closed, including WPL. It was a tremendous loss, albeit temporary, to the community. What lessons did you and your staff learn from that experience?
We learned how valuable we are to this community - and loved! We were shocked but gratified at the outpouring of emotion when we re-opened. One service we had started prior to the pandemic was curbside pickup, which we continue even now. The community really appreciates the ability to stay in their car whether due to the pandemic or inclement weather. For a lot of our community, we are part of their daily routine.
New events are always happening at the Webster branch. Tell us some upcoming events?
This is the fun part of the job – looking for creative ways to engage with our community. We have hosted events like a Harry Potter night. Currently, we have a life-size Candy Land game in the story room, and we've done scavenger hunts in our local parks. We have just instituted "Binge Bags" which are a series of 4 DVDs with a theme and a bag of popcorn – perfect for a
long weekend! 
The Friends of WPL do some wonderful things; please tell us about the Friends and their work?
A more dedicated group of volunteers you will not find – these hard-working people devote time and energy to making our library the best it can be.
Pre-pandemic, they raised close to $50,000 annually for us mainly through the book sales and lobby book sale in the library proper. These funds support projects and materials not covered by the library's budget. All our programs are paid for by the Friends group: children's and teen programs, and most notably our Zoom programs for adults. Additionally, they have paid for the cloth book bags, an automated wheelchair, and our one-of-a-kind seed library among other valuable assets.
Tell us about your favorite interactions with patrons. 
Our most favorite interactions are with children – they love coming here, not only for story times but also for the vast collections that are available to them.
What do you wish more people knew about the libraries, librarians, and the Webster branch specifically?
We wish that people would take advantage of all that we have to offer – so often we hear people say "I had no idea you had all of this!" We have unique collections, a seed library, experience kits, mood enhancing lights, portable
CD players, comic books, magazines, etc., etc.
The Webster Library Foundation has an endowment fund that we try to grow each year through our fundraising campaign. The Foundation allows staff to propose interesting, creative projects that we could not ordinarily fund through our operating budget.
I wish people knew about all the valuable resources we have available to them: Consumer Reports online, video games
to borrow, books on CD,
Ancestry.com, yearbooks from the Webster schools back to the beginning, Kindles with the latest bestsellers, Empire passes which provide free entry
into State parks, CD players, WiFi hotspot units, etc., etc.
Libraries and librarians are here to help – we may not know all the answers
but can certainly get you started.
Never hesitate to ask!
What changes, projects, plans and improvements do you foresee in the Webster Public Library in the next 18-24 months?
The biggest change will be the change in leadership – I'm retiring in the next few months. The Board of Trustees is tasked with finding my replacement and has begun that process. This is an exciting time for my successor as the staff and Board continue working on its long-range plan. The lease on the current building is up in 12 years so a decision will need to be made on our future in the coming years.