In 2012, Tran Bui Smith, a Vietnamese refugee who came to the United States in 1975, moved to Rochester and started a new chapter of her group, Little Helpers. When she moved again in 2015—this time to Atlanta, Georgia—she left Little Helpers of Rochester (LHR) in the capable hands of friends Amy Bidleman and Kathleen George. The families involved haven't let her down.
             Their motto is, "helping children help others," and that is exactly what they do in Rochester and its surrounding communities. A family volunteer group, LHR holds monthly service projects for children of all ages. "The program is designed to help young people understand the value of volunteering, recognize their blessings, broaden their perspective and feel that sense of accomplishment from lending a helping hand," said Bidleman and George. "We want to raise confident children for whom giving back is a normal part of their lives."
             "My kids have been volunteering since 2012," said George. "Amy and I took this summer off to recharge. Now, we are reviving things. We have a new community of families, and we are looking forward to new energy and new ideas."
             George experienced the support of Little Helpers firsthand when her son Trevor of Trevor's Toes and Tushies tragically passed away in 2014. "Helping others helped bring peace to our family, especially knowing how much Trevor enjoyed the kindness projects," said George.
 
             While many participating families may not face such tragedy, George believes they too can benefit. "These kids get to experience giving back to the community in a fun way," she said. "When they see their parents make it a priority, they do so, as well, and teach it to their own kids."
             To George, it is important that her children see how other people live and understand that the world isn't a utopia. She hopes this is eye-opening and will give them a greater appreciation for what they have. Bidleman agrees.
             "I want my children to understand the value of volunteering and giving back," she said. "There is a world outside of their own. We don't live in a bubble. There is so much good we can do for others." Bidleman explained that her family joined Little Helpers when they were feeling pulled in many different directions. "Little helpers has brought our family even closer. We love the service projects and have so much fun together," she said.
 
             Little Helpers Rochester completes several projects each year. "We visit the elderly and make crafts with them," said George and Bidleman. "We have made blankets with the Linus program, worked with food pantries, packed military boxes, collected utensils for homeless shelters, adopted families in need and supported the Salvation Army. We collect for Pencils and Paper, a group that provides schools supplies for teachers. We hold a lemonade stand each year for a person or group."
             "We collect socks and underwear for Trevor's Toes and Tushies, a 501c3 we started before Trevor's passing," said George. "Also, every year for 9/11, we show our appreciation for first responders in our area. That was the first project in which my children participated." "We also collect warm clothing during the winter months," Bidleman noted. "We are always in need of winter coats."
             "The size of the project doesn't matter," shared George. Bidleman concurred, "During the smaller projects, there is often time for more meaningful discussion, and the children learn more."
 
             This is truly one of the group's primary goals. "We are so encouraged when these children grow as people and when they do other projects," shared George. "My children are more comfortable around the elderly than I was at their ages, and I feel that is because we spend time with the elderly." "My children are both very shy, but as a family, we have had to learn to come out of our shell and embrace others, especially those in need," said Bidleman.
             Little Helpers Rochester is making a difference. "We are becoming known as a resource, and social workers have stated contacting us," said Bidleman. "We also hear back from groups like Blue Star Mothers and those at Pencils and Paper. They are so appreciative."
            "Sometimes, when you see the sadness or hatred in the world, you wonder if any of this maters, but it does," added George. "Little Helpers really is making a big difference."
             "Our October event is collecting socks and underwear for Trevor's Toes & Tushies from Mid-September through the end of October," said George. "Those interested should bring donations to Penfield Community Center on October 20th from 2:30pm – 4:30pm. The Community Center is located at 1985 Baird Road, Penfield NY 14526. We would love it if you could wear superhero shirts/outfits and mismatched socks, which were Trevor's trademarks."
             For more information, visit our Little Helpers of Rochester page on Facebook.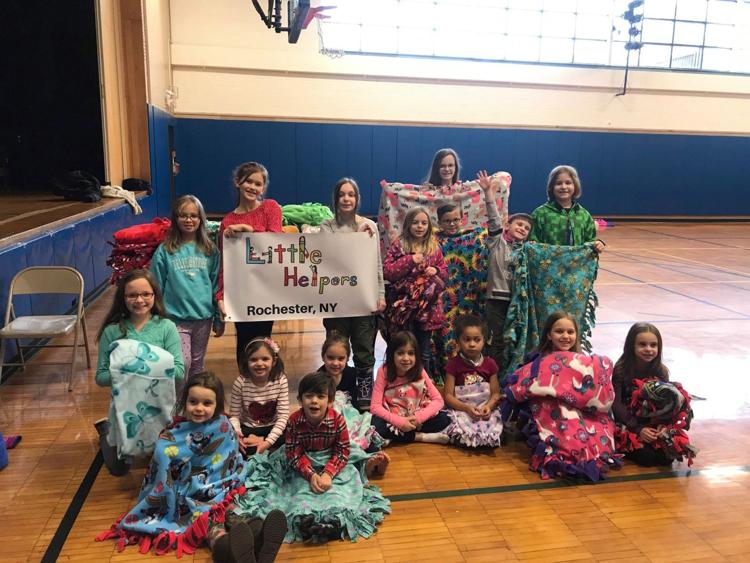 Have something interesting you'd like to share with our readers? Perhaps an original story, a personal experience, community happening, or school event? Add some photos, and your story will be featured on our popular website for all to see. Who knows - it may even end up in print! It's easy to do. Go to
My Hometown
to view previously posted stories. To post your own, visit
Community at My Hometown
today!