Did you know that if a fire starts in your home, you may have just two minutes to escape? Smoke detectors save lives, not only with warning, but several, well-placed smoke detectors alert earlier. Those extra minutes could mean the difference between life and death.
             The American Red Cross, in partnership with local fire departments, community groups and corporate supporters, has launched an initiative called Sound the Alarm to reduce the number of deaths and injuries caused by home fires by 25% over the next five years.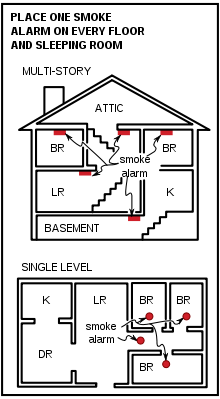 Livingston County fire departments alone receive over 2,000 calls, although not all of them are regarding fires or suspected fires. Having a working smoke alarm cuts the chances of dying in a reported fire in half. Almost two-thirds of home fire deaths resulted from fires in homes with no smoke alarms or no working smoke alarms.
             Every home should have a smoke detector outside each sleeping area and on every level of the home, including the basement. On floors without bedrooms, detectors should be installed in or near living areas, such as dens, living rooms, or family rooms. For extra protection, NFPA suggests installing detectors in dining rooms, furnace rooms, utility rooms and hallways. Don't install a smoke detector too near a window, door, or forced-air register where drafts could interfere with the detector's operation.
             Test all your smoke detectors monthly and install new batteries at least once a year. A good reminder is to change them when you change your clocks in the spring or fall: change your clock, change your battery. Smoke detectors don't last forever. Replace any smoke detector that is more than 10 years old.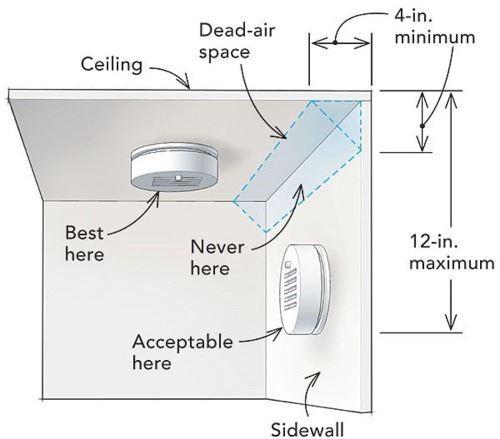 As part of the Home Fire Campaign, the Red Cross can install up to three, free smoke alarms in our home! If you are interested, please fill out the information in the box below and mail it to the American Red Cross, 625 John Street, Henrietta NY 14586 or call (585) 241-4390. You may also make your request online at www.redcross.org. Upon receiving your request, we will reach out to you as soon as possible to get you set up for an appointment.
Want to volunteer? Go to redcross.org/volunteer or email wcny.vsrecruitment@redcross.org!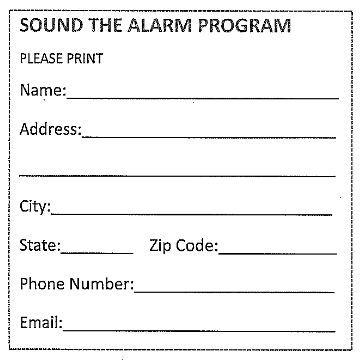 HEAT YOUR HOME SAFELY
The American Red Cross
1. All heating equipment needs at least three feet of space. Keep away children, pets and things that can burn, such as paper, matches, bedding, furniture, clothing, carpets and rugs.
2. If you must use a space heater, look for a model that shuts off automatically if the heater falls over. Place it on a level, hard and nonflammable surface, such as a ceramic tile floor. Don't place it on rugs and carpets, or near bedding and drapes.
3. Plug power cords directly into outlets and never into an extension cord.
4. Turn off portable space heaters every time you leave the room or go to sleep.
5. Have wood and coal stoves, fireplaces and chimneys inspected annually by a professional and cleaned if necessary.
6. Never leave a fire in the fireplace unattended. Use a glass or metal fire screen to keep fire and embers in the fireplace.
7. Never use a cooking range or oven to heat your home.
8. Carbon monoxide is an invisible, odorless and silent killer that claims hundreds of lives each year in the U.S. When a carbon monoxide alarm sounds, treat the alert as a real emergency each time.
9. Know the symptoms of carbon monoxide poisoning, which include headache, dizziness, weakness, nausea, vomiting, sleepiness and confusion.
10. If you suspect carbon monoxide poisoning, get quickly to fresh air, and then call 9-1-1.