In honor of September, National Library Card Sign-up Month, we are taking a closer look at some of your favorite, local libraries!
 
             Seymour Library is the award-winning, Brockport-based library which has embraced the challenge of serving three municipalities at once: Brockport, Clarkson and Sweden. This year, Seymour Library received the annual Library of the Year award from the Rochester Regional Library Council.
             "It is quite an honor," said Seymour Library Adult Services Librarian, Abby DeVuyst. "All the libraries in Upstate New York are considered, and we won in the public libraries category, thanks to our wonderful patrons and the postcards they wrote in about why they love us and need us and about why we are important to them."
             The 53rd Annual RRLC Library of the Year Lunch and award ceremony took place on June 6th. "Several people complimented us on providing the level of service we do considering we serve three communities," recalled DeVuyst. "That was really wonderful. It was a nice nod to the fact that we are relevant, utilized by the community and span the age spectrum. We are so proud and happy to be that source of community center our members are asking for."
             Of course, being that center requires funding. In the past, Seymour Library had to shorten its open hours by two hours a day due to budget constraints. Thanks to a generous donation, this was reduced to a current decrease of one hour per day. "We will always do whatever we can to remain community and patron focused, providing the best service to everyone," assured DeVuyst.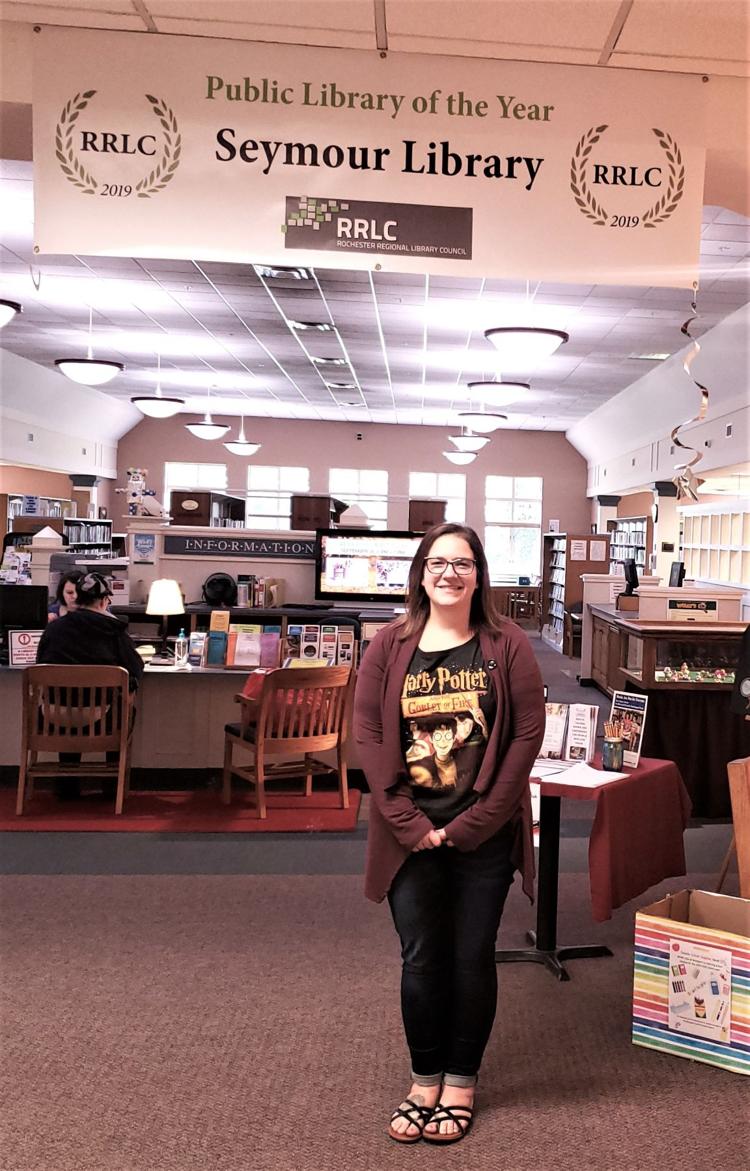 One indicator of Seymour Library's importance to its communities is its continued growth. Established in 1936 when it was donated by the Seymour family, the library outgrew its original Victorian home, and its much larger building was constructed at its current location on East Avenue in Brockport. Further expansions, such as the space which now serves as the History Room, were subsequently added.
 
             Even now, four study rooms are being built to provide quiet spaces for the community. "Libraries are no longer as quiet as they used to be," explained DeVuyst. "They are vibrant hubs for the community."
             In addition to its many useful and educational services, Seymour Library offers many enjoyable programs each month. "We have many new and different kinds of programs," DeVuyst said. "Aside from local history, my arts, crafts and skill learning programs are the most popular. Our members are so open to expressing themselves artistically. That is what stands out to me the most: the talent and the creativity of the patrons we serve."
             While Seymour Library provides many participation opportunities for children and adults, Abby DeVuyst pointed out its "huge, vibrant" teen population. "This is unusual for many libraries," she said. "We have many teen volunteers, and during the summer months, many of them give up their time freely to help with children's programming and around the library. In the fall, they start up groups, help in the library, do community service other activities.
             "Coming up in October, we will introduce Draw Down, a comprehensive plan created in a think tank by geniuses to address our global warming situation," said DeVuyst. "I attended the program myself, and it was the first time I left such a seminar feeling hopeful." October will also usher in Haunted Ghost Stories of the Area, DeVuyst's fun and spooky program in collaboration with the teens.
 
             Every program offered is free. "Nobody is charged for any kind of programming, which is wonderful," said DeVuyst. "Everyone is welcome. We are an option for people who do not have the funds to go out. There are so many amazing things they can do here. This is a huge community service, and, while it may be forgotten sometimes, it shouldn't be."
             DeVuyst mentioned a wide variety of needful services the library provides from Alzheimer's programs to help searching for employment to assistance signing up for health care. "This is so important to us because I think a lot of times, when people are doing well in life and they do not need our services, they forget about us, but we continue to help people from all walks of life," she said.
             To those looking to support Seymour Library or another local library, DeVuyst encourages, "Let your town supervisors and other elected officials know how important your library is to you, on the local level, in Albany and nationally. Let them know the community is invested in its library and is watching."
             DeVuyst also invited everyone to, "Come and get a library card! We are the community, and we are here for you."
If you would like to see your library featured in one of our upcoming Hometown Stories, let us know at
Hometown@gvpennysaver.com
!
Have something interesting you'd like to share with our readers? Perhaps an original story, a personal experience, community happening, or school event? Add some photos, and your story will be featured on our popular website for all to see. Who knows - it may even end up in print! It's easy to do. Go to
My Hometown
to view previously posted stories. To post your own, visit
Community at My Hometown
today!