Many have noticed the beautiful window displays for Finders Keepers, a community thrift shop located on the corner of State and Main Streets in Mount Morris.  The high traffic intersection is ideal for these caringly created shop windows designed to capture the attention of hundreds of drivers- and walkers-by every day.
             A busy intersection is also an apt metaphor for the window displays themselves.  Many of Finders Keepers' most talked about windows are realized by local artist Ellen Friedler, in an intersection of her many loves, including thrift, fine art, good humor, and visual storytelling.  The shop also serves another of Ellen's passions: providing work opportunities for people with intellectual and developmental disabilities.
             For nearly three decades, Ellen has worked directly with community members with disabilities through employment and the day programs of The Arc of Livingston-Wyoming, a private, not-for-profit agency founded by parents.  Finders Keepers is a participant in one of those programs called Hilltop Business Services.
             Ellen's list of work responsibilities is long, like her job title: Autism Training & Support Specialist.  Although you won't find the word "window" anywhere in her official job description, somehow she always finds time for them.  She has assembled professional, theme-driven window displays from Finders Keepers' constantly changing inventory of donated items for most of the store's 10-year existence.
            "Creativity is about problem solving," Ellen says.  "You have to get from A to B, whether it's me designing a window or a Hilltop worker finding the best way to do a job that fits their abilities.  Doing a thrift store window is problem solving with the variables that you have on hand."
             Ellen's sense of ingenuity has fueled many of the area's most unique window displays, from a scene created for Mount Morris Italian Fest that featured likenesses of such icons as Joe DiMaggio and Sophia Loren to a wedding display that skipped the dress and instead featured the "little touches" that together add up to the most complex, special day in a couple's life.
             "The one area that I think is probably not realized by many people looking at the windows is the artistic thought and movement that goes into each one," says Ellen's supervisor, Arc Coordinator of Vocational Services Judy Welch.  "A lot of the appeal for us as customers is really due to Ellen looking at things, such as where our eyes will naturally be drawn, and using the themes to make us think about more than just the items in it."
             That seemingly effortless visual flow is the product of Ellen's hard work and natural artistic instincts, which she refined while studying Fine and Applied Arts at Rochester Institute of Technology.  It's a skill that is complemented by the attention to detail that treats ordinary thrift store items as more than props.
             Case in point: for a memorable patriotic display, Ellen recreated a scene from a 1940s home, with a chair left empty for a soldier off to fight in World War II.  To Ellen, even the smallest display item can trigger a memory for an everyday window shopper.
             "I believe that people have the ability to resonate with a look or a storyline," Ellen says.  "Individual people will fill in the blanks from their personal experiences.  A doily on the back of a chair is enough to resonate with someone.  I love experiencing history through everyday things."
             If the contents of a retail store window can kindle a sense of nostalgia, then then surely a different treatment of that same window can bring about a smile or even laughter.  Ellen refers to it as "whimsy" – and she proudly considers it one of her specialties.  Anyone who's seen Ellen's "New Year's Hangover" or "Feisty Cat with a Ball of Yarn" windows would be quick to agree.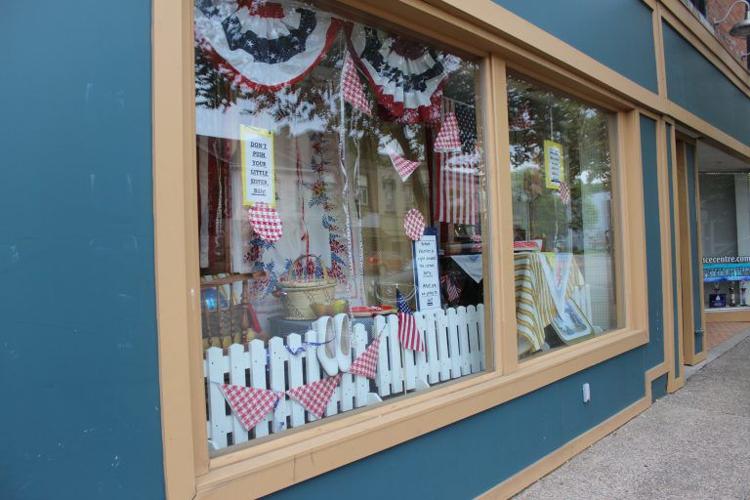 "I think that humor is the universal solvent for connecting people together, as long as it's kind," she says, with a smile.
             Ellen's good-natured outlook comes in handy when she's forced to balance her own thrifting instincts with what's best for the shop window."I have been thrift storing and antiquing since I was 3 years old," she says.  "I know my thrift.  It can be a real challenge not to buy things.  Believe me; I am definitely capable of buying stuff!"
             It's a double-edged sword, and Ellen isn't the only one affected.  Her displays often make items look so appealing that they would fly out of the windows into customers' personal collections, if certain safeguards weren't in place.  Finders Keepers encourages shoppers to put display items on hold until the next display goes up.  And Ellen complements for-sale items with other design elements such as custom banners and signs created specifically for the displays by Hilltop Printshop, a sister business under the Hilltop Business Services umbrella.
             "I am always amazed by her ability to take items that really don't look like much and would likely be passed over, put them in a window where customers have a sense of what they could be and turn the item into a must have," Judy says.

             The next display for window shoppers at the intersection of State and Main is yet to be determined, but one thing is clear: Ellen will find inspiration for her next masterpiece as surely as she would track down that next one-of-a-kind thrift shop deal.
             "Once the idea hits, I feel like a crazed beagle with its nose to the ground," Ellen says.  "I need to sniff it out."
             Have something interesting you'd like to share with our readers? Perhaps an original story, a personal experience, community happening, or school event? Add some photos, and your story will be featured on our popular website for all to see. Who knows - it may even end up in print! It's easy to do. Go to
My Hometown to view previously posted stories. To post your own, visit Community at My Hometown today!