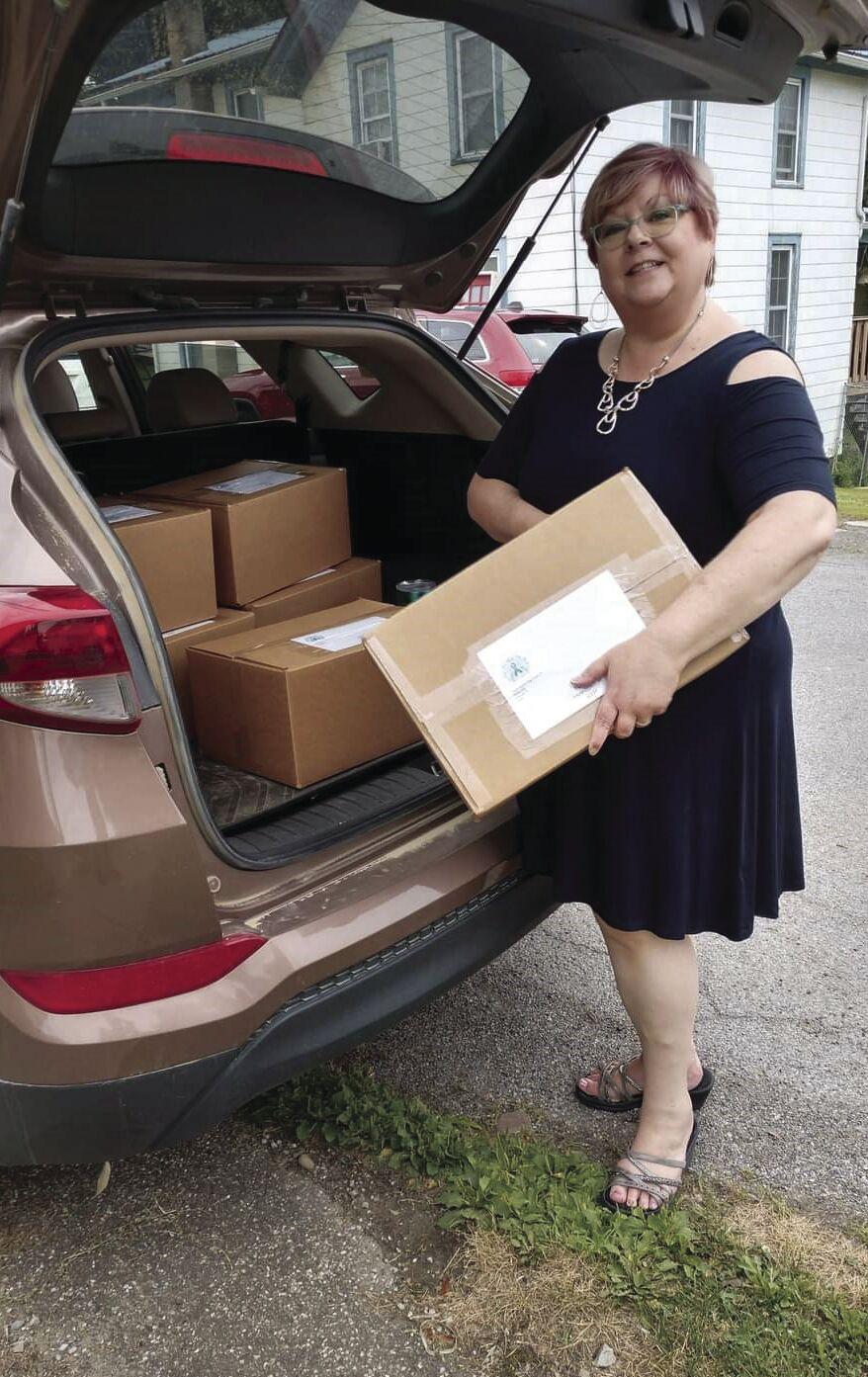 Jennifer Howe was born and raised in Dansville; her roots run deep in this compassionate, close-knit community. Howe has worked for the Genesee Valley Penny Saver for nearly 20 "amazing" years. She is the proud parent of her two fur baby cats, Olyver and Willow. Little did she know almost five years ago that her life was about to turn upside down.
            Howe lives in Dansville as do her parents. She is a proud member of the local Rotary Club and enjoys several nieces, nephews, and godchildren. Unexpectedly, in October 2015, Howe was diagnosed with cancer. Howe recalls, "Finally, I went to my doctor with extreme stomach pain. I had ovarian cancer which was a five-pound mass as large as a football."
             Howe's diagnosis required immediate action and had surgery one week later. Howe explained, "I was in the hospital for 11 days. I also had to do 6 months of chemo, which is not fun."
             It was during this time, that Howe first became aware of comfort bags. "A cousin in Georgia sent me a comfort bag from The Lydia Project," she said. "The bag was beautiful, handmade." The comfort bag—which included a notepad, journal, pen, a couple of tea tree gum samples, hand sanitizer and lotion—was a complete surprise to Howe. "To get that in the mail just brightened my day!" she said.
             Howe's surgery and treatment went well, and she found herself determined to give back. "I felt extremely lucky," confided Howe. "I had a great support group, wonderful family and friends and work was absolutely amazing." She decided to create comfort bags herself, which she calls Cancer Comfort Bags.
             "It had been like a little hug to me," Howe reflected. "My mom began making bags for me. News spread by word of mouth." In March 2016, she sent her first bag out on her final day of treatment.
             "I include all the kinds of items that I had found useful during my cancer journey, such as a blanket, Karma Water, hand sanitizer, antibacterial wipes, lotion, thank you cards, fuzzy socks for both men and women, adult coloring books and puzzle books which help pass the time during chemo treatments, and much more!
             The Cancer Comfort Bags caught on quickly. "Almost right after I started, I began receiving donations from people, businesses and non-profit service organizations in the community and beyond," said Howe. "People have donated items and funds, which really helps with costs." Jennifer Howe, who has shipped these bags all over the continental U.S, was interviewed by WHAM 13 News on December 31, 2016 and "that is when we exploded!" Jennifer said.
In 2017, Cancer Comfort Bag Project, Inc. officially became a 501c3 nonprofit. "We have a board of directors, treasurer and secretary, who are all good friends and know and support the goals I want to meet," explained Howe. "We supply Noyes Cancer Center with bags but due to COVID that was put on hold and we are waiting to start up again." Meanwhile, she provides forms for the patients so they can request a bag at their home if they would like. Cancer Comfort Bag Project Inc. also has a website where people can request a bag for themselves or a loved one, www.cancercomfortbagproject.com or via email at cancercomfortbags@gmail.com.
             Today, Howe estimates she has sent out 2,000-3,000 bags. Although the bags remain free of charge, she does now ask for help with shipping when shipping out of state but not necessary. "At one point, I was getting up to 50 requests a day!" she explained. "It depleted my stock and accounts, and I would have had to close my doors, so to speak, if the community hadn't gotten word and rallied around us with supplies and donations. People are pretty amazing!"
             Howe also has done fundraisers, appears at events like bike runs and speaks at civic groups. Nevertheless, she recruits a group she calls her "Crewsaders" to deliver the comfort bags. "This is very near and dear to my heart" she said, adding, "Still, a hand-delivered bag is more personal and the stories they bring back...," she paused with emotion. "People are in tears, giving hugs, sharing their stories. They just love it."
             While speaking of these dedicated volunteers, Howe particularly recalls the late Edgar Schmidt, of the Star Theatre and a very dear friend. "Edgar did a lot to support Cancer Comfort Bags," she said. "I miss him every day." She also noted how he supporter her in her battles against cancer, mentioning she had a recurrence of ovarian cancer in 2017. Howe continues her fight to be healthy.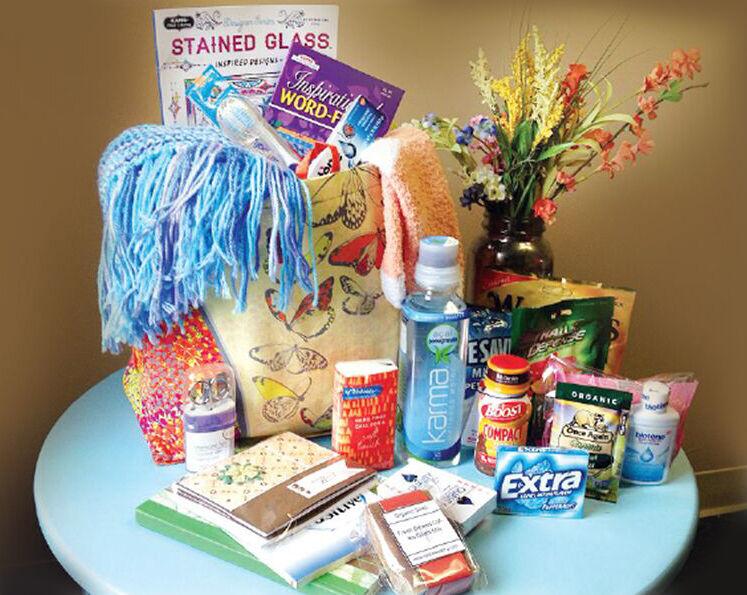 Moving into the fall and winter seasons, Howe receives hats, scarves, and other cold weather items for her bags. "You lose a lot of heat through your head when you lose your hair while going through treatment," she said, noting those who have donated beautiful hats in the past. In the future, Howe also hopes to extend her nonprofit to other cancer centers, as well.
             Those with loved ones fighting cancer are welcome to request a comfort care bag. Howe suggests being mindful of timing. "I encourage people to wait until their loved one starts chemo rather then immediately after the diagnosis," she said. "Give them a chance to wrap their head around being newly diagnosed. Their world is in a tailspin, and it can be very overwhelming. Given at the right time, the Cancer Comfort Bag is a happy thing to receive while going through something which can be absolutely terrifying."