Bonnie Sisak has been involved in the Noyes Auxiliary for many years, including several years as its president, chairing its second largest fundraiser, the Chip in Fore Noyes Golf Classic Tournament for 12 years. Sisak played a key role in the event's record of success. A beloved business teacher before working for Noyes Memorial Hospital, Sisak was also the secretary to the Vice President of Patient Care Services.
             Those who have worked with her such as Amy Pollard, the President and CEO of UR Medicine Noyes Health and Mary Ann Scharmberg, current Noyes Auxiliary President, have described Sisak as a wonderful leader, a person of integrity, honest, disciplined, organized, detail oriented with a commitment to working and a very friendly person with a good sense of humor.

             "Bonnie loved her community and has a very giving spirit," said Pollard. "She was very good at cajoling volunteers into participating." Her tireless efforts showed particularly well in the annual golf tournament which never made less than $10,000 in the 12 years that Sisak organized it, totaling just over $15,000 this year and nearly $150,000 overall.

             "It has become very successful with the help of a lot of people," said Sisak sincerely. "There are many employees in the hospital who help. I tried to make the whole tournament a project in which a lot of people could participate so that they would share the success of the project."

             "Noyes has a large and committed group of volunteers who make up Noyes Health Auxiliary," said Pollard. "Noyes is incredibly blessed to have such a supportive community." Scharmberg concurred. "It is all volunteers from our organization who do these fundraisers," she said. "People from the Dansville area and surrounding communities are stupendous in giving, and every bit goes to the hospital."

             Perhaps the largest contribution in which Sisak was involved was the Auxiliary's recent contribution of $305,500 to Noyes Memorial Hospital which helped fund the new Mary Saunders Bierman Emergency Department including the reception area, furniture and patient rooms. "We make pledges to the hospital, and the biggest pledge was for $305,500," said Scharmberg. "We pledged that 5 years ago when Bonnie Sisak was president, and we have accomplished it."

             "The members of the Auxiliary believe in the importance of Noyes to Dansville, the county and the surrounding area," said Sisak. "That is why they are willing to donate their time. We try to do things that are patient or visitor centered."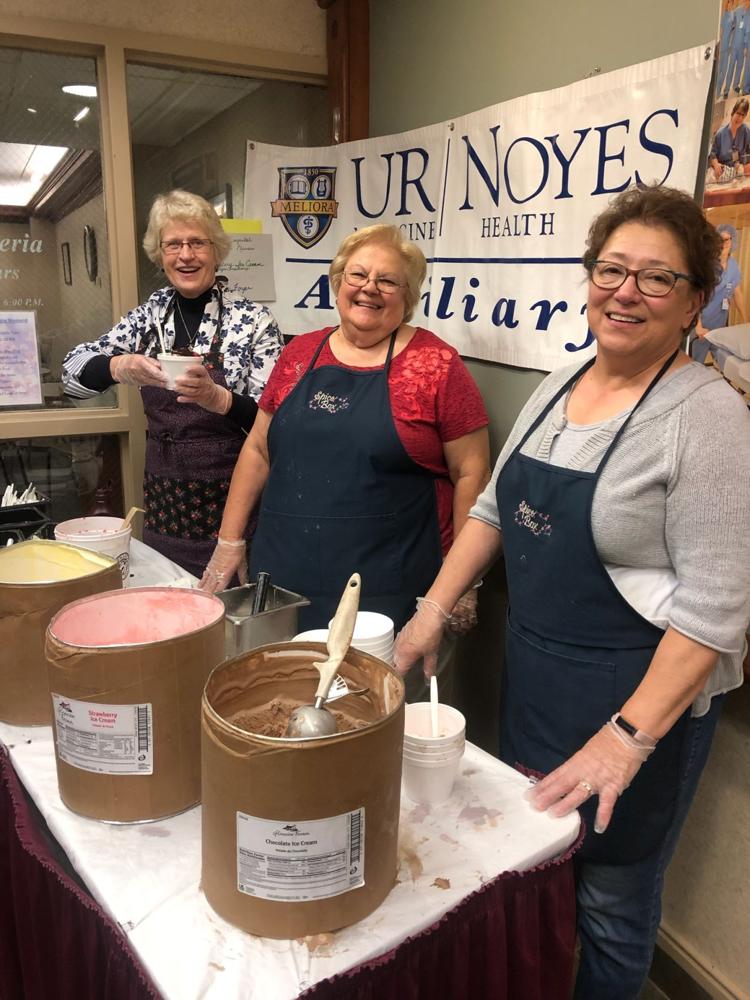 This month, Bonnie Sisak retired from the Auxiliary when she and her husband, George, moved out-of-state. Sisak stated she will miss Noyes' wonderful volunteers and employees the most. "Our community is going to miss her," said Pollard of the Lioness and Women's Civic Club member. "I am sure she will continue to volunteer because it is in her nature. For us, it is definitely the end of an era."

             "It has been marvelous," agreed Scharmberg. In fact, at Scharmberg's request, Sisak created an instruction manual (14 pages) on the golf tournament alone. "You look at it and you go, 'I can't believe she did all this by herself.' It is something else!"

             Although they will miss her, the Noyes Auxiliary members will continue on with their various fundraisers, including their largest: The Spice Box. The Spice Box gift shop complete with coffee bar is inside of Noyes Memorial Hospital. "People come to The Spice Box to browse and shop, not just for our patients," said Scharmberg. "We have items for nurses, firemen, children and babies and popular items like our jewelry and Willow Tree figurines."

             The Auxiliary also holds other events throughout the year. "Our next events will be our Craft Boutique at which many beautiful items will be available for purchase and our Tree of Lights event," shared Scharmberg. "Anyone can purchase a beautiful angel ornament to honor a loved one or in memory of a loved one; that loved one's name is put on it, and it is placed on one of our three trees here or on our tree in Geneseo." The Auxiliary also holds a flower sale just before Mother's Day in the Spring.

             The Auxiliary grants multiple scholarships each year. "We set aside $5,000 each year for young people interested in the medical field, and the students this year were absolutely magnificent," recalled Scharmberg. "Each one of them said they wanted to return to their hometown area to practice, and I thought that was extremely generous." The Auxiliary also awards three $100 scholarships annually to three students from the Genesee Valley Health Academy, as well.
  
             Currently, the Auxiliary is working to raise money for a portable X-ray unit and charging stations for visitors who come to the hospitals so that they can charge their cellphones and devices. Pollard, Scharmberg and Sisak encourage community members to consider joining them.
             "We could always use volunteers in The Spice Box and our other events and activities," said Scharmberg. Sisak agreed, "Noyes is a gem in the Valley, and it needs our support."
Have something interesting you'd like to share with our readers? Perhaps an original story, a personal experience, community happening, or school event? Add some photos, and your story will be featured on our popular website for all to see. Who knows - it may even end up in print! It's easy to do. Go to
My Hometown
to view previously posted stories. To post your own, visit
Community at My Hometown
today!