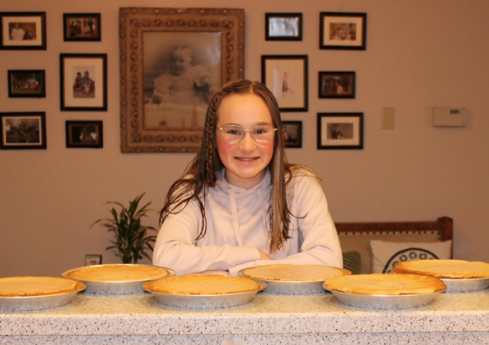 On Tuesday, December 15th, Dansville sophomore, Maggie Bacon, was recognized with the Livingston County Sheriff's Foundation's "Do the Right Thing" Award. The award was piloted by the Livingston County Sheriff's Foundation to recognize Livingston County students for positive community involvement such as assisting Law Enforcement and First Responders as well as acts of civic responsibility and volunteerism, heroism, role model behavior and leadership. Maggie Bacon, i.e. "The Bacon Baker," also received a gift card from the LCCOPS Union, but for her, the real gift is the opportunity to give back to the community she loves.
             It all started last spring when schools across New York shut down and began remote instruction due to the pandemic. Maggie, like so many students, suddenly found herself spending a lot more time at home. "I was bored, and I wanted to find something I could do to take my time and use it wisely to do something fun and therapeutic," she recalled. Not an "artsy" person in the more traditional sense, Maggie started baking. "It was a way to showcase my creativity in a different way," she said.
          As she began making more and more, Maggie created an Instagram account for her hobby: @the.bacon.baker. Before she knew it, friends and neighbors were buzzing about the delicious-looking sweets she was making. "My original intent was not to make any money; I was just doing what I loved doing," explained Maggie. "I started receiving many unexpected followers, and people were asking to purchase my items." She decided to use this unexpected development to give back.
             "My community was doing so much to help those in need during this hard time," she said. "I had heard a lot about the Dansville Backpack Program which is run through the Dansville PTO. My aunt is a PTO member, and the school was doing a lot to donate to it. I wanted to give back, and this was close to my heart." Maggie decided to begin taking orders for her baked goods and to accept donations to help those who needed help buying food. To her, this was a no-brainer.
            "I have been baking since I was little," shared Maggie. "I would bake with my mom and my great aunt on my mother's side. We have old recipes that we love to make. I really love doing it!"
             Beyond recipes, Maggie also points to her family as her inspiration to use her talent to help others. "My family has been the biggest influence for me," she said. "They have always been focused on giving back and helping others. My dad has always given back to the community and been a positive influence, and my mom helped me decided what to make and how to give back. Through everything, they have been hugely supportive."
              Maggie's idea took off like wildfire as orders started pouring in. "It was just awesome," she said, adding she quickly found herself creating all kinds of baked goods. "I have baked a lot! I have made everything from pies, pastries, and cinnamon rolls, to cakes, pound cakes, and Bundt cakes,  brownies, raspberry and apple turnover, and cupcakes!"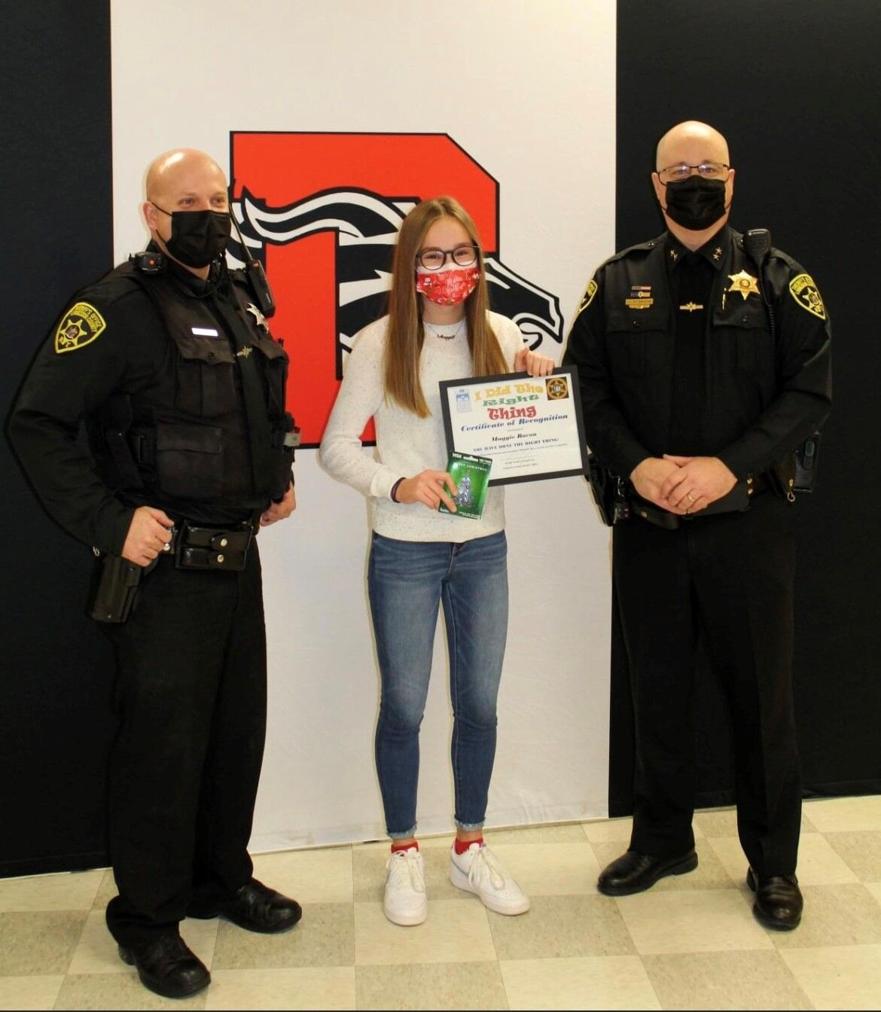 Her favorite are the cupcakes. "They are probably my favorite things to make because of all the creativity involved, and you have so many opportunities to make their frosting swirls just right." Maggie has made many kinds of cupcakes, including red velvet and carrot cake, but her most popular flavor is her signature chocolate cake and cupcake. "I found a recipe, and I revamped it," she explained. "I worked on it and tried different things until it was perfect. It has become my signature recipe!"
             Her hard work and generosity caught the attention of Livingston County Deputy Robert Holt, who then nominated Maggie for the "Do the Right Thing" Award. Noting Maggie's motivation and positive attitude, Deputy Holt stated, "During the 2019 Covid-19 Pandemic, like all schools in our area, Dansville Central School District shut down.  All children were sent home while teachers and administrators scrambled to begin remote instruction.  Maggie Bacon took the time away from school to do something good for her community…To date, Maggie has donated over $1,350 to the Dansville Backpack program.  Maggie also helps her dad organize the Rotary Club Thanksgiving Dinners, while running cross country, dancing and works at the Expressway Auto Auction."
             Maggie was completely surprised. "I honestly felt so honored," she said. "It is such an amazing award to receive. It feels good to demonstrate civic responsibility and help our community, and I hope other people are inspired to help our community be the best it can be, as well."
             "Our community is really close," Maggie continued, adding her thanks to Dansville Central School for their positive influence and support. "We stick together. We can lean on each other, and it is such an incredible community to live in."
             Maggie is currently continuing to bake in support of the Dansville Backpack Program, recently having finished a large order of cinnamon roll cakes for Christmas morning. To view and order baked goods from Maggie, visit @the.bacon.baker on Instagram.