In December 1989, Florence Kinney and her husband, Charles, had just moved from Wayne County to Webster when a local newspaper story caught Florence Kinney's attention. Two little boys were to undergo organ transplant surgery right at Christmas. Kinney knew she had to do something for these children.
              "I asked my husband if we could buy two little toy trucks for these boys," said Kinney. "He agreed, and we left the them anonymously at the hospital." It was not long afterwards that Kinney read more news stories about the children who were sick and in the hospital over Christmas, about how sad they were and how they wondered if Santa would know where they were.
             "I wanted to buy just a few presents for these children, too," Kinney said. "Charles said, 'Okay, just a few more, but this is it.' We went out shopping and bought 400 gifts." When the Kinneys called Rochester General Hospital (RGH) with the news, they were "thrilled to pieces." Word of this generous couple donating Christmas gifts quickly spread to other hospitals and organizations.
              "We were approached by a reporter for an interview, but we told him that we were not going to continue because we felt we did not have the financial means to do so," explained Kinney.
             Kinney and her husband believed that would be the end of it, but one afternoon, she received an unexpected phone call from this same reporter. "He said, 'Mrs. Kinney, I do not mean to be pestering about this, but I have one question for you. Have you and your husband prayed about this?' I said, 'No.' He replied, 'I wish you would because I think you might come up with a different answer.'"
             So, Charles and Florence Kinney did. "We suddenly felt this warmth from our heads to our feet. We knew this was the Lord's calling on our lives," explained Kinney, and Santa's Workshop for Hospitalized Children (SWHC) was born.
             SWHC is celebrates its 30th anniversary this year and has given over 85,000 children a gift of love at Christmastime and beyond. Sadly, SWHC lost Charles Kinney in 2003; however, it continues to touch lives at RGH, Ronald McDonald House on Westmoreland, the Golisano Children's Hospital Cancer Wing, the Cure Cancer Association, Webster Hope House and Williamson Community.
             "There is joy in a toy," shared Kinney. "We typically bring gifts to 4,000-5,000 children a year. When we started, we were only serving a few hundred children and never dreamed we would serve this many."
 
             Florence Kinney worked three jobs to help fund SWHC, from managing an office to being an Avon representative, even selling candy bars! "It was tough," she recalled.
             The Kinneys soon realized they needed help. "We got ourselves some elves!" shared Kinney. "During those early years, we were myself, my husband, my mother and nine others, like the 12 disciples. We have seen a lot of miracles over the years, including needed items that just show up."
             In 2008, SWHC added clothing to Santa's list. "Hospitalized children are often also in need of clothing," explained Kinney. "So, we added clothing to our gifts, particularly things like hoodies, socks, mittens and scarves." Area knitters also contribute warm clothing items. "These children have next to nothing," said Kinney. "We give them nice clothing as well as toys."
             Florence Kinney plans to continue with SWHC because she has seen its impact firsthand. "A doctor at RGH told us it was the best medicine at Christmastime that a child could receive," shared Kinney. "He told my husband and I that there wasn't a medicine on their shelves that could raise the morale like what we do. It nearly brought us to tears."
             For 30 years, parents and children only knew the gifts came "from somebody who cares." Only administrators knew who Mr. & Mrs. Claus really were. "It has been a wonderful experience," said Kinney. "A lot of little kids have smiled over the years, and that makes me smile. For little ones who are so ill and have next to nothing, you change their lives and make a difference."
 
             For Kinney, it is God's work. "It was a calling on our lives, and this world needs more hands and feet for the Lord. That's how I see it," shared Kinney, who wrote about SWHC in her book, From the Heart of a Child. "SWHC is a Christ-Centered organization, and we know the Lord blesses it."
             This year, the SWHC is already preparing for the holidays. "We need more elves!" exclaimed Kinney, now in her early 80's. "This requires a lot of lifting and sorting. We are talking thousands of pieces here! Anyone who would like to donate, please do. Everything is completely appreciated!"
             For more information, contact Florence Kinney at (585) 671-6255.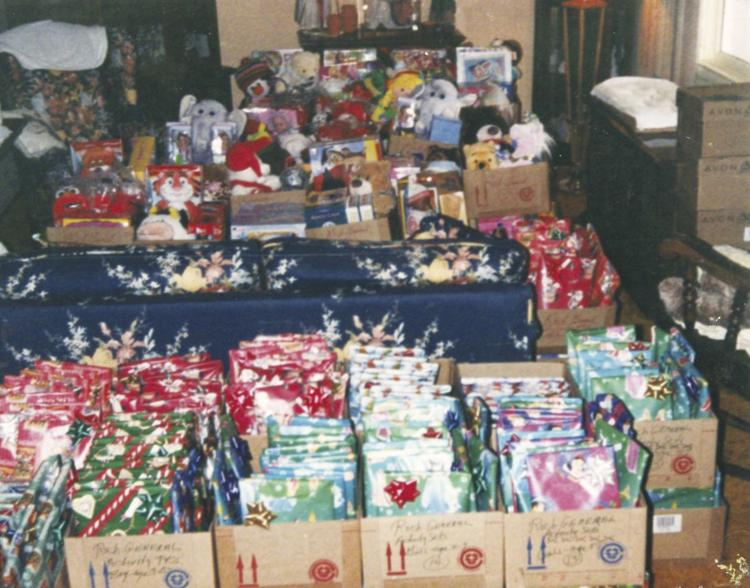 Have something interesting you'd like to share with our readers? Perhaps an original story, a personal experience, community happening, or school event? Add some photos, and your story will be featured on our popular website for all to see. Who knows - it may even end up in print! It's easy to do. Go to
My Hometown
to view previously posted stories. To post your own, visit
Community at My Hometown
today!