Cameron Knaub, a contractor from Hilton, felt drawn to support hard-working missionaries and organizations, starting in Zambia, Africa. From this passion, Guardians of Hope (GoH) was born. "We work with missionaries and organizations all across the world to provide hope to the hopeless," said Knaub.
             Nearly two years ago, Knaub and his friend David Georgiev, a local businessman from Gates, were having lunch together, when Georgiev said, "I want to start a non-profit over the next few years. I really just wanted to talk to you about it, and I believe we should start in Africa."
             Knaub, who had wanted to serve for years, was astounded and told his friend how he had been hoping to work in Zambia. "Maybe in a couple of years, we will go," said Georgiev. Three months later, Knaub, Georgiev and their friend, Lee Sietmann of Clarkson, boarded a plane for Zambia.
             "We had amazing experience," recalled Knaub. "We went to the capital city of Lusaka and spent some time with Arise Africa, an incredible nonprofit sponsored by Clayton Kershaw of the LA Dodgers. They open orphanages and schools and currently sponsor 500-600 children to go to school."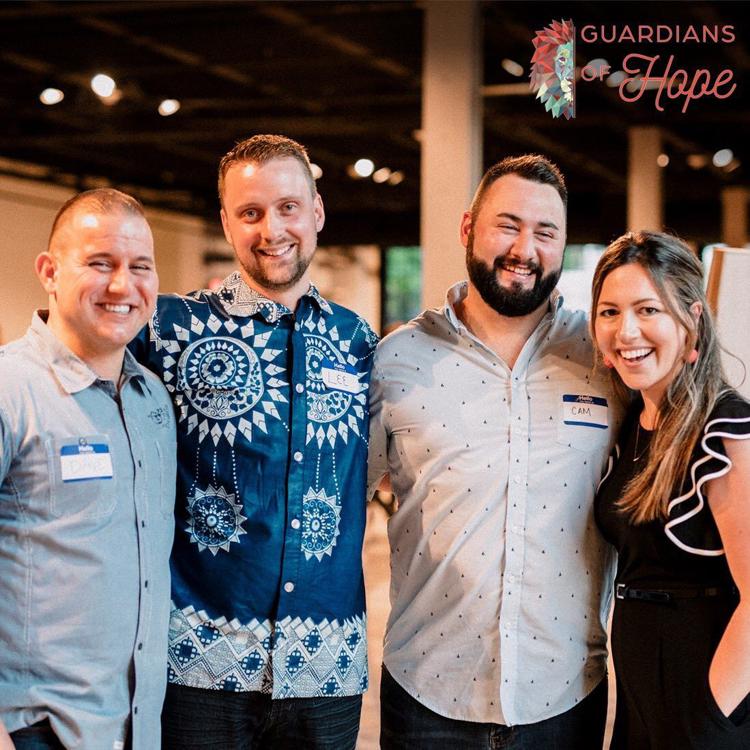 Knaub, Georgiev and Sietmann felt a sense of confirmation. "We didn't have a detailed plan for the first trip," said Knaub. "Yet, every single day was so perfect we couldn't have planned it any better. The amount we were able to learn and soak in was almost overwhelming."
             On the final day of this initial trip, Georgiev, Knaub and Sietmann spent the night at one of Arise Africa's orphanages. One child's advice defined their entire journey. "One kid in broken English said, 'Go deep, not just wide," said Knaub. "In countries like Zambia, there are so many needs, and you want to meet all of them, but you can't. Instead, we decided we needed to focus our energies and pour into the children we can."
             Sietmann, Knaub and Georgiev then launched GoH."We not only help missionaries and encourage them, letting them know they are not alone, but by working with a missionary, for example, we are able to build a well for $3,000; whereas, it would usually cost $10,000-$12,000 on our own," said Knaub.
             Additionally, missionaries know exactly where to put a well so that it is used by everyone. "Missionaries care for the wells," said Knaub. "They love the people and gave up everything to be there. For us, there is no better person with whom to team up.
             "Clean water is the quickest, easiest way to save lives," said Knaub. "For $3,000-$5,000, we are able to put in a well that provides water to at least 1,000 people for 10-15 years. Water is life, the basis of everything. Those who become sick from contaminated water, often die, creating more orphans are created in a Texas-sized country which already has 1.7 million orphans, 10% of its population."
             "We had our launch event on May 30th of this year to a great response!" said Knaub. "We could not do any of what we do without Jesus Christ. The purpose of what we do is to spread His love because He is the definition of love. 'What greater love has anyone than this that he lay down his life for his friend?' That is what he did for all of us. Our goal is to be the physical hands and feet of Christ, extending his love and hope to people who have none."
             GoH is about to break ground on its largest project yet. "We are about to build New Hope Children's Village (NHCV)," shared Knaub. There will be six individual houses, each a different color, around a central area, a school, crop fields to and livestock areas.
             "We want to give them an amazing upbringing, a good education, train them on how to treat others and family living, beyond survival," said Knaub. "Then, they can replicate this when they have a family of their own." One home will have a mother and a father and their children while the others will house 6-8 children each, either boys or girls, and a den mother. The parents will direct NHCV, leading communal dinner time, Bible studies and life studies.
             "There area already three missionaries living on the 80-acre property," explained Knaub. "We are helping them realize their dreams and reach these children. We will be very transparent, too, setting up Skype between NHCV children and sponsors."
             The trio is also fortunate to have the support of their families. "Sietmann's wife is from Zambia, so she can't wait to go there," said Knaub. "My wife and I actually plan to work with missionaries as our entire lives, so my wife is very much behind Guardians and is a huge help in what we do."
             Guardians will hold a holiday fundraising event called JOY this year and encourages everyone to come and check out the good work they are doing.
             For more information, visit www.guardiansofhope.org/events.
Enjoy this article? Check out this week's other great stories online at www.gvpennysaver.com:
             • Wayland American Legion Hosts Dinner for Point Project
             • Consider Yourself a Wordsmith? Let's Test your Meddle/Mettle/Metal!
             Have something interesting you'd like to share with our readers? Perhaps an original story, a personal experience, community happening, or school event? Add some photos, and your story will be featured on our popular website for all to see. Who knows - it may even end up in print! It's easy to do. Go to My Hometown to view previously posted stories. To post your own, visit Community at My Hometown today!