So often, we see new images from our nation's southern border. Although there are several opposing views, many people agree that something must be done. In Honduras, Border Buddies Ministries is helping to support that nation from the inside out.
 
              "We started working in Tegucigalpa, Honduras in 2004," said Mark Erway, retired Methodist minister and Vice President of Border Buddies. "Our president and his wife, Michael and Glenda Miller, have lived there for about 15 years now." Among other services, from clean water to prison ministry, Border Buddies brings in construction teams to rebuild schools.
              "We are on our 5th school, and we just welcomed Team 56," said Erway. Border Buddies, is a 501c3 nonprofit which was founded in New York's Southern Tier, although teams participate from all over New York State and beyond. Border Buddies believes that the best way to support those in countries like Honduras is to bring hope and a future to them. "At the end of each of team's 10-day stay, whichever school we're working at has an assembly," explained Erway. "In all the times that I have spoken to the students, I have said, 'What we are doing is for you and your future. We hope that, rather than leaving, your goal is to be better educated, receive your graduation certificate, stay in Honduras and do your best you can to make your country the best it can be.'"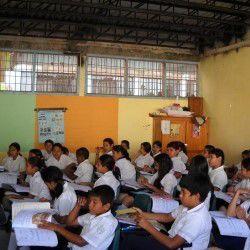 "Even gang members encouraged us to go into the communities (barrios) and support the children if we really wanted to make a difference," said Communications Director, Brad Hinman. Each barrio must provide for its public school. The Honduran government pays teacher salaries, but everything else—maintenance, supplies, tuition fees, books and materials—depends on these families.
             "Many can't actually do that," said Erway. "So, we found a way for those of us in North America to sponsor a child in school, paying for tuition, books, supplies and the required uniform."
             Border Buddies also faced schools that were in a terrible state of disrepair. "The buildings, built in the 1960s-70s, needed repairs; blackboards were destroyed; paint was peeling, and there were no screens on the windows," recalled Erway. "The classrooms were also overcrowded with some classrooms cramming 50-60 children inside."
 
             Border Buddies is working to improve these schools, also spearheading an initiative to build cafeterias in these elementary schools.  "Now, kids in these schools are able to eat a hot lunch," said Hinman. When Border Buddies added a second floor to one elementary school, it literally doubled in size. "After we fix, expand, clean and paint a school, the parents are proud of where their kids go, teachers like going there to teach, and the kids realized the difference. It just improves everyone's outlook," Erway observed.
              "Michael and Glenda Miller also visit the families of each sponsored child," Erway stated. "They make sure the children are doing well and the parents are involved. We have minimum GPA and attendance and other requirements. We work with them and their families, but the children must make the most of this wonderful opportunity. It is my understanding that in Honduras, they cannot even get a job at McDonalds if they do not have a high school diploma."
             Typically, children quit school after 6th grade in order to work to help their families. "Since we have been there, almost every, single one of our sponsored children have stayed in school," Erway shared. "They are typically class leaders, ranking among the best in their classes academically."
              "We have seen kids who have graduated and are lawyers, masons, bankers," said Erway. "We are also Christians, and we believe the Bible is the answer to a lot of people's woes. We have seen how the gangs have carved up and claimed portions of this city, leaving children hopeless."
 
             By the time a child is 9 or 10 years old, he or she faces being coerced into joining gangs. "Our hope is to break this control through the power of the Gospel and through better education," Erway said. "We want to give these children a hope for a better future for themselves and the nation of Honduras. As they become the leaders and influencers of this next generation, we believe they will bring this foundation to a society which has known hopelessness and fear."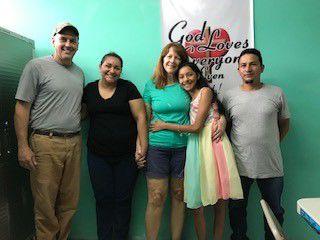 "We have seen families changed, totally altered," Erway shared. "Kids who once abused substances have now gone to school, graduated and are working. There was one young lady who carried a 99% GPA all through high school. She is now getting her college education in Honduras to be an accountant and a lawyer."
"We went from sponsoring 24 children in 2015 to about 316 children this year," said Erway. "Of the work we do, I believe this will have the greatest impact over time."
For more information, to donate or to sponsor a child, visit
www.borderbuddies.org
.
             Enjoy this article? Check out this week's other great stories: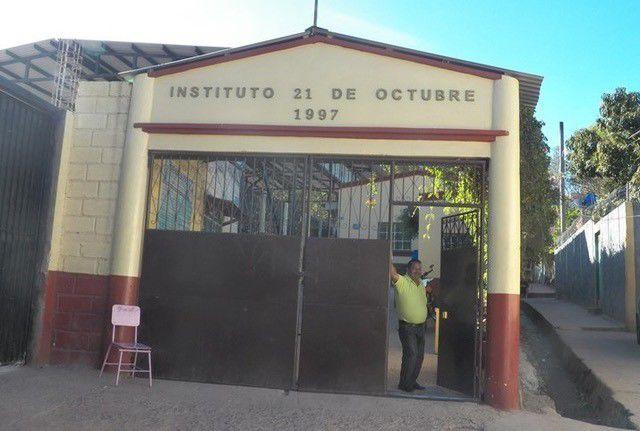 Have something interesting you'd like to share with our readers? Perhaps an original story, a personal experience, community happening, or school event? Add some photos, and your story will be featured on our popular website for all to see. Who knows - it may even end up in print! It's easy to do. Go to My Hometown to view previously posted stories. To post your own, visit Community at My Hometown today!