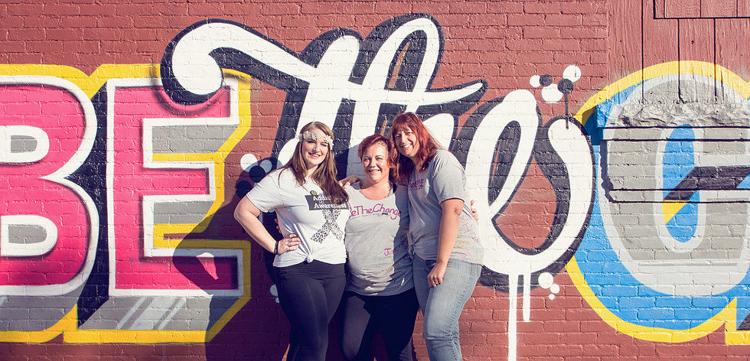 "I am an addict in recovery," said Hope Dealers BTC (Be the Change) founder, Stephanie Forrester. Hope Dealers BTC, a nonprofit organization founded in 2017, is operated by volunteers who clean up streets and public areas, such as playgrounds, removing needles and other trash. Forrester is very real about her past, knowing that the success of Hope Dealers BTC is deeply rooted in her own tragedy.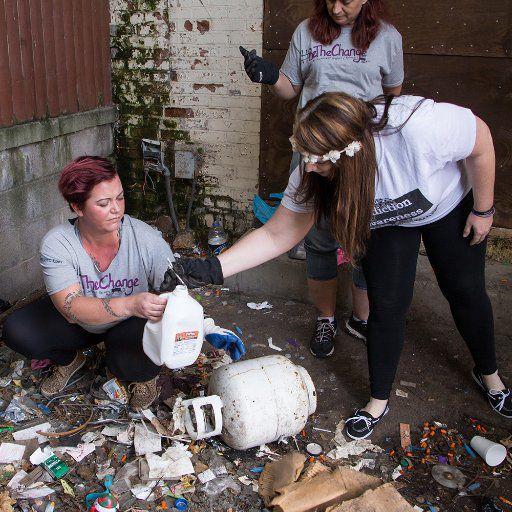 "I have been clean for two and a half years," explained Stephanie. "Before that, my husband and I were addicts and had lost custody of our children. We were homeless, living on the street." As bad as things were for the two of them, for Stephanie Forrester, it grew worse. "I was prostituting, and I didn't think I was going to live…I didn't feel worthy of finding another way to live."
 
             One experience finally brought Forrester to rock bottom. "I had overdosed several times, but the last time I overdosed, I knew I was going to die," Stephanie recalled. "I kept thinking about my kids, and I wanted to be with them."

             Forrester lived and made a significant decision. "I left my husband," said Stephanie. "I checked into a detox program, as I had numbers times before, but this time, I did not move right back out to Rochester when I finished detox." Instead, Forrester continued to live in Bergen. It wasn't long before tragedy struck.
             "100 days into my recover, I received a phone call," recalled Stephanie. "My husband had passed away from an overdose." Her voice became soft with the sound of choked back tears. "We would have celebrated our 16th wedding anniversary this year. I almost felt like he died so that I could live." Forrester believes that had she been living in Rochester, she would have relapsed again.
 
             A week after receiving the devastating news of her husband's death, Stephanie Forrester started Hope Dealers BTC as a Facebook Group. "We began going out into the community, the same areas in which I used to use, and doing community clean up, passing out food, clothing, personal care items…things people need to survive," said Stephanie. "We even began boarding up abandoned buildings because if a person passes away in one of those, they may not be found for days."
             Six months in, Hope Dealers BTC began gaining momentum. "We would have 7-10 volunteers; then more started coming," Stephanie recalled. "During recent months, 20-30 volunteers have joined us every Sunday. We are out there cleaning. People are letting their kids come outside to play because they know we're cleaning to make it safe."
 
             Hope Dealers BTC is consciously supportive of people in recovery, their children and other family members, and for Stephanie Forrester, it has meant so much more. "It has been an amazing journey," she said. "All people recover differently, and I wanted to find something for myself. Going back to clean up the streets and spots where we used has given me such fulfillment while reminding me of how easily I could fall back."
             On April 12th, 2019, Hope Dealers BTC was approved as a nonprofit organization. "It has turned into something so amazing," Stephanie shared. "We have helped over 100 people get into treatment, picked up 75,957 needles, handed out 5,450 lunches and 778 prepared meals (courtesy of Food by DeLeo), handed out 26 sheet pizzas (courtesy of Caraglios in Greece), secured 39 abandoned properties and even saved a life using Narcan and CPR!"
 
             Hope Dealers BTC also hosts a recovery radio show on 106.3 FM from 4-5pm on Sundays. "We share these stories and help people to understand that it is okay to talk about addiction," explained Stephanie. "Addiction carries a lot of shame and blame, both for us and our families. Most addicts are amazing people who made poor choices. My parents did everything they could for me; they fought for me. Let's educate instead of judge; let's help each other."
             Hope Dealers has many plans for the future, as well. "We are currently working on a program to launch into schools," said Stephanie. "We have spoken at a couple of schools, sharing our personal stories and what we do. We have also spoken at youth groups and panels, and we normally have a table at recovery events. The Monroe County Probation Officers Association has also invited us to share at their workshop. We hope to increase awareness, education and conversation."
Hope Dealers BTC also hopes to create better living options for addicts in recovery. "People coming out of detox often have no place to go; others are sent back to live a block for where they used to get their substance," explained Stephanie. "We would like a house in the city for addicts waiting to get into detox," said Stephanie. "We would also like to have a house for those who have been discharged from detox and are waiting for inpatient treatment and yet another sober living house outside of the city."
Hope Dealers BTC gladly accepts all volunteers, including those looking for community service hours. If interested, call 585-633-8690 or email
hopedealersbtc@gmail.com
. For more information, visit
www.hopedealersbtc.com
.
Have something interesting you'd like to share with our readers? Perhaps an original story, a personal experience, community happening, or school event? Add some photos, and your story will be featured on our popular website for all to see. Who knows - it may even end up in print! It's easy to do. Go to
My Hometown to view previously posted stories. To post your own, visit Community at My Hometown today!