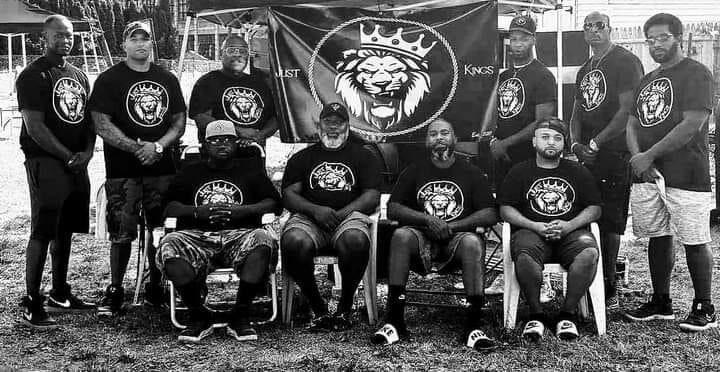 It started as a peaceful march for equality on June 7th. However, it quickly grew into something more: a group which is deeply enriching the City of Batavia and beyond. Beginning with ten men of color, Just Kings was established to better the Batavia community.
             The origin of their group name is inspiring. "We sat down and pondered what to call ourselves," said Haven Armstrong, brother to one of the men who organized the march.  "We chose Just for behaving according to what is good and right, or 'just.' 'Kings' is a term of high respect among black males."
             Members began interacting with the community in many ways. "We get involved in pretty much everything from coaching kids to addressing community tensions to helping people addicted to drugs or alcohol," stated Armstrong. They also held an event to help children have the things they needed for going back to school. "We held it in Austin Park rather than any particular neighborhood because we do not want to embarrass or offend anyone. My brother, owner of Royals, came out and gave haircuts to those in need, as well. Color, sex, religion, politics, or anything else didn't matter. We just wanted to support these kids."
             The group is quickly finding its footing. They have a community to reach, and they are connecting with other places to help out. They are also in the process of becoming a nonprofit. "We haven't narrowed down exactly what we will focus on yet," explained Armstrong. "Many people are reaching out to us such as Mayors and the Chief of Police, so we are helping around the city."
             Recently, Just Kings chose Victor Thomas, who also organized their initial march, to be the group's spokesperson and sit on the Police Reform Committee for Batavia. "We have all been subject to the system in one way or another, and while it is a bit better now, there is obviously a lot worldwide that needs to be reformed," Armstrong explained, adding that Just Kings has had a lot of interaction and cooperation with the Batavia Police. "Growing up, we only saw the police for bad things," he recalled, encouraging officers to be in their communities often, get to know the people, and help out.
             Batavia resident, Sharena Majors, believes the Batavia community is so fortunate to experience Just Kings' involvement. "From the start, one of Just Kings' missions has always been to stand up for the black community," she said. "The Kings continually work towards educating our youth, members of our community, and members of neighboring communities as they mentor and set positive examples. It is amazing to see an organization of well-respected black men who are great fathers, brothers, and friends from our very own community. They are passionate, dedicated, strong and have such big hearts."
             In keeping with their leadership mindset, Just Kings held the historic, first Juneteenth event ever to take place in Batavia, drawing congressmen, city officials and others to participate. "We saw that the knowledge we had gained over the years wasn't being spread through the Black community," said Armstrong. "It wasn't until nearly 100 years after the first 4th of July celebration that we were actually free. So, we made up pamphlets about what it was and why we should celebrate it both in the African Community and the country as a whole. For our culture not to know what Juneteenth was…that was upsetting to us."
             Educating and supporting area youth are of key importance. "In Batavia, there is little constructive to do," shared Armstrong, a self-described 'troubled kid' who credits the army for saving him. "People lack education. I have a GED, and I do nothing but read and educate myself and my children. I like to have conversations with anyone about anything at any time. Knowledge is a constant progression."
             For Armstrong, education is largely self-education. "We see how our history is often portrayed in our schools," he said. "My son came home and told us about our history starting with slavery, but our culture existed long before that. We have to educate young black students on what our culture actually was. Educating my children uplifts them and gives them a perspective on what had been accomplished so they can hold their heads up high."
             Just Kings hopes to combine education with understanding. "We are not looking for apologies nor for people to be overly sympathetic, rather just an acknowledgement of what happened and what the system has been…and empathy," said Armstrong. "Put yourself in our shoes and realize we need total reforms. Embrace what we are doing right now."
             Violence, however, is unacceptable. "We should not be so vicious that we justify why people are being killed," Armstrong explained. "The fact that a person was killed should make you feel some type of way, and if we have gotten to the point where we can justify that, that's not okay. At the same time, while we do not want confrontation, we are not shy to expose or call out wrongdoing on the spot."
             This bold, positive leadership inspires Majors. "It's amazing to see them actively turn the wheel of change and bring about a new level of positivity and understanding," she said. "The Kings always strive to bring our community together while providing knowledge and awareness and caring for our kids. That is huge because our children are the future. Just Kings plans to continue to bring positivity, knowledge, love, opportunity, and change to our community and the surrounding area."