Attending an Honor Flight seemed like an impossible dream for former US Navy officer, William Lipson. The 94-year-old WWII Veteran and his 88-year-old wife had returned to family in New York. Dr. Vythi Alagappan of Hope Internal Medicine in Avon, mentioned Honor Flight to his new patient.
             Honor Flight Network (HFN), a volunteer-run non-profit which serves Veterans of the United States armed forces from WWI through the Vietnam War, is completely funded through donations. Located in 45 states, HFN flew 21,189 Veterans in 2018 and 222,133 since it began in 2005.

             Participating Veterans must be healthy enough to travel and have a "guardian" to accompany them. Unfortunately, Due to family health challenges, Lipson looked to an unusual person for help: his doctor. "I said, 'Why not?'" Dr. Alagappan recalled.

             "He was just 17-years-old during WWII," said Dr. Alagappan. "He recalled being in the Samoan Islands or thereabouts and that he had worked in the Navy, but he didn't have any paperwork or anything." Thinking HFN would require records as evidence, Dr. Alagappan was hesitant to pursue the matter. "I finally wrote a letter to HFN explaining the situation and stating that I would be willing to be Lipson's 'guardian,'" he said.

             "I sent the letter on Monday morning," Dr. Alagappan said. "Tuesday afternoon, I received a phone call asking if Lipson and I were able to participate that weekend." When he asked about verification, HFN's Elaine Fahselt assured him that if a 94-year-old man says he is a WWII Veteran, they believe him; nobody lies about that. "That they don't doubt the word of WWII Veterans is a wonderful thing," he commented.

             Arrangements were made for the following weekend. "WWII Veterans are a very shrinking population, so they have preference," explained Dr. Alagappan.
             HFN Mission 65, Veterans compliments of Southwest Airlines, contained the usual complement of about 60 Veterans (of which Lipson was eldest), 60 "guardians" and 20 volunteer staff. Volunteers are asked to donate, and there are many willing and waiting to do so. "I didn't want him to pay anything," Dr. Alagappan said. "It was an honor for me."
             Mission 65 was scheduled to board at 6:15am with Veterans arriving at 4am. Knowing Lipson needed transportation, Dr. Alagappan reached out to Sgt. Gary Cicoria with the Livingston County Sheriff's Department. Almost immediately, Sheriff Tom Dougherty generously offered to help. Chief Deputy Matthew Burgess contacted Lipson, and Deputy Michael Phillips volunteered to bring him to and from the airport.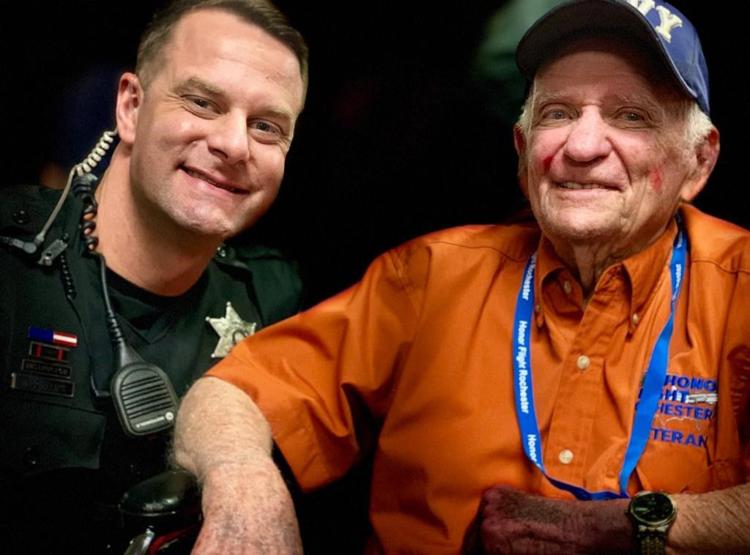 On Saturday, May 4th, Lipson and Dr. Alagappan met at Rochester's airport. "Pictures were taken," said Dr. Alagappan. "We had breakfast thanks to Dunkin Donuts. It is very well orchestrated with down to the minute with military precision."

             "Arriving in Baltimore, we received a surprise welcome and took photos," Dr. Alagappan recalled. "There were three coaches waiting." Over a dozen Patriot Guard riders escorted the coaches, parade style, to Washington D.C.

             "We visited seven memorials," said Dr. Alagappan. "Including those for the Airforce, the Navy, WWII, the Korean War, the Vietnam War, Iwo Jima and the Lincoln Memorial. We also visited the Naval Yard Museum. At the Arlington Cemetery ceremonies, all of the Honor Flight Veterans were given priority seating." Later, they also had the opportunity to take photos with Senator Bob Dole.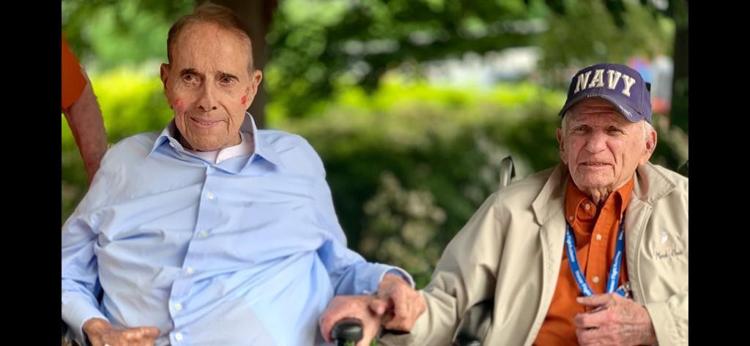 Lunch was provided thanks to Arby's. "In the coaches, we also had candies, chips, water, Gatorade in all colors, whatever we wanted," Dr. Alagappan said.

             "We finished by 6pm," he said. "We traveled a very nice room at Hilton Hotel before attending cocktail hour." There, Lipson struck up a conversation with a fellow WWII Navy Veteran, also named William, from a San Diego HFN group. The two 94-year-olds, both of whom had gone to Memphis, Tennessee for training, laughed and shared memories.

             At the wonderful dinner that followed, HFN thanked attending Veterans and made a special point to thank Dr. Alagappan. "They were hats off to me, and it was so humbling," he said.

             The following day, Veterans returned to a hero's welcome and an address by a Deputy Monroe County Chief Executive. "From the volunteers and airports to Southwest Airlines, Dunkin' Donuts, Arby's…everyone does something and so quietly. I became an American Citizen two years ago, and this was such an honor for me," he said.

             "Veterans have the biggest honor," he continued. "At a military funeral, there is a regular service, the bugle playing 'Taps,' the folding of the flag and giving it to the Veteran's family. Even if I am willing to pay $100,000, I cannot receive that. It is a unique honor. Arlington Cemetery entombs about 317,000 Veterans. Even if I am willing to pay $100,000, I cannot get a plot there."

             Dr. Alagappan said, "I worked in India for some years, there is a concept of collecting for servicemen and a little quarter here and there for kids getting into college, but there is not much offered. If you go to England, where I lived for 8 years, they do have more recognition for Veterans, but not like the United States where Veterans have hospitals, recognition and are honored in many ways."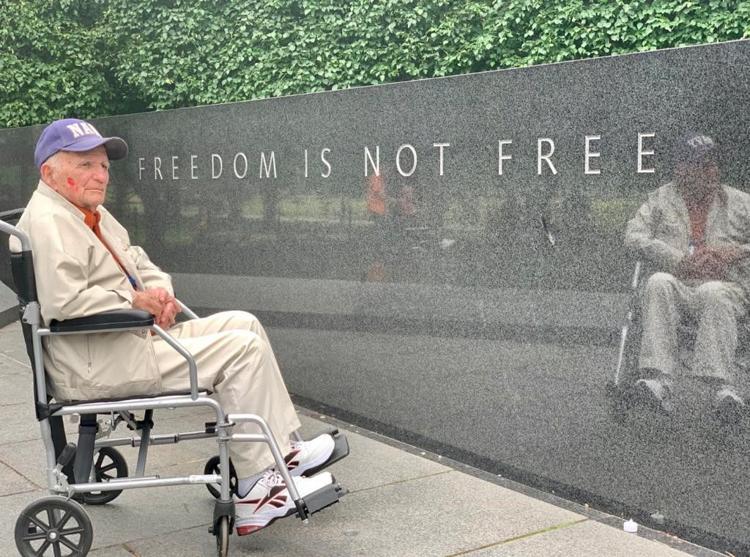 Enjoy this article? Check out this week's other great story:
             Have something interesting you'd like to share with our readers? Perhaps an original story, a personal experience, community happening, or school event? Add some photos, and your story will be featured on our popular website for all to see. Who knows - it may even end up in print! It's easy to do. Go to
My Hometown to view previously posted stories. To post your own, visit Community at My Hometown today!