"Say what you mean and do it." To John Skiptunas, Deputy Mayor of Lima, these are more than just words; they're a lifestyle.  It shows in everything he does from leading the Lima Rotary as its President to bringing food to his neighbors and the Lima food pantry.
             "John and I have known each other for nearly 20 years," said his wife, Trinika. "He is a good man and a great dad." Skiptunas' dedication and follow through have earned him not only the love of his family, but also the trust and respect of his Lima neighbors.
             In 2015, John and Trinika Skiptunas moved to New York from Houston, Texas, which had been their home for nearly 30 years. The couple, along with their two sons, Reed and Johnny, settled in Trinika's hometown of Lima. "We decided to get out of the big city and move closer to family," said Skiptunas. "It's been five years, and we are still freezing!"   A contractor and plumber by trade, John took up a job at a nearby Barilla plant.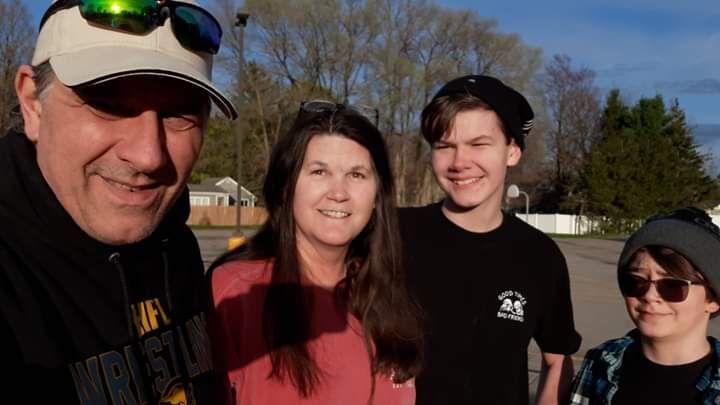 It was then that Lima Rotary entered Skiptunas' life. "My wife was putting together a toy drive for Christmas, when Charlie Johnson, then President of Lima Rotary, invited her to a Rotary Club meeting.   The rest, as they say, is history."   Skiptunas spoke of Charlie Johnson, who sadly passed away three years ago, as one of the many kindred spirits he has met since moving to Lima. "He brought me in to Rotary and mentored me," he recalled. He was elected club president, and served for two consecutive years
             "Rotary provided us with a connection to meet so many people," he continued. "They are an amazing group of people who do what they do just because they love it.  Becoming club president gave me the platform to be a voice in the community. The ideas I put forward were well-received by Rotary and the Lima community. It was the perfect match!"
             During his time as Lima Rotary Club President, Skiptunas led several initiatives. "We created a scholarship fund in honor of Steve Robertson," Skiptunas said, sadness tinging his voice. "He was our 2nd president in 2016, and we lost him in a tragic car accident almost 2 years ago. Many remember Big Dawgs hotdog cart, so we set up the Hotdawg Hut at the 2019 Lima Blues Festival in his memory, and ended up selling over 500 hotdogs in one day! The cart ultimately raised enough money to provide two $700 BOCES scholarships in honor of Robertson who had been a Craftsman of many trades.
             Under his leadership, the Lima Rotary also cooked Thanksgiving dinner for the Golden Agers, a local seniors group, as well as other area seniors.  With the help of Rotary and friends, they cooked a complete turkey dinner for almost 90 people at Lima Christian School, while area the Boy Scout Chapter served them.   Understandably this year had to be cancelled, but John indicated some sort of "Thanksgiving" event will be planned, even if it is in April!
             Finally, as a board member of Rotary's Books for the World, Skiptunas led the community in the Lima Rotary's first Books of the World initiative. With the help of the Lima Library, Lima Rotary and friends, they were able to pack up 24 boxes to fill a complete pallet to be sent to third world countries.  John's leadership put these ideas on the table, while the entire club held raffles and fundraisers to make these things happen.
             After placing club leadership in the capable hands of Charmaine Yarka, Skiptunas has continued to live by "Service above self," the Rotary motto, as Assistant Governor of Rotary Area 5 which includes Lima, Honeoye Lake, Honeoye Falls-Mendon, West Bloomfield and Pittsford. "I am their cheerleader," he explained. "When they have questions, whether it be about fundraisers, grants, or contacts, I point them in the right direction. This year, I have helped us to pivot our thought process to continue to operate in this climate. Our door is not closed with COVID, it is simply swinging in a different direction."
             John Skiptunas also took on another big responsibility this year when he was sworn in as Deputy Mayor of Lima on October 27th.   Skiptunas said, "I have had good leaders, good mentors and good people around me and lots of community support. There is a lot on my plate, but that just means we have a lot to look forward to."
             There was no hesitation when he was asked what he loves about Lima. "The community continues to give no matter the need," he said, and their generosity isn't the only thing he appreciates. "It took me 30 years in Houston to find the quality of friends I have made here in 5," he praised.  "Everyone becomes your friend; there is a lot of love here. Lima was waiting for us and we were waiting for Lima."