"There were two of us, and we fixed one flat tire at St. Joe's." That's how Program Director Dan Lill describes the 2001 beginnings of R Community Bikes, Inc. ""Word got out that there were these guys who could fix bikes," he recalled, referring to St. Joseph's House of Hospitality on South Avenue in Rochester. "A lot of the men who stayed there were riders, so they started bringing in their bikes, and things just developed from there."
 
             R Community Bikes, a 501c3 nonprofit, repairs donated bikes and offers them to "Rochester's most needy adults and children" free of charge. With 150-180 volunteers, R Community Bikes gives away approximately 2,500 bikes while it fixes 3,000 more each year. Since it started, R Community Bikes has given away approximately 36,000 bicycles and has repaired over 40,000.
             "To our people, bikes are a big deal," explained Lill. "Since we started, the need grew and grew. We're giving people transportation, an essential part of the puzzle which gets them to their program, appointment, job and doctor."

             "When I retired from teaching in 2002, I wanted to work in anything that began with 'H'," said Lill. 'Hospice: I did that for about 10 years. Habitat for Humanity: I am not good with my hands and tools, so, I eliminated that one. House of Hospitality: I did that, and this fell into my hands."
 
             R Community Bikes quickly outgrew St. Joseph's, moving to its current 226 Hudson Avenue location in 2005 and incorporating as a 501c3 nonprofit in 2008. They also began giving away children's bikes.
 
             R Community Bikes also sells the higher-end bicycles it receives, starting around $100, to help offset expenses. "A lot of these bikes require special equipment and have special features which average cyclists would not use," explained Lill.
             In 2014, R Community Bikes also began providing tricycles to adults with permanent, severe disabilities. "They are in demand," said Lill. "It is just wonderful to be able to help."
             R Community Bikes also keeps many bikes out of landfills. "Multiply 36,000 bikes by the weight of a bike, and that is how much we have kept out of landfills," Lill pointed out proudly. "It is an ancillary benefit of what we are doing. Many of us never set out to be environmentalists, although we are by default. We also salvage whatever we can."
 
             The Parts Department is dedicated to Andre and Mary. Andre used to sell bikes out of his house on Driving Park Avenue. When he passed away, Mary donated approximately $10,000 of brand-new parts to R Community Bikes.
 
             The program relies on donations and is operated 100% by volunteers. "Our volunteers include machinists, scientists, former Kodak executives, WEP workers doing their community services hours, and you can't tell the difference," shared Lill.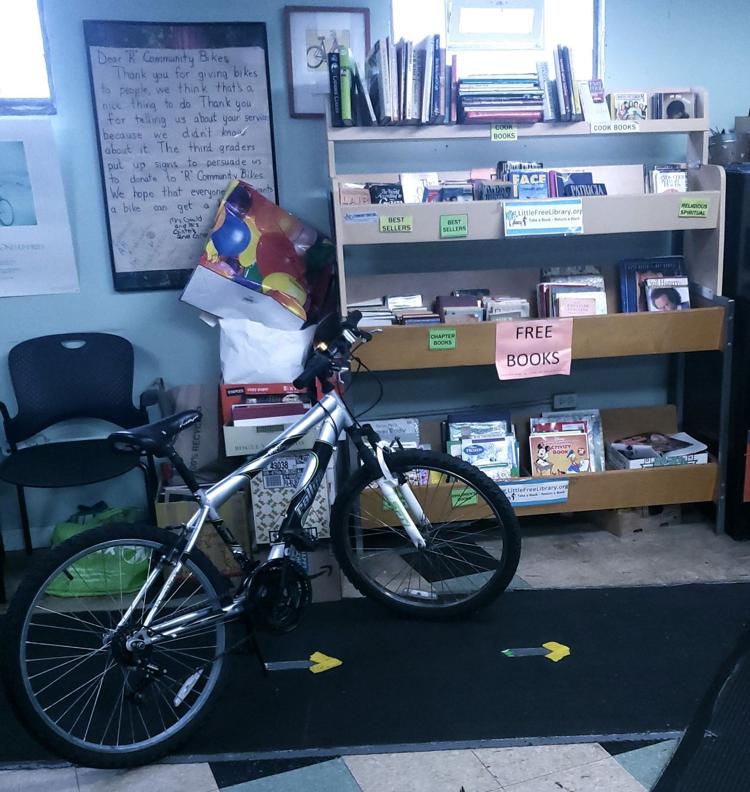 R Community Bikes also offers a little, free library. "It's one of only two or three in Rochester's inner city," shared Lill. "We are trying to promote bicycles and books."
 
             Lill is working on a book of his own. "I have chronicled a lot of the stories of both the volunteers and the recipients," he said. "One of my favorite stories is about one man who would take his bike and tow a land mower behind it. I told him about the book.
 
 'You're going to be in it,' I said.
 'No, no, you should be in the book,' he said,
 'I'm not going to be in the book,' I answered.
 'You curve lives,' he replied.
 'What?' I said.
 'You curve lives,' he insisted.
             So, there are lives going in this direction, and all of the sudden, they turn around, and I was like…" Lill clasped his hand over his heart. "That just cemented him into the book!"
             "We had another man come by, and he had $1.16 in his hand, four quarters, a dime, a nickel and a penny," Lill continued. "I said to him, 'Steve, what's that all about?' He said, 'That's what I got left over.' I said, 'Left over from what?' He said, 'From my job that I got because you gave me a bike.'"While this doesn't happen every day, these are things that stick with Lill, making it easy for him to come in every day.
             R Community Bikes, Inc. is open to the public Monday through Saturday from 9:00 am to 1:00 pm at our headquarters at 226 Hudson Ave. Bike giveaways take place only on Wednesdays and Saturdays beginning at 9:15 AM. Bike repairs, free of charge, are completed at the headquarters and in the summer, at five satellite locations.
             Monday: 4-7PM 441 Parsells Ave., Tuesday: Westside Farmers' Market 4-7PM beginning June 12th, Wednesday: 9-noon St Joseph's House of Hospitality 420 South Ave, Thursday: 1050 East Ave. Asbury Methodist Church 8 – noon, Friday: Cameron Ministry, Cameron St off Lyell 9 – Noon.
             Enjoy this article? Check out this week's other great stories:
Have something interesting you'd like to share with our readers? Perhaps an original story, a personal experience, community happening, or school event? Add some photos, and your story will be featured on our popular website for all to see. Who knows - it may even end up in print! It's easy to do. Go to
My Hometown
to view previously posted stories. To post your own, visit
Community at My Hometown
today!