When Sam Vagg started working at the LeRoy Village Green Residential Health Care Facility 21 years ago, she probably never imagined she would one day support its residents through a global pandemic. Yet, that is exactly what she is doing. In spite of necessary changes, Vagg, assistant administrator of LeRoy Village Green, shared the impact COVID-19 has had on residents, their resilience and the outpouring of support from the LeRoy community and beyond.
             "When COVID-19 came through, the first wave of changes restricted visitation," recalled Vagg. "Our residents already have so many losses, so this was hard. Just two days later, restrictions came through to stop communal dining and group activities." The staff knew they had to act quickly.
             "We purchased several iPads for the building, so that our residents could better keep in touch with loved ones and each other," shared Vagg. "We also modified daily activities. They are social distancing, but they can still play Bingo! We had a camping weekend, and we made smores," she said. "We are planting and working with seedlings. We also reached out in support of LeRoy's Class of 2020, posting the graduation year of many of our seniors. Some graduated in the 1930's! Most importantly, we are spending more one-on-one time with them."
             In spite of the difficulties, Village Green seniors are getting through it. "They have acclimated to this new way in almost a heroic manner," observed Vagg. "They rarely complain. Several of our residents are quite elderly. We have about 20 residents who are 90 years old and older. They have lived through some pretty tough times. It is not fair, but they are a tough generation!"
             Village Green residents "watch the news, and they have seen what has happened in other nursing homes," said Vagg, so they are grateful they are being kept safe. "Mother's Day weekend was especially difficult for many of them," she added. "We all got through it together, and we offer as much support as we can to make the window visits as special as they can be. We also help keep our residents as connected as possible until we get through this."
             While working seven days a week for the past two months like Vagg, it can seem as though there is "no light at the end of the tunnel," but she encourages residents and staff to stay positive and disconnect from social media and its hypothetical situations. "Take things one day at a time" suggested Vagg.
             The LeRoy community has played a huge role in encouraging those at LeRoy Village Green. "I have said it a lot," Vagg emphasized. "This is one of the worst things that could happen, but if it had to happen, I am so grateful I live in LeRoy! Everyone lets us know that they are thinking of us and that we are not forgotten."
             Staff and residents have received many gifts, including meals for staff, flowers for residents, gifts for Easter and St. Patrick's Day, homemade masks, cards, letters and more. "For Easter, the Red Osier Landmark Restaurant in Stafford showed up with 100 Easter dinners for all three shifts of our staff!" shared Vagg. Seniors and staff have also received letters and cards. "Kids write to our residents, send them pictures," said Vagg. "During this time when you just feel so beaten down, it means so much to me and to our staff to receive a card or email letting us know we are doing a good job."
             "It is rare to for others to receive the support we are getting," she continued. "It is constant and wonderful. Whatever we need, there are people offering to get it for us. It has been amazing just to know that we are not alone, that we are being thought of, and if we need anything, the community is there for us. Yes, we have a very unified team here, but it is strengthened by the community which backs us up and gives us support."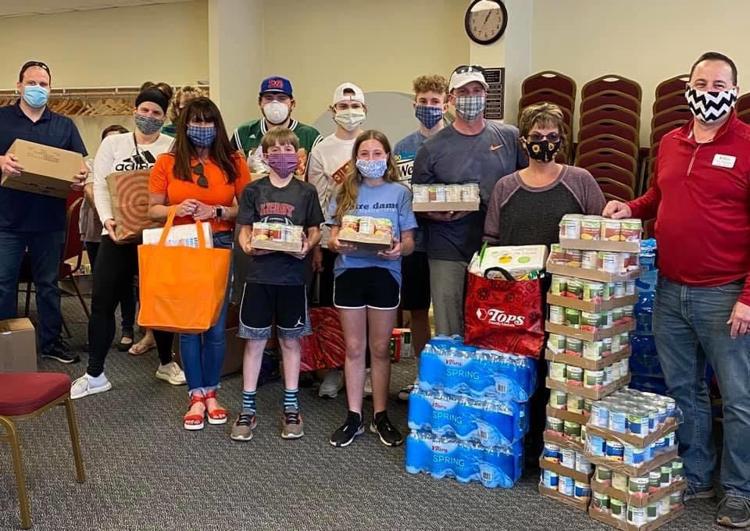 Sam Vagg also supports seniors in the community, working as a home health aide on weekends and delivering meals to about 20 homebound seniors on Tuesdays. "I am on the board of directors at the LeRoy Community Kitchen," she said. "Sarah and Jay Tonzi recently held a food drive for us called "Pack your Porch!" Participants put a bag of groceries out on their front porch to be picked up, and we received over 100 bags!"
             "We are a team in this community," Vagg continued. "We all just help each other and do our part to make sure everyone is taken care of. I am so grateful to the community because our residents are receiving consistent, unwavering support as is our staff. It is so uplifting and it makes this difficult situation so much better."
Enjoy this article? Check out this week's other great stories online at www.gvpennysaver.com:
             • SUNY Geneseo's President Denise Battles Reflects on Campus Life
             • Care Net Canandaigua Holds Successful Diaper Drive-Thru
             • Now's a Great time to do Some Pruning—But Let's Do It Properly!
Love to write? We are looking for YOU! Become a volunteer writer and share your original story, personal experience, community happening or school event with us! It will be featured on our popular website for all to see. Who knows - it may even end up in print! Go to My Hometown at www.gvpennysaver.com or email our Hometown Editor Amanda Dudek at AmandaDudek@gvpennysaver.com!