Kevin and Rachele Sick's annual Memorial Day Weekend Barbecue is well known throughout the Dansville area and beyond. For the past three years, the Sicks and their extended family have put their popular party to good use as a fundraiser for the Ann and Carl Myers Cancer Center at Noyes Memorial Hospital in Dansville. They've given themselves the name, "Sicky's Squad." For the Sick family, however, the cause strikes much closer to home.
             "In the fall of 2010, Kevin's dad, Paul Sick, was diagnosed with nasopharyngeal cancer," said Rachele Sick, Kevin's wife and Paul's daughter-in-law. Paul Sick had been diagnosed with a very rare form of cancer in his nasal passage. He was treated at Wilmot.
             "He went through rigorous radiation and chemotherapy," Sick recalled. "Afterwards, his scan revealed that all the nasopharnygeal cancer was gone, but sadly, it had spread to his liver." Paul Sick underwent maintenance chemotherapy, but it was not working. Having exhausted all treatment options, he opted out of further treatment.
             "He passed away five years ago last July," said Rachele Sick. "He was an incredible person, always giving back. He loved his family and his grandkids, spending time with them. It meant so much."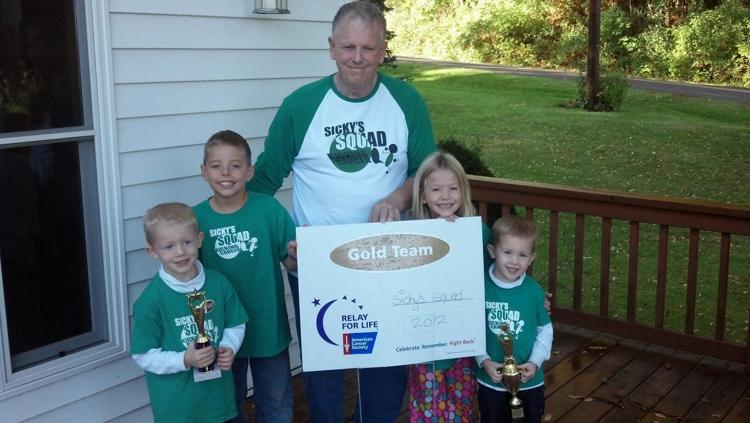 Rachele Sick remembered when Paul Sick was first diagnosed. "We immediately started searching for a way to help," she said. "We knew about the American Cancer Society and Relay for Life. Our awesome, big extended family jumped right in and formed a Relay for Life team." Kevin and Rachele continued to walk for Relay for Life, even serving on its committee in Livingston County, until low participation closed it down.
 "Paul was really grateful," Sick said. "He was so proud of us." Kevin and Rachele enjoyed participating in Relay for Life, and when it left, they searched for something else they could do.
             "The Sick family had always hosted a Labor Day party, later changed to a Memorial Day party," said Sick. "So, in 2011, we just decided to take donations there for Sicky's Squad and Relay for Life." It was a huge success.
             "A few years later, the Ann and Carl Myers Cancer Center opened, and we were inspired to raise money for them," said Sick. "We had moved to a new house in the country, and over 200 people came." For the past two or three years, Sicky's Squad has been able to donate over $10,000 annually to the Ann and Carl Myers Cancer Center. The party is held by invitation to family and friends, although those invited are welcome to bring others. No tickets are sold; they simply offer a donation bucket.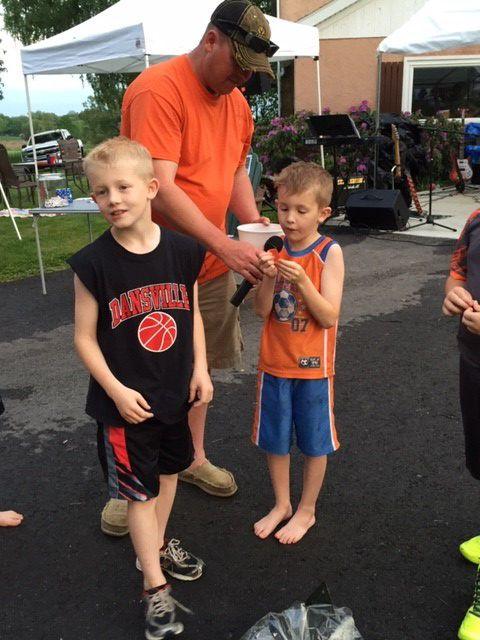 Rachele Sick believes that her amazing, late father-in-law, Paul Sick, is the reason their fundraising has been so successful. "My father-in-law loved his friends, his family and his community," she said. "They were very important to him, and he gave back a lot, always volunteering. We continue to hold the Memorial Day Weekend party and fundraiser to honor his memory. Our moms and aunts cook and bake and prep for days before our Memorial Day Weekend Barbecue. Many who attend do so to honor Paul. Even his grandchildren say, 'We're doing this for Grandpa.'"
             Paul Sick worked for Dansville Central School District for over 20 years as Superintendent of Buildings and Grounds before he retired. He also coached Little League and youth basketball while volunteering in many other ways. Sick believes he would be pleased with their efforts.
 
             "He had to drive to Rochester for all his treatments," she said. "It would have made him happy to know that people are now able to get help right here in our town, in our county. This really helps them out, and Paul would love that."
             Guests also enjoy the fundraiser party for its delicious food, kid friendly environment—Rachele Sick claims they host the kickball game of the year—pond available for fishing, giveaways, live auctions and sometimes even live music, not to mention the great company. "We simply ask our guests to give what they would expect to spend on taking their family out to dinner," said Sick. "People donate much more. Each year, the amount in that bucket is just humbling. Everyone gives so generously, from children to adults, neighbors nearby to those several states away."
             Amy Pollard, Noyes President and CEO, agrees. "We are so grateful to the Sick family for their continued support of the Ann and Carl Myers Cancer Center here at Noyes," she said. "Kevin and Rachele understand how important it is to have the best cancer treatment available as close to home as possible, and support that vision by getting their children, extended family, neighbors and friends involved.  They inspire us and inspire others with their energy and dedication."
 
Enjoy this article? Check out this week's other great stories:
             Have something interesting you'd like to share with our readers? Perhaps an original story, a personal experience, community happening, or school event? Add some photos, and your story will be featured on our popular website for all to see. Who knows - it may even end up in print! It's easy to do. Go to
My Hometown to view previously posted stories. To post your own, visit Community at My Hometown today!