According to Deb Milne-O'Brien, her son, Kade Edward O'Brien was born with that special something that caused him always to help those around him. "It is just one of those things that is imbedded in people sometimes," she said. After Kade passed away in April 2011 due to a tragic motorcycle accident, his friends approached Milne-O'Brien about creating an organization to help others just as Kade always did. Before 2011 came to a close, The Kade Project was born.
            "Community meant everything to Kade," said Milne-O'Brien, Founder and Executive Director of The Kade Project. "If he saw someone in need, he would automatically stop and offer to help." Kade's friends and Milne-O'Brien wanted to honor Kade by continuing to support those in the Honeoye Falls and Mendon communities.
             "We originally considered setting up a high school scholarship," explained Milne-O'Brien. "Then, one of Kade's friends said we should do something that would help a lot of people because that is what Kade would do, and it just blossomed from there." The Kade Project began supporting local families with the little things which are often so important.
            "We help many high school students attend Driver's Ed class, for example," said Milne-O'Brien. "It costs about $400. Many young people are willing to work, but their families can't afford that."
             Similarly, The Kade Project has helped ambitious students take AP classes at MCC. "Some students have the opportunity to take an AP class at MCC, and that can be an extra $300-400," Milne-O'Brien explained. "Parents want the best for their child so badly, but that can be hard. We help several of these children pay for these advanced classes. Some have kept in contact and are doing very well."
             "We have also helped students study abroad," said Milne-O'Brien. "Now, they are doing exactly what they were meant to do." All The Kade Project asks is that its recipients pay it forward, making a difference for someone else.
             "I see that now with Kade's friends who are on our board," shared Milne-O'Brien. "They are now raising their kids help others, too. They say there is an added something in their lives now. While they still would've raised their children this way, they also do it because of Kade, and that makes it more."
             Kade also took his do-for-others attitude into his career when he joined the Marines after graduating high school in 2004. "Kade just wanted to help after 9/11," shared Milne-O'Brien. "They sent him home from school twice that day because he was so upset."
             Each year, the Kade Project sends care kits to soldiers with a connection to the Honeoye Falls and Mendon communities. Sending care kits to those deployed is just one more way of caring for the community Kade loved so much. "We send anywhere from 3-20 care kits out each month," shared Milne-O'Brien. "We focus on those with a community connection so that we can get to know and support their parents, brothers, sisters and other family. What I do best is help the community itself, and I know that these community connections will go out into the world."
             The Kade Project regularly works with the Lima Primary School Outdoor Classroom Project, The Healing Place, Hometown Hero Banners, Little Free Library and the Village of Honeoye Falls. It also supports the Marine Corps Reserve Toys for Tots Foundation. "Both of my sons were Marines," said Milne-O'Brien. "Both of them worked with Toys for Tots, and Kade actually served as one of its poster boys down South. We are in our 8th year of working with them, and sometimes, I think we get more out of it than the kids do."
             It isn't hard to see the origin of Kade's generosity when speaking with his family. "We have received help, too," said Milne-O'Brien. "That makes a difference to people. If you can help quietly, respecting the feelings and privacy of those you are helping, that is beautiful. The Kade Project is all based on someone who did that, who believed in the goodness of people and who loved his entire community. People say, 'Thank you for helping us. What can we do to help somebody else?' That is what The Kade Project is all about."
             The O'Briens also take joy in Kade's son, Noah who especially loves participating in Toys for Tots and is proud to know The Kade Project is participating in honor of his father. "I have a child who died whose purpose in life was to help everyone else," stated Milne-O'Brien. "We're doing that for him."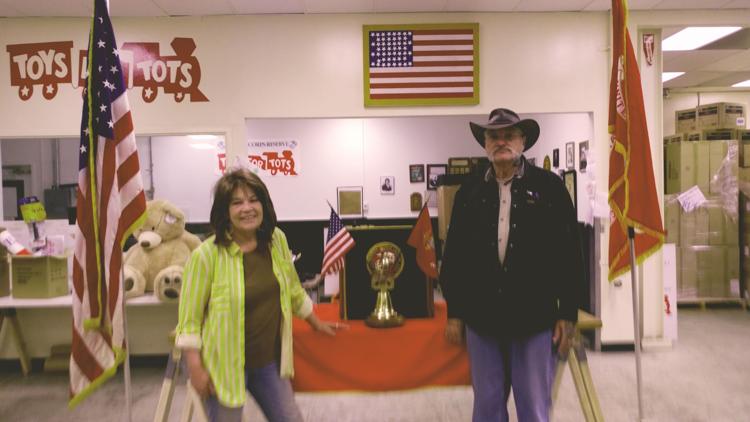 Enjoy this article? Check out this week's other great stories online at www.gvpennysaver.com:
    • Down Syndrome Parent Support Group of Genesee County, Inc. Turns 30!
    • Author Honors Dansville's Rich WWII History in Locally Printed Book
            Have something interesting you'd like to share with our readers? Perhaps an original story, a personal experience, community happening, or school event? Add some photos, and your story will be featured on our popular website for all to see. Who knows - it may even end up in print! It's easy to do. Go to My Hometown to view previously posted stories. To post your own, visit Community at My Hometown today!