Mama Cindy Strasburg of Hemlock has become well known serving our troops, sending hundreds of packages and letters to our soldiers abroad each year. What is perhaps not as recognized is all the ways in which Strasburg serves others locally. From Veterans to newborns, she continues to give generously to them and care for them all.
             "There are just so many avenues," said Strasburg. "I am always looking for ways to enrich more people." Strasburg recently donated 100 breakfast meals to Catholic Charities and gave Christmas packages containing breakfast meals, candy, hot pads and ready-to-bake cookies to Noyes for their 100 Lifeline seniors.
              Strasburg never does anything halfway, either. When she was picking up her granddaughter from school, she overheard a little boy getting on his bus talking to himself, saying, "Okay, okay, okay. I'm starving. I'm starving. I'm starving, but you're okay. You'll be okay." She knew she had to do something.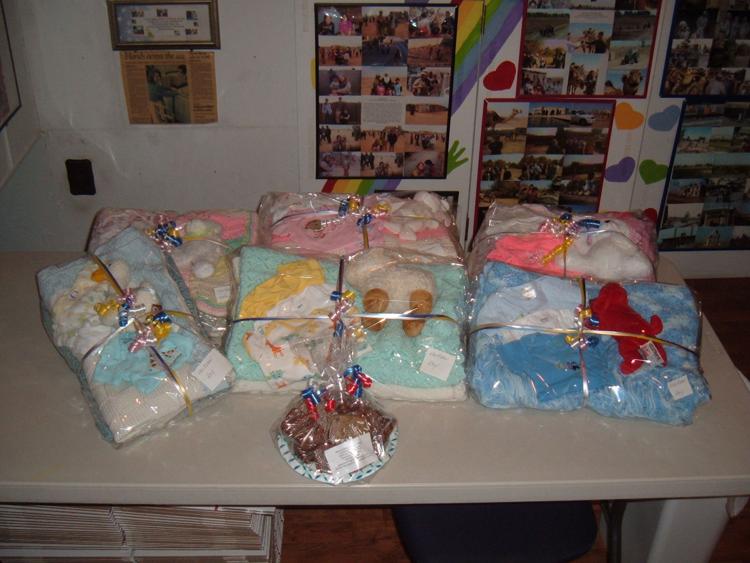 "Children can get free breakfast and lunch at school, but when they go home, they may not have anything to eat there," explained Strasburg. "So, I adopted four classes, 69 children, and gave each child four presents: a book, gloves, a hat, and a stuffed animal. Each child also received a breakfast package with: oatmeal, hot chocolate, candy canes, cookies and candy. Strasburg also provided a gift for 80 Teachers and Aids. Each received a crocheted hot pad and a breakfast package like the children that also included tea and coffee to go."
             Perhaps unsurprisingly, Strasburg has a soft spot in her heart for babies. "I brought a donation to Golisano Children's Center NICU," she said. "I crochet blankets and put preemie outfits in them every year." Strasburg was motivated by her granddaughter who was also a preemie.
              "I also help with the First Steps program at Noyes," she continued. She provides bundles for babies, make blankets and burp clothes, crochet blankets and include a little Christmas stocking that for baby's first Christmas. "I think every baby should get a new crocheted item," said Strasburg. "I wrap my items and other donated items in clear wrap and label them, 'boy,' or 'girl,' so that the hospital is able to hand them to mothers of newborns as a gift. I have been doing this for quite a few years now."
             This is the second year, Strasburg connected with Chances & Changes providing gifts for boys and girls as well as breakfast packages, coffee, creamers, candy canes and packaged cookies for the Moms. This year she adopted a family of need and provided Christmas for them. Mama Cindy says: "There is no cut-off-date when there is a family of need during the holidays!"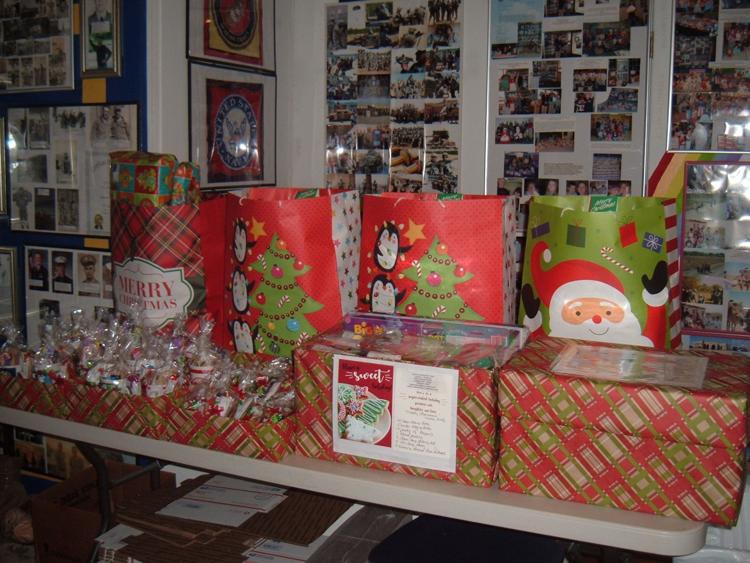 Even while helping others locally, Strasburg never forgets her Veterans. "I donated 35 Christmas stockings for our in-home Veterans with Meals on Wheels in Mount Morris through Office of the Aging," she shared. One Veterans without family called Strasburg to let her know he hadn't received a present in years. Last year, a 93-year-old Veterans shared with her that hers was only the second stocking he'd received in his life.
             Strasburg also adopts all 200 residents of the Canandaigua VA each year. "Each Veteran receives a new pair of socks and a bag of hard candy wrapped in Christmas paper, which are handed out on Christmas morning," she explained. "I have also been making them neck pillows from flag-patterned, fleece fabric. They love them!"
             Strasburg also makes Bags of Hope for homeless Veterans through the Canandaigua VA program. "I make the waterproof bags with a shoulder handle, and they contain a fleece blanket, some socks, personal care items, a coffee mug with coffee, food and snacks," she stated. "Then I sew an embroidered star from a retired flag on it along with this saying: This flag can no longer fly over an American home. The sun and wind have torn and tattered it, but may you carry this star so you know you're never forgotten." She has made 52 bags so far.
             Those seeking help in sending care packages to our troops find that Strasburg is more than willing to help. "A Ladies Auxiliary came to me recently about packages they were going to ship, asking for advice," she said. "I showed them how things had to be put together and took pictures, so that they could do it on their own. Everything the Ladies Auxiliary donated supplied Christmas for the Marine Unit I just received in Norway: 27 Marines."
             In the midst of all this, Cindy Strasburg continues to look for more programs to support. "I don't want to waste any of the talents the Lord has given me," she explained. "I am grateful to those who give so generously to make what I do possible. For example, Geneseo Kiwanis has donated $1,000 every year for the past twelve years. This will always be my heart and soul mission to help our homeless veterans, and taking care of our military, for they are going to take care of us. God bless our military!"