While many are familiar with some baseball players, there are several others who have long gone unrecognized: the Negro League Players. Jeff Klein of Honeoye Falls is working hard to change that. An enthusiastic baseball fan with a long-time interest in collecting Negro League Player signatures, Klein decided to take his interest to an entirely new level about five years ago.
             "My oldest child, Makayla, was in 2nd grade then," said Klein. "One day, she came home with a new hero: Ruby Bridges." Makayla wanted to write a letter to the still living Ms. Bridges, and he agreed to help her do so. "My seven-year-old wrote a two-and-a-half-page letter telling her why she was her hero," Klein said.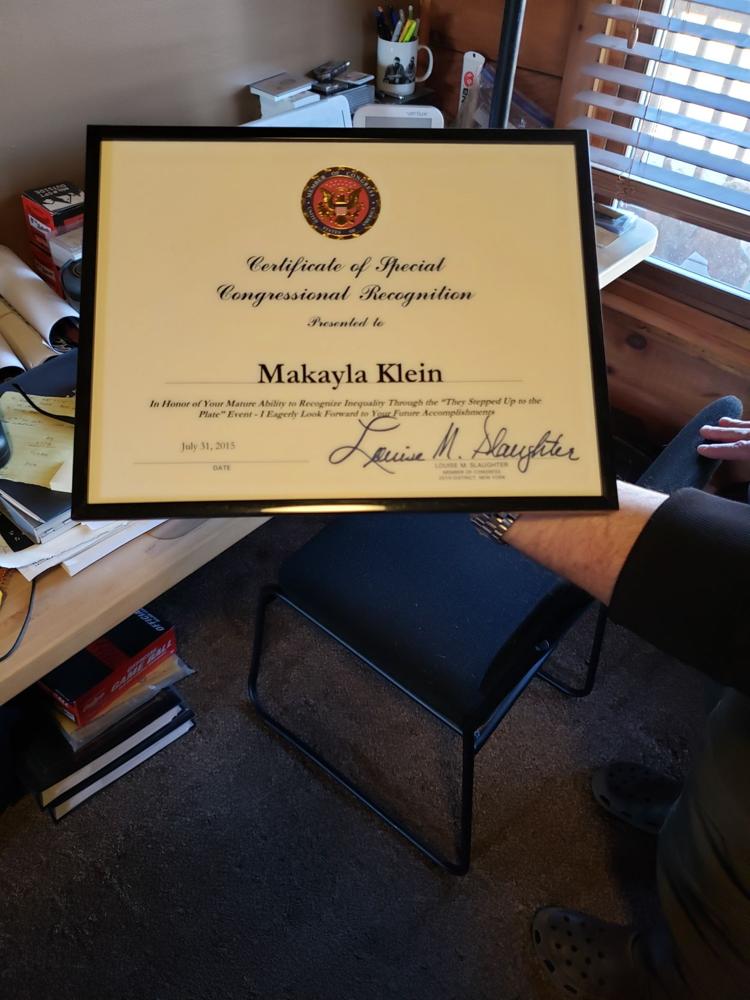 At that time, Klein had been collecting Negro League Player signatures for years. "I was fascinated by the level of play in the segregated leagues," explained Klein. "I was collecting from Negro League Players before and after Jackie Robinson broke the color barrier." When Klein showed his collection to Makayla, she said, "Daddy, why don't you write letters, too?"
             This started Klein on a journey that would change his relationship to baseball forever. "There are anywhere between 100-200 Negro League Players still living today," explained Klein. "I began researching their addresses and writing them letters. I wanted to collect their autographs and help my children understand segregation."

             It was a small note, scrawled in reply to one of his letters, that truly set They Stepped Up to the Plate into motion. The note was from Bill McCrary, a Negro League Player. It read, Give me a call. I will tell you some of the things that happened.
             It took two weeks for Klein to build up the courage to call McCrary, believing he would be fortunate if he received even 5 minutes of the man's time. "When I called, we talked for 45 minutes," Klein said. "The things he shared were amazing."
            After this, Jeff Klein began adding his phone number to every letter he wrote. "As soon as I began putting my number in, they started calling and sharing about playing segregated baseball, particularly in the 1950's," he said. "I would also send two index cards: one for their signature and another to jot down a favorite memory."
 
           Memories began pouring in. "I knew I needed to share these stories with other people," Klein stated. "When my best friend's neighbor, a retired journalist, asked if I was writing a book, even offering to help, I started writing, They Stepped Up to the Plate (TSUP), which is also the name of my nonprofit."
 
            Klein met with representatives of the City of Rochester. "We were hoping the city could provide a venue," he explained. "Instead, they said they would do all of our printing, including flyers, posters, programs and 500 personal baseball cards for each player and provide the venue, as well!" Klein invited the first four players and held the event, hoping for 100 attendees. An estimated 285 people came.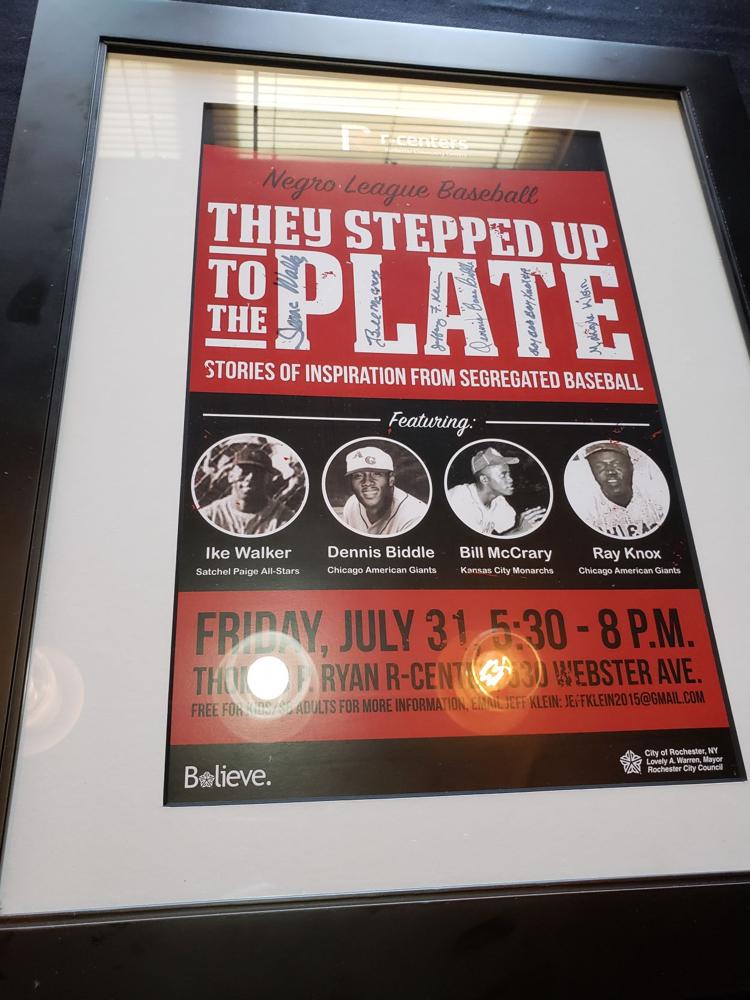 At first, Klein didn't realize his success until he met Josh Gibson's grandson, Sean Gibson, executive director of the Josh Gibson Foundation. "He was curious about our work, asking how many people attended our event," Klein recalled. "When I told him we had about 285 people, he replied, 'Next time you have an event, call me. I want to be a part of it. If you can get even 30 people to show up to anything related to the Negro Leagues, you are doing something right.'"
           More confirmation soon followed. "I spoke with Ted Knorr of the Society for American Baseball Research (SABR)," said Klein. "They were getting ready to have their 20th Annual Jerry Malloy Negro League Conference." The SABR was considering TSUP for its top award, the Robert Peterson Recognition Award, and asked about attendance. Klein answered. "He was just astonished," said Klein. "We received the award."
             "We have our own award called the Jim Zapp Courage Award in honor of Jim Zapp, a former teammate of Willie Mays and one of the players to whom I had written," said Klein. "When I asked Zapp's son if we could have permission to use his father's name, he said his family would be honored, but it is we who are honored to recognize those living today who once played segregated baseball."
             "We have now held two events and raised a little over $12,000," said Klein. "All of the money goes to the players and hosting players for the events." Unfortunately, the Negro League Players are an aging population. "I compare it to WWII Vets," explained Klein. "There is a limited number of them, and many are passing away. These men have an important story to tell, and it's imperative that we gather as many of their stories as quickly as we can."
             Have something interesting you'd like to share with our readers? Perhaps an original story, a personal experience, community happening, or school event? Add some photos, and your story will be featured on our popular website for all to see. Who knows - it may even end up in print! It's easy to do. Go to
My Hometown to view previously posted stories. To post your own, visit Community at My Hometown today!