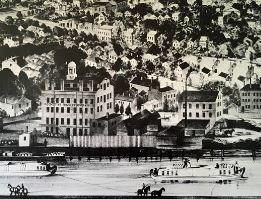 A thin sea once blanketed our region. Where trees now grow in abundance and flower gardens blossom, tiny shell-like creatures once thrived. Over hundreds of millions of years, shells and sediment from the sea bottom formed into limestone, shale, sandstone, dolomite and other layers of rock. Geology captured a sea and transformed it into a landmass.
             As eons passed, people discovered this virgin real estate, first the Native Americans and then settlers from foreign lands. The United States was flourishing from coastal colonies on the eastern seaboard into a land of enterprise which needed to extend its grasp. Goods were becoming more numerous, and people needed to be fed from the breadbasket of western New York.
             Paths traveled by settlers in covered wagons that were once Indian trails would no longer do. Rivers and the sea were the quickest way to move products over sizable distances. Farmers in western New York were eager for the manufactured goods of New York City, and the increasing populations of seaboard cities needed to be fed. A cheaper and faster method of transport was needed. A waterway from New York City to the Great Lakes was required.
             But how?

             DeWitt Clinton was an astute politician and former mayor of New York City. In 1817, he was elected governor of New York. He was a member of the Erie Canal Commission which was formed to study whether constructing a waterway across New York State was feasible. Clinton advanced the idea for a canal, despite ridicule and numerous slurs. Soon the plan was referred to as "Clinton's Ditch". If approved, the project would cost seven million dollars, an ungodly amount in 1817. President Jefferson refused funds for the development of the canal. Clinton would not be detoured, and funding was procured though the sale of bonds.

             On July 4th, 1817, construction of the canal began in Rome, NY.  The terrain that the forty-foot-wide, four-foot-deep ditch would have to overcome was colossal.  The Montezuma swamp would have to be crossed. Men and animals were mired in the slime. Malaria (Genesee fever) raged, and pneumonia was common. A thousand men died of the fever, causing a shortage of workers. "Dig we must" was the order, and dig they did.
             The route of the canal would extend from Buffalo to Albany, where it would then join the majestic Hudson river to New York City. Engineers took advantage of the Mohawk River gap, saving time and money. Ingenious gravity locks were constructed throughout the canal's course. Paths along the canal's direction were needed in order to accommodate the mules which provided the muscle for the packet boats.

             Passenger packet boats were no more than fifteen feet wide, since traffic on the canal was a two-way affair. Quarters were crowed at best, and the price of a ticket was calculated at pennies per mile. Stables and lodgings were scattered along the canal's track. Mules were procured as needed.
             In 1905, a song writer from New York (Thomas Allen) came to Rochester where he scribbled the lines of a ditty which we all sang as a child – "Low Bridge, Everybody Down". The song references a loyal, hard-working mule named Sal. Sal no longer travels the towpaths, but if you visit the remnants of "Clintons Ditch," you might still hear the echoes of her hooves.