Two giant lions were spotted at the Rush-Henrietta Senior High School before the homecoming football game! Not to worry, these lions were sculpted from sand! The brainchild of art teacher Peter Remenicky, the sand sculpture has been a homecoming tradition in Rush-Henrietta for many years.
             Using 30,000 pounds of sand donated by Spallina Materials Inc., Remenicky worked with art students to design and then carefully hand-sculpt the two massive lions, a Royal Comets sign, and a thank you to Spallina in the form of several dump trucks.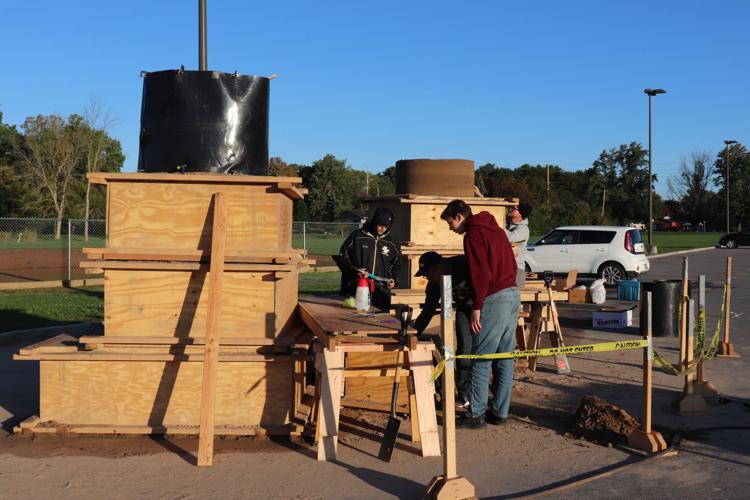 The sand used is a special mix that includes some clay to help it retain moisture and hold its shape. When the sand is delivered, it is put into stacked wooden boxes that are the approximate height and width of the anticipated structure. The sand is then compacted in the boxes before being sculpted. The sculptors work from the top down to carve the sand in the desired shape, removing the wood frames as they progress.
             Something of this magnitude truly took a community to bring to fruition. The technology classes at the Rush-Henrietta Senior High School built the boxes used to form the rough structure, and shoveled and packed the sand into those boxes to provide the proper start for the sculptures. Students and parents volunteered their time after school hours and on Saturday to help out. Joining in the fun toward the end of the week were the two other members of Remenicky's competitive sand sculpting team, the Sand Squirrels. Known as Bear and Dano, the two enjoy traveling to Henrietta to help with the annual project when they are able.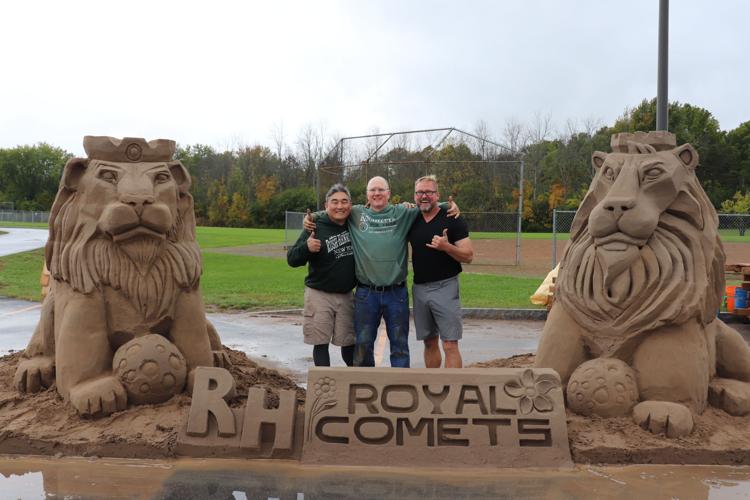 They had a beautiful week to work on the structure, but then rain that Saturday morning caused a little concern. Although the sand could absorb some moisture, they decided to cover it for a while to keep it from getting too water-laden. By the time people began to arrive for the homecoming football game, the rain had stopped, the work was done, and the majestic lions were ready for their fans.
             The Sand Squirrels have been competing together for 30 years, recently winning the U.S. Sand Sculpting Challenge in San Diego. The team has won more than $100,000 from competitions throughout the years, all of which has been donated to charities. For them, sand sculpting is more about the art and teamwork, and bringing people together.